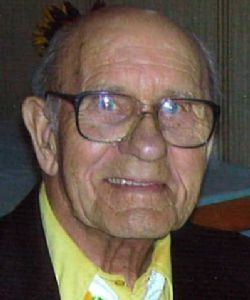 Arthur McIntosh
June 4, 2011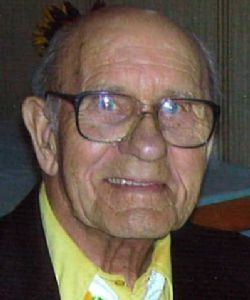 McIntosh, Arthur'Art'; at Louise Marshall Hospital, Mount Forest on Saturday June 4, 2011. Arthur'Art' James McIntosh of Mount Forest in his 99th year. Beloved husband of Jean (Demmans) McIntosh. Loved father of Shirley Sully of Mount Forest, Sharon Sully & husband Clayton of Mount Forest and Sharlene Scott & husband Cliff of Maple Ridge, B.C. Loving grandfather of Trudy Scott, Adam Scott & wife Joanne, Crystal Scott, Clifford Scott and Jeffrey Sully. Loving great grandfather of James and Samuel. Dear brother of Gerald & wife Jane of Cedarville and Lavina of Harriston. Dear brother-in-law of Alice of Southgate Township. Survived by his many nieces, nephews and their families. Predeceased by son-in-law Vincent, brother 's Mervin and Delmar and sister 's Jean, Laura, Bertha, Doris, Ivadel, Viola and infant sister Doris. Friends may call at the England Funeral Home, Mount Forest on Tuesday from 2:00 to 4:00 & 7:00 to 9:00p.m. The funeral service will be held in the funeral home chapel on Wednesday June 8th at 11:00a.m. Interment at Mount Forest Cemetery. Memorial donations to the Heart & Stroke Foundation or to the Louise Marshall Hospital Foundation would be appreciated by the family. On line condolences may be made at www.englandfuneralhome.com
Condolences
To the McIntosh family's You have my condolences, in the passing of a husband, father, grandfather. Cherish the memories you all had together, they will help you through the rough times to come. I will have you in my thoughts and prayers.
— Sheila Hamilton, June 6, 2011
Jean, Shirley, Sharon & Clayton & Jeffrey, Sharlene & Clifford & family - wishing deepest sympathy in this time of loss. Art is gone but will never be forgotten. You are all in my prayers and thoughts at this time. Please accept my condolences. Love Tina
— Tina Bremmers, June 6, 2011
My condolences during this time of grief. A big hug to you Jeff. Mateo
— Mateo Nelson Martinez, June 7, 2011
McIntosh Families, We are so sorry to hear of the passing of Art, please accept our sympathy at this sad time, our thoughts and prayers and with each and everyone of you. Reg & Mary McCormack and Family
— Reg & Mary McCormack & Family, June 7, 2011
I think of you every time i walk past your old property,You will be missed for a long time,Many people loved you and always will. Please give us a little reminder now and then to let us know you are doing well.Lots of love to you and the rest of the family!!!
— lee aldridge, June 7, 2011
We are thinking about you guys quite alot lately...Hope you have the strength and courage to make it through this hard time. Lots of love and prayers...Ken,Debbie, James & Michael
— Ken & Debbie Reid, June 7, 2011
Our thoughts and prayers are with you at this time. Love Candice & Jordan
— Candice Bremmers & Jordan Carbone, June 7, 2011
I sit here in reflection today of a wonderful man. Art was a person that pops into my mind when I think of Mt Forest. I have many memories of this individual and feel better having known him. To the Familly my sincerest sympathies and condolences to you all in your time of loss. A specail hug goes to his familly I know Gerald and Jane, Alice, and grandson Jeff. Even though this loss is tremendous and may be felt over the times rest assured that some morning we will arrive in the heavens and one of the faces we will see is that of Art and all our pains and sadness will be gone and rejoicing will occur. Art you will be missed by many but we know that though you left us today, tommorrow you will still and always be in our hearts and minds. And one glorious day when we cross the river and you will be there to greet us. Take care With love from the Jefcoat Family Donald Jefcoat
— Donald Jefcoat, June 8, 2011