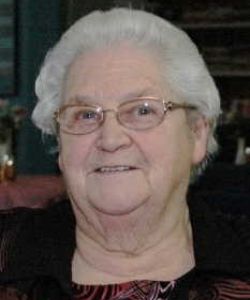 Irene McQueen
June 19, 2011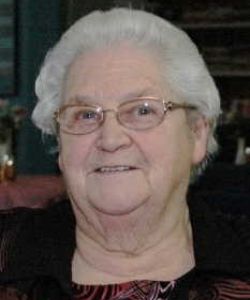 McQueen, Irene; suddenly at Louise Marshall Hospital, Mount Forest on Sunday June 19, 2011. Irene Alice (Wollis) McQueen of Mount Forest in her 79th year. Beloved wife of the late Hugh McQueen. Loved mother of Ronald McQueen & wife Linda of Prince Albert, Sask., Janice Free & husband Lloyd of Guelph, Murray McQueen & wife Marilyn of Mount Forest. Loving grandmother of Allison and Melanie McQueen both of Prince Albert, Sask, Brad Free & wife Natalie, Kailey Bellaca & husband Matthew all of Guelph, Scott McQueen & friend Brittany and Carly McQueen all of Mount Forest. Missed by her brother-in-law and sisters-in-law Neil & wife Vesta McQueen of Imperial , Sask., Wilma Wollis of Mount Forest and Ethel McQueen of Holstein. Remembered by her many nieces, nephews, adopted grandchildren and their families. Predeceased by her parents Viola & John Wollis, her infant son, brothers Cecil Wollis & wife Hazel, Howard Wollis, Wilmer Wollis and sister Elva Campbell & husband Jack. Friends may call at the England Funeral Home, Mount Forest on Tuesday from 2:00 to 4:00 and 7:00 to 9:00p.m. The funeral service will be held at St. Andrew 's Presbyterian Church on Wednesday June 22, 2011 with visitation from 10:00a.m until time of service at 11:00a.m. Interment at Mount Forest Cemetery. In lieu of flowers memorial donations to Louise Marshall Hospital Auxiliary or the Heart and Stroke Foundation would be appreciated by the family. Online condolences may be made at www.englandfuneralhome.com
Condolences
Jan...my thoughts are with you and your family at this sad time. Lori Ferguson
— Lori Ferguson, June 21, 2011
McQueen Family: We are sorry to hear of the passing away of your mom. We will miss seeing her sitting on the front porch when we are walking by. We know you will have many wonderful memories of both your mom and dad to sustain you in the difficult days ahead.
— Pauline & Verne Mills, June 21, 2011
Jan & Family - Moms are very special people and yours was 'Grandma' to so many . . . My sympathy . . .
— Mary Jane Cantlon, June 21, 2011
Murray, Marilyn, Scott and Carly, Hold your memories close to your heart during these next few days. Stay strong for each other in your time of need. Stu, Heather and Colton.
— Heather Aitken, June 21, 2011
To the McQueen family, please accept our sincere sympathy on the loss of your mother. She was a special lady. Margaret Gillies and family
— Betty Henry, June 22, 2011
Jan & Lloyd Just wanted to let you know we are thinkng of you in the loss of your mother Jan The Hillers Fred,Susan,Jeff,Rose,Kyle & Marissa
— Fred & Susan Hiller, June 20, 2011
Murray, Marilyn, Scott and Carly. I was so saddened to hear about the passing of Mrs. McQueen this morning when I arrived at work. I can't help but reflect on the many visits we had with her when living on Normanby St and how she'd always comment on the girls and how fast they were growing. Our thoughts are with you all. Regards, The McGoverns
— Tali, John, Taija and McKenna McGovern, June 20, 2011
Dear McQueens, We are very sorry to hear of your loss. I will always remember the summer that I cared for Scott as a baby and frequently went to visit Grandma McQueen. I really enjoyed sitting and chatting with her in the front yard on a sunny day. She will be missed. Cheryl Wolting and family
— Cheryl Wolting, June 20, 2011
To the families of the late Irene MCQueen May it comfort you to know that our caring thoughts are with you in your time of sorrow. With sympathy Wilson & Bonnie Schwindt & family
— Bonnie&Wilson Schwindt, June 22, 2011
Our thoughts and prayers are with you during this difficult time.
— Paul and Santina Belacca, June 22, 2011
Sorry to learn of Irene's death; a good neighbour and fun 4H leader! Thoughts are with you Murray, Janice and Ronnie.
— Ruth Mather Halford, June 23, 2011
Murray,Marilyn & all the McQueen families: So sorry to hear of Irene's passing. Such a strong woman & good neighbour[never a shortage of conversation when passing by] My thoughts are with you at this difficult time.
— Keith Rawn, June 23, 2011
Dear Ron, Janice, Murray and families, Ruth found,on-line, the notice of your mother's recent passing and I want to say how sorry I am. It's only a couple of weeks ago that we were in Mount Forest and I mentioned that I didn't know anything about her and that I really should look her up. Well, I should do things when I think of them and not wait for another time.I have good memories of your mom. She was a hearty and happy woman who helped out at our place a lot after Mom had a stroke in 1966. She baked really good pies and I enjoyed 4H under her leadership. Not to mention all the times I played at your house after school and in the summer. She was always welcoming. We realize that it was quite recent that Wilmer died as well. There aren't many of the 6th of Arthur Township folks left. I hope that you are well otherwise. I am in my last few days of teaching before retiring on June 30. I'm looking forward to a new stage in life and more time with my kids and grandson. Take care. Wilma (Mather)
— wilma koiter, June 23, 2011
Our sincere condolences to you and your family.
— Corrado and Carol Belacca, July 1, 2011