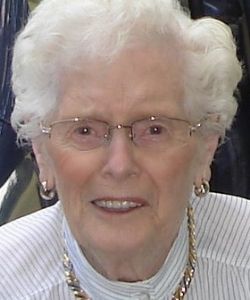 Elizabeth McNabb
September 16, 2014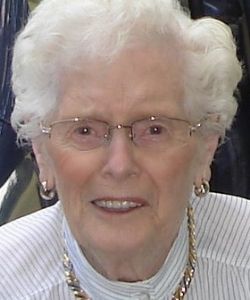 McNabb, Elizabeth; at Saugeen Valley Nursing Centre, Mount Forest on Tuesday September 16th, 2014. Elizabeth Jean (Armstrong) McNabb in her 88th year. Beloved wife of the late Alvin McNabb. Loved mother of Arden McNabb & wife Alice of Toronto and Yvonne Stewart & husband Bill of Kenilworth. Dear mother-in-law of Nancy McLellan of Mount Forest. Cherished grandmother of Justin McNabb & wife Carolyn, Amelia McNabb & husband Jason, Joe Norris & wife Laura, Chris Norris, Jordan McNabb, Corey Stewart, and Crystal Stewart & Trevor. Loving great-grandmother of Claire, Griffin, Beatrix, Sinéad, and Patrick. Will be sadly missed by her many nieces, nephews, and their families. Predeceased by son Ralph McNabb, her parents Ross and Myrtle (Noble) Armstrong, and sister and brother-in-law Roberta McLean and Robert. Friends may call at the England Funeral Home, Mount Forest on Friday September 19th from 2:00 to 4:00 & 7:00 to 9:00p.m. A funeral service will be held at the Mount Forest United Church on Saturday September 20th at 11:00a.m. Interment at the Mount Forest Cemetery. Memorial donations to the Heart & Stroke Foundation, the Cancer Patient Services, or the Mount Forest United Church would be appreciated by the family. Online condolences may be made at www.englandfuneralhome.com
Condolences
Dear Family...so very sorry to read of your loss...our condolences to your family..bill&judy
— Bill & Judy Gerber, September 22, 2014
To the McNabb families...we are so sorry to hear of your mom's passing...We had a great many laughs with your mom and dad through the years while with Don and Dorothy...Sorry we cannot be there at this time but our thoughts and prayers are with you...Larry and Linda
— Linda and Larry Litt, September 19, 2014
TO THE MCNABB'S, WE ARE SORRY TO HEAR OF ELIZABETH'S PASSING, MANY GOOD MEMORIES FROM PICKING BERRIES, TO THE L AND M DAYS AND RIDES UP AND DOWN HIGHWAY 6, THEY WERE HARD WORKERS, BUT ENJOYED WHAT THEY DID AND THEIR FAMILY AND FRIENDS, BUT TIME MARCHES ON IN LIFE, WE ARE THINKING OF YOU ALL AT THIS TIME AND PRAYING FOR YOU ON YOUR LOSS, DWIGHT AND CATHY
— DWIGHT AND CATHY BENSON, September 19, 2014
Our sincere condolences to everyone that Elizabeth touched in some way. Especially her loving family. This is a great loss. Our love is with you in this time of sorrow.
— Calvin Waters & Family, September 19, 2014
So sorry for your loss
— Kevin-Lori Coutts, September 19, 2014
Our sympathies are with you all at this time. Les and Jan
— Les and Jan Waters, September 19, 2014
Sorry to hear of the loss of your mother and grandmother . Our thoughts are with you at this difficult time.
— Wendy & Carl Abbott, September 19, 2014
We are sad to hear of your mom, grandma & great-grandmas passing. We have so many great memories all the way back to the camper van at the farm at Tyner, SK in 70's, visiting at Kenilworth with teenagers in the 80's, 100 year reunion, Alvin & Elizabeth spending Christmas with our family at Provost, AB in 1990 to visit at Mount Forest in their home 10 years ago. We are mourning with you even though we aren't there. May your memories comfort you as you remember all the great times together. Love from, Gerald, Pat, Laureen, Lindsay & families.
— Gerald & Pat Clarke, September 18, 2014
Dear Arden, Yvonne and Family, So sorry for the loss of your warm, loving Mother. She will be missed by so many. Our deepest condolences to you all, with love. Sincerely, Rebecca & Darren
— Rebecca & Darren Fuller, September 18, 2014
Yvonne,Bill and family Our sympathy to you at this sad time. We will be thinking of you. Diane Dineen & Leonard Seifried
— Diane Dineen, September 18, 2014
We couldn't have had better neighbours. Our sympathy to Yvonne, Arden and families. Sincerely, Velma and Barry
— Barry and Velma Manser, September 18, 2014
I wish to convey my sincere sympathy to Yvonne and family also Arden and family in the passing of your mother Elizabeth McNabb. She will be missed by everyone who knew her. My prayers go out to you at this time. Elizabeth Coutts
— Elizabeth Coutts, September 18, 2014
We have lovely memories of your Mother and Father's home when visiting Canada. They always made us welcome and we especially loved her dinners and home baking. I was always in awe of her talent with handy crafts! We are sad at her passing, but she is at peace now. Thinking of all the family circle at this time x.
— Billy and Angela Friel, Ireland, September 18, 2014
Our deepest sympathy to the family. I have many fond memories of picking berries, doing crafts and just visiting. Your Mom was a great lady and she will be truly missed. Our thoughts and prayers are with you at this sad time. Betty and David.
— Betty and David Goulding, September 17, 2014
We are sorry for your loss. Elizabeth was a wonderful lady. We have lots of great memories of her, Alvin and mom and dad. Our condolence to all of you. Paula and Jim
— Paula Solway, September 17, 2014
Yvonne & Family, Sorry to hear of the death of your Mother. Please accept our condolences. Tom & Catherine Ross
— Tom Ross, September 17, 2014
Sorry to hear about Elizabeth. Sort of the last of that group. Was always a favorite of Carson. We have to go away today & tomorrow so can't be with you. Take care Brion & Sondra Cole
— Brion & Sondra Cole, September 19, 2014