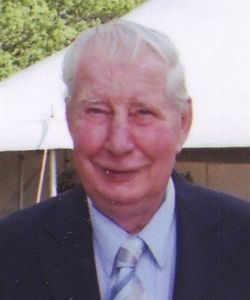 Herbert McLean
December 11, 2008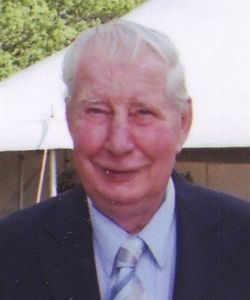 McLean, Herbert; at Louise Marshall Hospital, Mount Forest on Thursday December 11, 2008. Herbert Keith McLean of RR #1, Conn in his 85th year. Beloved husband of the late Luella (Wilson) McLean. Loved father of Douglas McLean & wife Patricia of Elmira, Morley McLean & wife Marg of RR #1, Conn, Shirley Small & husband Arnold of Paris, Brian McLean of RR #1, Conn, Sheila Eccles & husband Leslie of RR #1, Conn and Larry McLean & wife Mary Lou of RR #1, Conn. Loving grandfather to his 16 grandchildren and 18 great grandchildren. Dear brother of Vernon McLean & wife Norma of Mount Forest and Bob McLean & wife Fern of RR #1, Conn. Also survived by his many nieces and nephews. Predeceased by infant daughter Linda McLean and sister Margaret Byron. Friends may call at the Hendrick Funeral Home, Mount Forest on Saturday from 7:00 to 9:00p.m. and Sunday from 2:00 to 4:00 & 7:00 to 9:00p.m. The funeral service will be held at the Westcott United Church, Conn on Monday December 15th at 1:00p.m. Interment at Mount Forest Cemetery. Memorial donations to the Heart & Stroke Foundation or to the Louise Marshall Hospital would be appreciated by the family. On line condolences may be made at www.hendrickfuneralhome.com
Condolences
My sincere sympathy to the entire McLean family.
— Rob Wilson, January 1, 2010
We are sorry we weren't able to join you and your family in the celebration of your dad's life. You'll have many great memories of all the great times and eat-offs at the family farm. Take care and see you soon. Joanne and Roz
— Joanne Taylor and Roz Ricketts, December 16, 2008
With time and shared memories your hearts will be fulfilled
— , January 1, 2010
Our thoughts are with your family at this time . We send our deepest sympathies .
— Don and Sharon Irvin, December 14, 2008
Our sympathy to all the Mclean family in the loss of your Dad / Grandpa. Thinking of you ...........Gary & Gwynne
— Gary & Gwyyne Smith, December 14, 2008
Our sincere condolences to the entire McLean Family. Our thoughts and prayers are with you all.
— Joe & Deb ODonnell, January 1, 2010
Dear Doug and Pat Our sympathies and thoughts are with you. Lew and Kathy
— Lew & Kathy Bauman, December 13, 2008
So sorry to hear about your loss.
— Barb and Jillian Radmacher, December 13, 2008
Our thoughts and prayers are with all of you through this difficult time. Warren & Betty Small
— Warren & Betty Small, December 12, 2008
Sorry about your loss and know that you are in our thoughts and prayers at this time of sorrow. Jim and Karen
— Jim Seifried, January 1, 2010