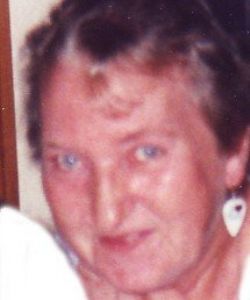 Jean McGuire
August 15, 2008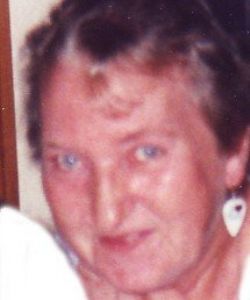 McGuire, Jean; at Grey Bruce Regional Health Centre, Owen Sound on Friday August 15, 2008. Elva Frances Jean (Gardner) McGuire of Chesley, formerly of Mount Forest in her 71st year. Beloved wife of Bruce McGuire. Loved mother of Dan McGuire & Lillian Cook of Hanover, Herb McGuire & wife Charlotte of Mount Forest, Ron McGuire & wife Janice of Chesley and David McGuire & wife Rita of Durham. Loving grandmother of Ashley, Joshua, Beth, Luke, Michael, Nathanael, Stephanie and Rachel. Dear sister of Ron Gardner & wife Mabel of Grand Valley. Jean is also survived by her brothers-in-law, sisters-in-law and many nieces and nephews. Friends may call at the Hendrick Funeral Home, Mount Forest on Sunday from 2:00 to 4:00 & 7:00 to 9:00p.m. The funeral service will be held at First Baptist Church, Mount Forest on Monday August 18th at 1:00p.m. Interment at Woodland Cemetery, Southgate Township. Memorial donations to the charity of one 's choice would be appreciated by the family. On line condolences may be made at www.hendrickfuneralhome.com
Condolences
Dear Dave and Rita, Ron and Janice. You have my deepest sympathy on the loss of your Mother. She was always be remembered for her friendliness and had a beautiful smile. May God give you the strength as only He can to comfort you all at this time. God Bless Isabel (Black) Primmer
— Isabel ( Black ) Primmer, August 15, 2008
Bruce and Family....Les and I are saddened to hear of Jean's passing,we send our sympathy and caring to you all. She was such a fun person,even with her health problems.We remember her at the 50th.party. Les and Helen Riley.
— Helen Riley, August 16, 2008
Mrs. McGuire was an exceptional lady and it is a tremendous pleasure to have met and known her. Jean was a straight up person and told you like it was and that is what I really admired about her. My deepest sympathies to the Mcguire clan jean will be missed by all the peoples lives she has graced.
— Lonny Playford, August 16, 2008
Dear Bruce & Family Please know that you all are in my thoughts and prayers through this difficult time. I feel privileged to say that I knew Jean. Growing up in Big Bay are the memories that I hold the most dear. I can remember the day that I met the "McGuire Family." Jean was so full of life and spirit and I can still hear her calling to me, saying "Come on over Leianne!" Then I would race over and have the time of my life. Both she and Bruce held the respect of my grandparents for simply being who they were and how they portrayed themselves. She would do anything for you, if she possibly could. The turn out at the funeral home shows you how many lives she touched in some way. Your family should be proud of that. Please know that if there is anything I can do, don't hesitate to ask. I have loved getting back in touch with you all. God Bless Leianne
— Leianne Simpson West, January 1, 2010
Bruce & the McQuire family. My deepest condolences for your lost. Although I've only recently have been acquainted with Bruce & Jean I was saddened from the news of Jeans' passing. I visted the Paisley Steam Show on Saturday and not knowing of Jeans fate I could'nt help think I'd see Jean & Bruce somewhere on the grounds. No doubt she was there in spirit sharing past tales with her pals & having a cheer or two. Also, I'll be reminded of Jeans' spirited values as I recall the first time we met. I was able to persuade Bruce & Jean to join our Clavering Community for our Church Supper. All our best. Jim Gulliver, Family & Staff
— Jim Gulliver, August 18, 2008
McGuire Family- Our thoughts and our prayers are with you all and we all can rejoice in the wonderful Saviour we have as he comforts us through these trying times,God Bless you all, Dwight and Cathy Benson and family
— Dwight and Cathy Benson, August 18, 2008
Sorry for you loss, your Mom was quite the lady. I enjoyed knowing her and having the pleasure of working with her. Please except my sincere condolences for your loss of her. Flo and Family
— Flo Van Meer, August 19, 2008
Hi, Ron & Jan and family, you are in our thoughts and prayers. May you draw upon Jesus to give you rest and peace during this time and always. Your friends, Dave & Lynn
— David & Lynn Keller, August 20, 2008
Hi, as i have only ever spoke to Jean, i do not know anyone else, in the family, but Jean filled me in pretty quick on what she had been doing, farming like we also used to ,Jean seemed to me to be a very nice lady, worrying about others, as she had called & had quite a lengthy chat with myself about my Mom & her whereabouts, also when the anniversary party was to be had, she was concerned if she did not invite Gladys, & i told Jean not to worry about it, as it was hard for Mom to get around. And then when i phoned Jean about Mom passing we had quite a lengthy chat again & before i hung up, Jean said take care & i love you, this lovely lady did not know me for long & she had quite a way about her! I am truly sorry, but i am happy that Jean suffers no more, as she had said during our last conversation, this had been pretty hard for her, & also the whole family, take care & love one another, as Jean did, just by talking to you ! Shari Avison. Jean had visited my Mom in Durham @ Serenity & also @ Birmingham retirement lodge, my Mom & Jean had been chatting on the phone , my number is 519 924 1629 if you would like to call ! I am assuming Mom & Jean are up in heaven chatting now !Jean,rest in peace, & say hi to Mom.
— Shari Avison daughter of Gladys Deaken friend of Jeans also passed on Aug 02 ,2008, August 20, 2008
Our sympathy to you all
— Mike and Lynn Reeves, August 21, 2008
Dear Family, Our deepest sympathy to you at this difficult time. You are in our thoughts and prayers. So sorry, Judy & Bill
— Bill & Judy Gerber, August 21, 2008