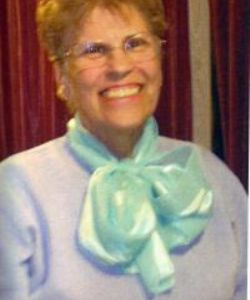 Shirley Matthews
August 6, 2006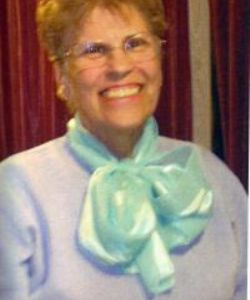 Matthews, Shirley; at Louise Marshall Hospital, Mount Forest on Sunday August 6, 2006. Shirley Christena (Woods) Matthews of Durham in her 69th year. Beloved wife of George Matthews. Loving mother of Barb Fleming & husband Brian of Cambridge, Wayne Matthews & wife Anita of RR #3, Mount Forest, Ken Matthews & wife Colleen of RR #2, Holstein, Brian Matthews of Morriston, Margaret Matthews of Durham, Ruthann Symons & husband Barry of Etobicoke. Loved grandmother of 9. Dear sister of George Taylor & wife Helen of Guelph, Bruce Taylor & wife Pauline of Grande Prairie, Alberta, Carol McAulay & husband George of Port Elgin, Diane Stewart & husband Clayton of Durham and Bill Taylor & wife Karen of Nunavik. Sister-in-law of Lois Taylor of Meaford. Predeceased by sister Joanne Taylor and brother David Taylor. Friends may call at the Hendrick Funeral Home, Mount Forest on Monday from 2:00 to 4:00 & 7:00 to 9:00p.m. The funeral service will be held at the Mount Forest Pentecostal Church on Tuesday August 8th at 11:00a.m. Cremation to follow. Memorial donations to Canadian Liver Foundation, Leprosy Mission Canada, Canadian Diabetes Association or Gideon Bibles would be appreciated by the family.
Condolences
Words can't describe the love of God in this woman.......such a blessing!

Shawn
— greenerfield@hotmail.com, October 30, 2022
Unfortunately myself or my parents (Val and Brenda Dodd) were unable to attend the funeral. But I would like to extend my sincere condolences on behalf of our family. I had only brief visits with Shirley over the past few years. But each time she made it a point to pray for me, encourage me to go on with God, and smile and laugh along with friends she had gathered with. I am blessed to have even had those chances to meet her. I am praying for your family and all the friends I know that are connected with her. Sorrow may last for the night, but joy comes in the morning...hold strong, and keep walking farther as Shirley has encouraged us all to do...
— Jason Dodd, January 1, 2010
We extend our love and prayers to you Barb, Brian and Jenn...and to all of your family in the passing of your dear Mother. Be assured that our hearts are with you at this time. Your comfort lies in the eternal hope we all have and share through Christ. May His peace be with you all.
— Burt & Marilyn Hooper, January 1, 2010
Distance doesn't allow us to be there physically at this time, but our hearts and prayers can transcend all that and are being sent to you with love. We believe that Shirley is probably having a blast feasting on strawberries dipped in chocolate, while also exploring every nook and cranny of glory. As well as gabbing up a storm with the prophets of old, which I'm sure the angels are watching with amusement. So, in this grief, think of such things to help lighten the burdens of your sorrow. God's blessings to you all, Jean & Jason
— Jason & Jean Knox, January 1, 2010
We send our love and prayers from Halifax, Nova Scotia, though we are not able to be there with you we will be praying that God would give us all strength and peace as we mourn the loss of our sister, friend, teacher, pastor and mentor Shirley. I am sure we can fill volumes of books with wonderful, funny , quirky powerful words, sayings and "Shirley'isms" - let's keep sharing those. More than that the global impact that Shirley's life has had on literally hundreds if not thousands of individuals can not be mistaken - we will honour her as we walk out in what God has called us to and we will continue to water and tend to the seeds she has planted in each one of our hearts and hold fast to all that she has imparted in and through Holy Spirit. So friends we don't cry for Shirley but we cry for ourselves, for our loss because we know she is playing with the angels, laughing with glee, Praising our Saviour and exploring every inch of her new mansion in the sky. With much love, adoration and respect we say goodbye to Shirley - until we meet again in heaven. Love your dedicated and honoured pupils, Malcolm, Tanis, Vivian & Josiah Leach
— Malcolm, Tanis, Vivian & Josiah Leach, January 1, 2010
We were sorry to hear of Shirley's death. Her life was a tremendous blessing, she touched so many people. Please know our thoughts and prayers are with you. Judy's parents, Gordon & Shirley McDonald, are out of the province right now, but also send their condolences.
— Judy & Dave Linde, January 1, 2010