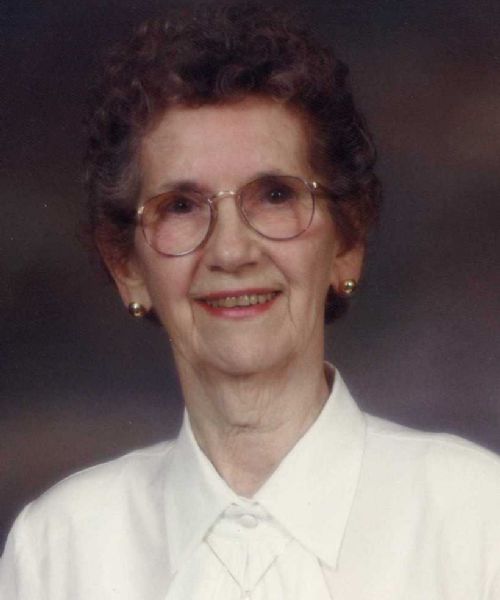 May Martin
April 10, 2013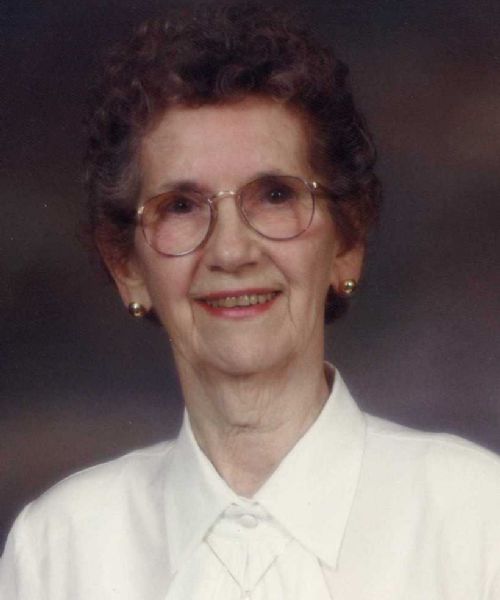 Martin, May Louise (Hancock); May passed peacefully to join her beloved husband Pep, who predeceased her on January 6th, 2013. They were together for 71 years in life, and now together for all eternity. Born in Toronto in May of 1922 to John Henry Hancock and Beatrice Minnie (Rice) Hancock, of Newfoundland, May was the 8th of six sisters and four brothers and their spouses, all predeceased. Mom was the glue in the family as Dad went off to war, and then she became a policeman 's wife. Mom supported Dad through the rough times and the most enjoyable times. Retirement took them to Egremont Township to their hobby farm where for 40 years they enjoyed their grandchildren and great grandchildren. May was a lifetime member of the Women 's Missionary Society. May is survived by her daughter Joan and close and dear friend Shirley Carpenter and sons Randy and his partner Louise Connelly and Dennis and his wife Esther. Grandchildren Dawn (Chris), Craig (Shannon), Jennifer (Scott) and Jason (Kim). Great grandchildren Gordie, Jake, Wylie, Caden, Sidney, Emma, Elly, Ryan and Dylan. Survived by many nieces and nephews and families. Predeceased by brothers and sisters Pearl (Edward) Jennings, Howard (Mary) Hancock, Worrick (Marie) Hancock, Roy (Vera) Hancock, Sue (Albert) Thompson, Hedly (Jean) Hancock, Marjorie (Lew) Weed, Alfreda (Edward) Lorentz and Joyce (Brock) Pierce and brother-in-law Howard Harrison. Friends will be received at the Dromore Presbyterian Church on Saturday April 13th from 1:00 pm until the time of the service at 2:00 pm. Reception to follow at Dromore Presbyterian Church. Interment at St. Marys Cemetery, St. Marys on Monday April 15th at 1:00 pm. Memorial donations to the Dromore Presbyterian Church or to a charity of one 's choice would be appreciated by the family. On-line donations may be made at www.englandfuneralhome.com.
Condolences
Randy and family, So saddened to hear of May's passing. I'm certain that she and Pep are watching over he family just as they're used to. Whenever, I had dropped into their new house, I was amazed at the cleanliness, everything perfect. She always had a smile too. She will certainly be missed, but I'm sure she's right where she wants to be; with her husband. Wished I could have been with you on Sat., but prior commitments didn't allow. Take care.
— Heather Aitken, April 15, 2013
We are very sorry for your loss.
— The Renton Family, April 13, 2013
Sending big hugs and lots of love your way. I am so sorry that you have to face this difficult time. Wish we could be there in person. Thinking of you. Love Jason, Lori, Natalie and Joel.
— Lori and Jason Gallagher, April 12, 2013
So sorry to hear of your loss. Thinking of you at this difficult time.
— Candy and Mark McEwan, April 12, 2013
Dennis, Esther, Jason, Kim, Jenn, Scott & families. We are sorry to hear about the passiing of your mother/grandmother. Please accept our most sincere condolences.
— Jen & Barry Johnson, April 12, 2013
Dear Dennis, Esther, Jason, Kim, Jennifer and Scott: Our deepest sympathy to all of you. Your grandmother/mother was a very gentle natured women and a strong influence within her community. Cherish the memories. We are thinking of you at this sad time, Ron and Mary Johnson.
— Ron and Mary Johnson, April 11, 2013
Dear Aunt May. May you finally be at Rest. Our condolences to Joan, Randy and Dennis and your Families.
— Lynn & Gerry Hancock, April 11, 2013
There is little comfort in words but I feel so fortunate to have known your mom and am now deeply saddened at her passing.
— Sally Allan, April 11, 2013
I am so sadded that those who have led us through live have now all gone. Aunt May bless her heart was always so kind and loving. She was a rock, best friend and just a good listener too. I could not believe the news. My prayers to all and I am sure she has joined the rest to watch over us from above. I am so grateful God put me in this company.
— Patsy, April 11, 2013