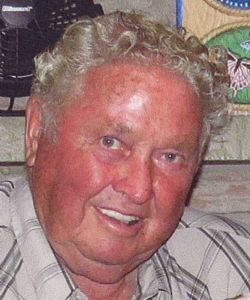 John Markle
August 10, 2013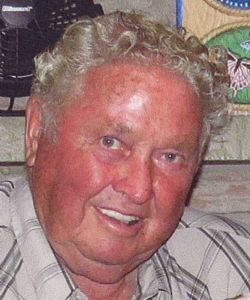 Markle, Jack; at the Guelph General Hospital on Saturday August 10th, 2013. John'Jack' Edward Markle of Mount Forest in his 79th year. Beloved husband of Verna (Thompson) Markle. Loved father of Mary-Anne Rowe of Hanover, Murray Markle of Campbellville River, B.C. and Elva Lee Ball & husband Roger of Verona. Loved stepfather of Lynne Towriss of Cambridge, Doug Beatty & wife Cindy of Kenilworth, Jim Beatty & wife Diane of Lyndon and Leanne Beatty of Arthur. Loving grandfather of Tracy Qaqqasiq, Ashley Markle, Sarah Clews, Jason Jacobs, Kyle Jacobs, Taylor Ball, Alanna Ball and Travis Ball. Loving step grandfather of John Hachey, Mark Hachey, Joanna Lewis, Jana Hachey-Smith, Kelsey Towriss, Morgan Towriss, Thomas Beatty, Lucas Beatty, Nakita Beatty, Melissa Beatty, Vicky Beatty, Alex Beatty, Natasha Beatty, Aaron Bastien and Logan Bastien. Dear brother of Elva Reeves of Mount Forest. Jack is survived by his step great grandchildren and will be missed by the Reeves family and his many nieces, nephews and their families. Predeceased by his first wife Gloria Markle, son Mark Markle, daughter in law Anita Markle, sister Dorothy Gilkes & husband Harold, brothers Earl Markle & wife Dell, Harvey Markle & wife Alena, an infant brother and brother-in-law Norman Reeves. Friends may call at the England Funeral Home, Mount Forest on Wednesday from 2:00 to 4:00 & 7:00 to 9:00p.m. Funeral service will be held at the Mount Forest United Church on Thursday August 15th at 11:00a.m. Interment at Mount Forest Cemetery. Memorial donations to the Lung Association would be appreciated by the family. On line condolences may be made at www.englandfuneralhome
Condolences
Dear Murray and Family. My most sincere sympathy on the passing of your father. You've been part of my life since we were little kids (even have our hockey team photo from the paper when we were very young). I still remember you coming in to dad's office just to say hi to him and shoot the breeze. You were there when my dad passed, and my hope is you feel as comforted now, as you truly made me feel then. I so wish I could give you a big hug in person. Love and warm thoughts to your entire family and your fathers many friends. Your lifelong friend, Jack.
— Jack Kennedy, August 16, 2013
Verna and family, We are so sorry to hear of Jacks passing. He was such a good friend, Arlen is going to miss him a lot. Poker will not be the same with out him. He was the most active guy in our entire USA/CANADA Sun City group. We can not believe he is gone. Take Care - God Bless C U in AZ.
— Arlen and Sharon, August 15, 2013
Murray and family. The world is truly a poorer place with Jack's passing. I consider it an honour to have worked with and been a friend of Jack's.
— John McConnell, August 14, 2013
Dear ElvaLee,Maryann&Murray Sorry to hear about your Dad Treasure your memories and your memories will become treasures. Thinking of you during this sad time Sincerely Diane Dineen
— Diane Dineen, August 14, 2013
Verna kathy and I are shocked and saddened to hear of Jack's passing.. as kathy said she will miss that twinkle in his eyes that was always present when he would stop over to talk what always amazed us was he the most likeable man he will be missed our thoughts and prayers are with you Verna and all of Jack's family oh cant forget sparky
— dan & kathy johnson, August 14, 2013
Verna and family: Jack will be missed by many. He was a good man who left way too soon. Sincere condolences to all of you.
— Jon & RoseMary Peddie, August 14, 2013
To Murray,So sorry to hear of passing of your Dad.Our thought and prayers are for you on this very sad occasion . Dwight and Julia.
— Dwight Tilley, August 14, 2013
you are in our thoughts and prayers. Be sure to remember the fun and the good times. I know Jack will be missed
— Brian & Trudy Beckberger, August 14, 2013
To all the family condolences from Charlotte and I . We remember Jack and family from the Nanisivik days. To Mary Ann whom we remember well and all family our greatest sympathy. Your Dad was a hard working man and always smiling.
— Charlie Jenkins, August 14, 2013
Murray & family sorry to hear about your dad . My thought and prays are with at this sad time
— Minnie Curlew, August 14, 2013
Thoughts and prayers are with you and your family. Tell Murray that we are thinking of him, we will all miss him, He was so active and full of life, it was a pleasure knowing someone who lived live to the fullest. Love from all of us.
— Your Minnesota and Canadian sun City Friends, August 14, 2013
To Murray, Elva Lee & the Markle family, we send our sincere sympathies to you. Jack was a special man to all who knew him. It was a pleasure to have known him. Please know our thoughts & prayers are with you at this most difficult time.
— Boyce & Jo-Ann Wellman, August 13, 2013
Murray and family, so sorry to hear of Jack's passing, our thoughts and prayers are with you, I have many fond memories of meeting him when he was visiting Murray and Anita in Nanisivik.
— Earl & Cecilia Fraser, August 13, 2013
To Murray Markle & Family So to hear of your Dads passing . Our thoughts and parys are with you all at this sad time
— Leon & Shirley Curlew, August 13, 2013
I am truly sorry for your loss. My condolences and hugs to you all.
— Joanna Hachey, August 13, 2013
Elva Lee sorry to read about your father. We are thinking of you at this time, and unfortunately know some of how you are feeling, since the recent loss of Roberts dad. I don't know if I can make it since I am looking after my in laws kids so instead of 3 right now I have 7. I will try to make it to a visitation however my thoughts are with you and your family at this time. Lots of Love and Hugs Krista
— Krista and Robert Quesnel, August 12, 2013
we have been away and did not know that Jack was sick. We are very sorry to hear of his passing.
— marlene and vern dowdall, August 12, 2013
Verna, I am so glad we had the chance to have dinner together. We always enjoyed your company. We're so sorry that we can't be there to support you during this trying time. From: "THE GUY IN THE SHORTS & WHITE HAT"
— Paul & Melissa, August 12, 2013
Our heartfelt sympathy to you & Elva & the family at this sad time in your lives.
— MIKE RUNDLE & KAYE COUTTS, August 11, 2013
Just stumbled across the obituary by accident. So sorry to hear of your loss. Long time since we've spoken! Hope you remember us from Kingston, Elva Lee! We're now living in Nashua, NH. Take care.
— Judith and Paul Colley, October 5, 2013