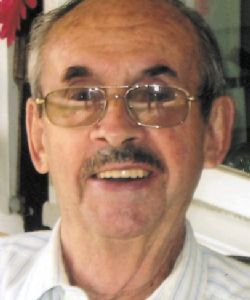 Peter MacDougall
October 14, 2010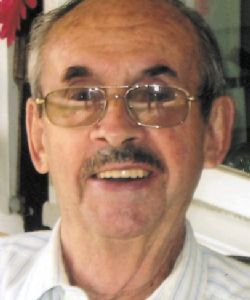 MacDougall, Peter; at Louise Marshall Hospital, Mount Forest on Thursday October 14. 2010. Peter Alexander MacDougall of Holstein in his 90th year. Beloved husband of Anne (Irvin) MacDougall. Loved father of Barb Pinder & husband Jim of Kitchener, Audrey Coffey & husband Mark of Kitchener, Scott MacDougall & wife Carolyn of St. George, Quebec, Christine Michaud & husband Mark Kreller of Kitchener and Beth Lamprecht & husband Volker of Petersburg. Loving grandfather of Jennifer Pinder & fiancée Chris Saban, Luke Pinder, Kevin Coffey, Sam Coffey, Catherine MacDougall, Elizabeth MacDougall, Stuart Michaud, Emily Lamprecht, Amy Lamprecht and Katie Lamprecht. Dear brother of Graham MacDougall & wife Ruby of London, Ken MacDougall & wife Ruth Ann of Moncton, New Brunswick, Jim MacDougall & wife Anne of Oshawa and Mary Schwindt & husband Gary of Kitchener. Peter is also survived by his many nieces, nephews and their families. Predeceased by his daughter Connie MacDougall, parents Jack & Agnes MacDougall, brothers Donald'Tuffy' MacDougall & wife Betty, Jack MacDougall and Lincoln MacDougall. Friends may call at the Hendrick Funeral Home, Mount Forest on Sunday from 2:00 to 4:00 & 7:00 to 9:00p.m. A Royal Canadian Legion Service will be held on Sunday at 6:30p.m. Funeral service will be held at the Mount Forest United Church on Monday October 18th at 2:00p.m. Cremation to follow. Memorial donations to the Royal Canadian Legion Poppy Fund would be appreciated by the family. On line condolences may be made at www.hendrickfuneralhome.com
Condolences
Dear Aunt Anne, Myself and Andrea just wanted to let you know our thoughts are with you and your family during this difficult time. I want to thank you as well for being a strong support for my grandma over the last month since my grandpa's passing. Love Megen and Andrea
— Megen Galbraith (Dowling), October 20, 2010
Dear Anne, Barb, Audrey, Scott, Chris, Beth and families, We are all very sad to hear of the passing of your dear husband and father. We have many fond memories of good neighbours and fun times together. We extend to you all our deepest sympathy. love, Jean, Mary and Graham Tennant
— Mary (Tennant) Spencer, October 19, 2010
Pour toute la famille, mais aussi spécialement pour Scott, Caroline, Catherine et Elisabeth, Nous nous joignons à vous en pensée pour ce moment difficile en silence et respect. Par vous, il vivera encore par vos gènes et votre mémoire. Nous vous portons spécialement dans nos pensées. Carole, Francis et les enfants, Philippe, Charles et Marianne.
— Carole Dallaire, October 18, 2010
Barb & Jim, "Now the heavens are brighter by one more star." Our thoughts are with you during this difficult time and always. Doug & Wendy
— Doug & Wendy Bannon and Family, October 17, 2010
Dear Chris and family, We want to express how incredibly saddened we are for you. Your hearts must be broken beyond words. Our prayer for your Dad is for a wonderful journey, our prayers for your family are to find some peace in your overwhelming grief. You will see in the next days how much you are loved and how many people want to help. I still have the sheet music and frame your Dad made for me. I am so glad to have known him. May you find peace in the love of family...and strength in the caring words of friends. Love John, Terri, Shay, and Keenan O'Donoghue
— John, Terri, Shay and Keenan O'Donoghue nee Simmons, October 17, 2010
I am so sorry to here of the passing of uncle Pete. Our thoughts and prayers are with you and your family at this time. The great thing about life and death is our loved ones can be taken away from us, but no one can ever take away the wonderful memories that we will continue to cherish for the rest of our lives. We all have such great memories of uncle Pete. He was a wonderful man, who will truly be missed. Love Tom and Candice Austin Brendon, Brittany, Tristen and Tanner
— Candice (MacDougall) Austin, October 17, 2010
Dear MacDOUGAL family, I am very sorry to hear about Peter's passing. I very much so enjoyed working with him at Uniroyal and all of the yearly power-house reunions. He was a great friend and will be missed. Sinceraly, Peter Daamen and Ken and Jackie Weber
— Peter Daamen, October 16, 2010
Dear Ann and family, We are sorry to hear of Pete's passing. You will miss him dearly. We have such wonderful memories of Fairmount Road and the great neighbours and friends that lived there. We are in Toronto on Sunday and have appointments on Monday so we won't be able to join you in the farewell to Pete. We just want you to know we care. With love, Ed and Ginny
— Ed and Ginny Peng, October 16, 2010
Beth, Volker told me about the loss of your father, and Kris and I wanted to extend our condolences and prayers to you and the family. While the loss is difficult to bear we know from experience that our loved ones stay in our mind and and our hearts forever.
— Dan & Kris Green, October 16, 2010
Dear Aunt Anne, and Family, Ron and I were so sorry to hear that Uncle Pete had passed away. We certainly know what you are all going through. Aunt Anne, you were so supportive to Mom, and the whole family when Dad passed away. Our thoughts and prayers are with you, and the family. Ron and Gayle Dowling
— Ron and Gayle Dowling, October 15, 2010
The staff and management of Urban Machinery would like to extend our sincere condolences to Beth and the entire MacDougall family. Our thoughts and prayers are with your family at this time.
— The Staff and Management at Urban Machinery, October 15, 2010
Anne and Family It is with deepest sadness that we send this message. We are all thinking of you in this time of loss, but we do know that he is in good hands. Every time mom (Theresa) was to visit Uncle Pete he talked and talked about Tuff. The stories that make you giggle. I am sure there will be many great story about Uncle Pete as well and what he did for people. We will miss him greatly but will remember him fondly. I (BJ) will always remember the FAMILY reunions in Holstein. Quite a bunch when we all got together. But Uncle Pete was so happy to see everyone. We send our thoughts and prayers to all of you. Love Brent, Theresa, BJ, Bradi, Brook, Tiny
— The Cochrane Family, October 15, 2010
We are sad to hear of the passing of Uncle Peter and send to your family our sympathies and our prayers. Don and Sharon
— Sharon and Don Irvin, October 14, 2010