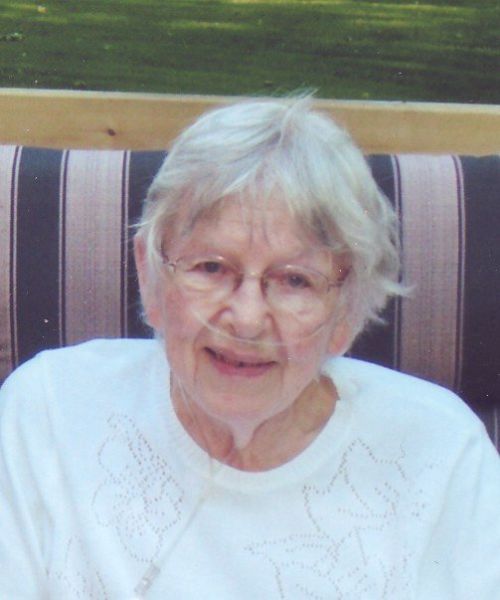 Leona Lewis
February 24, 2008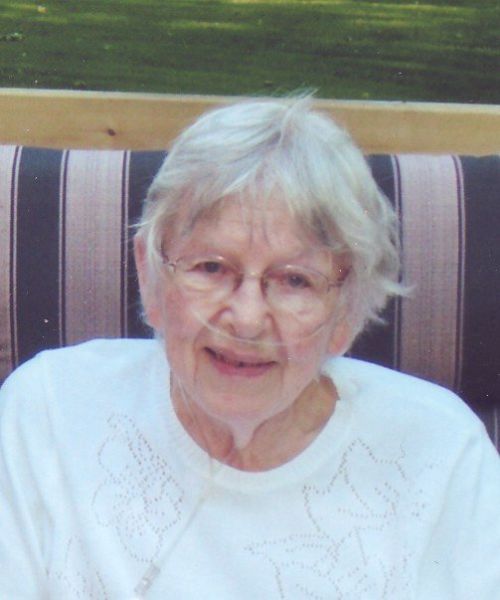 Lewis, Leona; at Louise Marshall Hospital, Mount Forest on Sunday February 24, 2008. Leona Myrtle (Patton) Lewis of Mount Forest in her 84th year. Beloved wife of the late Peter Chalmers and John Lewis. Loved mother of Karen MacMillan & husband Angus of Durham, Debbie Young & husband Scott of RR #1, Harriston and Danny Chalmers & wife Jane of South Porcupine. Loving grandmother to Steve MacMillan & wife Saskia of Durham, Keith MacMillan & wife Stacey of Minto Pines, Jeff MacMillan & wife Jill of Durham, Kassidy Cowen of Harriston, Gregory Young of Harriston and Caysi Chalmers of Toronto and loving great grandmother to Robyn, Nicole and Emma. Dear sister of Pauline McGillivray of Durham, Lorne Patton & wife Irene of Durham, Olive Ellis & husband Don of Meaford and Joan Sewell & husband Bill of Meaford. Survived also by her many nieces and nephews. Predeceased by her parents Wesley & Myrtle Patton, brothers Elwoode Patton & wife Terry, Roy Patton, Greg Patton, sister Doris McKenzie & husband Charlie, sister-in-law Winnie Percival and brother-in-law Alex McGillivray. Friends may call at the Hendrick Funeral Home, Mount Forest on Tuesday from 2:00 to 4:00 & 7:00 to 9:00p.m. The funeral service will be held at Holstein Presbyterian Church on Wednesday February 27th at 11:00a.m. Spring interment at Maplewood Cemetery. Memorial donations to the Holstein Presbyterian Church, Maplewood Cemetery or Louise Marshall Hospital would be appreciated by the family. On line condolences may be made at www.hendrickfuneralhome.com
Condolences
Debbie,Scott,Kassidy and Gregory; Sorry to hear of your mom passing, our thoughts and prayers are with you. Sincerely, Rick & Linda Dally
— Rick & Linda Dally, March 2, 2008
Our sincere condolences to all of Leona's family. She was one of the founders at the Hapfield and brought a smile to all those she came in contact with, despite her own health challenges. She will be missed by many. Leona warmly welcomed my in-laws, Ross & Jean Shaw, to life at the apartment and they became fast friends. She was a remarkable lady.
— Patti-Jo McLellan Shaw, Hapfield Developments, February 27, 2008
Our thoughts and prayers are with you Karen, and your family
— Gary, Nancy and Kyle Greenland, February 27, 2008
We are sorry to hear about your loss, and just want you all to know that we are thinking about you at this time.
— , January 1, 2010
Karen, Debbie & Danny We are so sorry for the loss of you mom. On behalf of the Neuman family we wish to extend our sincere sympathy to all family members. She was such a bubbly person and we had a lot of laughs over the past few years when in her presence. She will be missed terribly. Our thoughts are with you. Love Dean & Mary Lou & family
— Dean & Mary Lou Neuman, February 25, 2008
Karen, Debbie, Danny and families, Aunt Leona always had such a high level of inner energy, that spark that was always there. I'll always remember her quick smile and chuckle that was so much a part of her just being herself. We could always count on Aunt Leona to be the positive person and in any circumstance she would brighten someone else's day. We'll all miss her so much, especially at the family functions. Love, Harold and Lois
— Harold and Lois, February 25, 2008
Grandma you were a wonderful women and i am glad you didn't have to suffer and i hope you rest in peace in heaven. Luv, Kassdiy
— Kassidy Cowen, February 24, 2008
You have my sympathy, in the loss of a loved one.Take care of one another in the days to come.Keep your chin up and be strong. Leona was precious.
— Sheila Hamilton, February 24, 2008