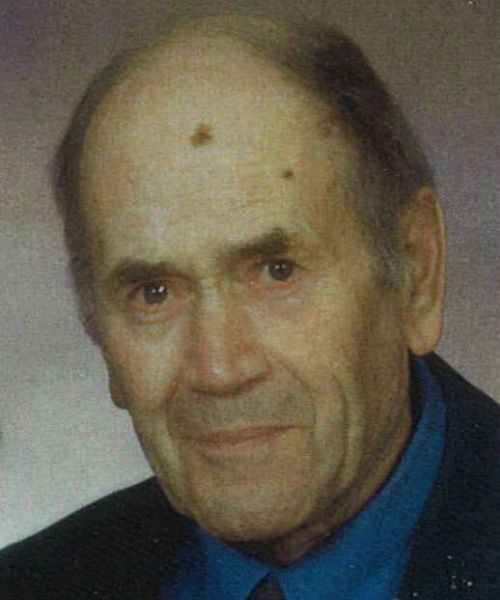 Cyril Lehman
May 20, 2012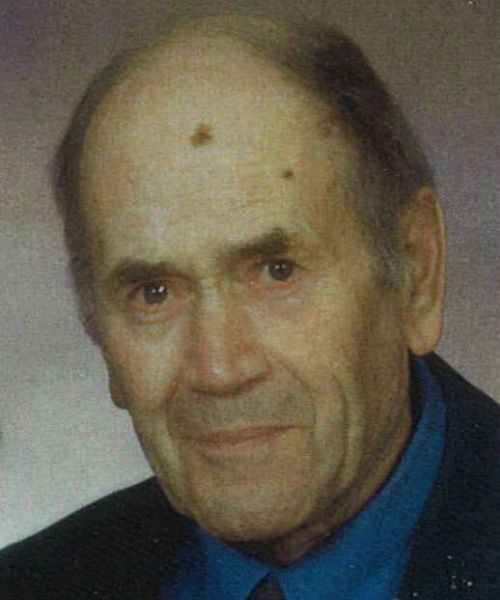 Lehman, Cyril; with his loving family by his side at his home at RR #2, Kenilworth on Sunday May 20, 2012 in his 88th year. Beloved husband of Teresa (Goetz) Lehman. Dear dad of Jerome Lehman & wife Hope, Father Mike Lehman CSB, Betty Kopecki & husband Ben, Ron Lehman & wife Wilma, Julie Goetz & husband Mike, Glen Lehman & wife Lorrie, Mary Purdy & husband Bill and Cindy Redburn & husband John. Loving grandfather to his 18 grandchildren and 10 great grandchildren. Dear brother of Inez Burke and brother-in-law of Kay Lehman. Predeceased by brother Harold Lehman, brother-in-law Egan Burke and 4 grandchildren. Friends may call at the England Funeral Home, Mount Forest on Tuesday from 2:00 to 4:00 & 7:00 to 9:00p.m. A Prayer Vigil will be held on Tuesday at 4:00p.m. Mass of Christian Burial will be celebrated at Sacred Heart Church, Kenilworth on Wednesday May 23rd at 10:30a.m. Interment at Sacred Heart Cemetery. In lieu of flowers memorial donation to Sacred Heart Church or to the Canadian Diabetes Association would be appreciated by the family. On line condolences may be made at www.englandfuneralhome.com
Condolences
On behalf of our family,we would like to send you our sincere condolences on the loss of your husband, father, grandfather and great grandfather Cyril. I know at a time like this there is never much anyone can say to make things better. Hold on to all of the memories, remember all of the fun times that you had together that is what will make things easier in the upcoming times ahead. May God bless all of you and keep you safely in his arms through this difficult time. Our thoughts and prayers are with you. The Baak Family
— The Baak Family, May 23, 2012
My Deepest Sympathies, It is with sad hearts that we say goodbye to our loved ones but our precious memories can brighten the darkest days. You will always have your husband, father & grandfather in your hearts. God Bless! Mary Ellen
— Mary Ellen McFarlane/Wooddisse, May 23, 2012
OUR SINCERE CONDOLENCE FOR THE LOSS OF YOUR HUSBAND AND FATHER.I KNOW HE WAS ONE OF THE PATRIARCHS OF THE KENILWORTH CHURCH AS WAS MY FATHER.HE DID HIS JOB WELL AS DID HIS FAMILY.MAY HE REST IN PEACE.M&aSnyders
— martin &anne snyders, May 22, 2012
Father Michael and family, Our deepest sympathies at the loss of your father. Please know that you are in our thoughts and prayers.
— Kimberley & Stephen Bailey, May 22, 2012
Father Michael, My thoughts and prayers go out to you and your family as your mourn the loss, and yet, celebrate the life of your father. May all your special memories of the events he shared with you during his life, bring you and all of the Lehman family much comfort and peace in the days ahead.
— Gerard MacNeil, May 21, 2012
Our condolences to the Lehman family, the 2nd will never be the same.Bill Goetz has a good euchre partner now! Look out Mad and Shirl! Jim and Barb Hayes and family
— Jim and Barb Hayes and family, May 21, 2012
The world has lost an amazing man but we were lucky to know him! He was quiet, gentle, loving, sweet, funny and so much more. He loved cards, his family, his friends and life. Heaven has truly gained an angel.
— Andy and Lorrie Hopf, May 21, 2012
Our thoughts and prayers are with the "Lehman Family" at this time. Bill & Diane Dineen
— Bill & Diane Dineen & Family, May 21, 2012
Deepest Sympathy From Larry and Lily Stortz
— Larry Stortz, May 21, 2012
Thinking of your families at this difficult time.
— Linda and Wayne Preston, May 20, 2012
It is rare to discover a scaiielpst in whom you can have some faith. In the world today, nobody genuinely cares about showing others the way in this subject matter. How blessed I am to have found a real wonderful blog as this. It is really people like you that make a real difference these days through the thoughts they write about.
— Ayman, July 27, 2012
RhZPW8 , [url=http://ybymkdcwtjut.com/]ybymkdcwtjut[/url], [link=http://kqvgldxkuowl.com/]kqvgldxkuowl[/link], http://fpoltvhgcgvg.com/
— psqswp, July 28, 2012
PCAFrr , [url=http://bpwuxqirsehn.com/]bpwuxqirsehn[/url], [link=http://yoedjuoccoon.com/]yoedjuoccoon[/link], http://kqadnjhwapgz.com/
— jaguqqatwja, July 30, 2012