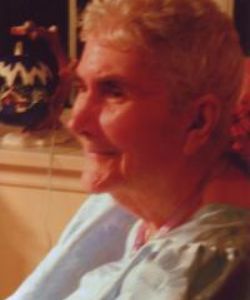 Isobel Lambert
July 10, 2007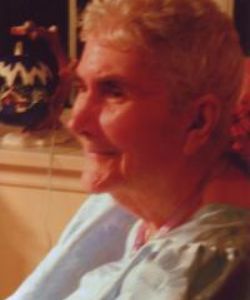 Isobel Irene (Bowers) Lambert, predeceased by husband Euclide Lambert. Daughter of the late Henry Bowers and Rose (Pemberton) Bowers. Mother of Beatrice Bernier (Jean' deceased) of St. Joseph Island, Ontario, Edward (Edna) of Calgary, Alberta, Marie Bernier of McKenzie, B.C., André (Mona) of Alix, Alberta, Laurentia Cain' deceased, Burnice Brideaux (Colin' deceased) of Sault Ste. Marie, Ontario, Jacquie Robertson (Jim) of New Liskeard, Ontario, Joanne Marchisella (Antonio) of Sault Ste. Marie, Ontario, Joyce Turpin (Adolph) of New Lowel, Ontario, Doris Laird (Robert) of Mount Forest, Ontario. Loving grandmother of 40. Great grandmother of 82. Great great grandmother of 20. Friends may call at the Hendrick Funeral Home, Mount Forest on Thursday July 12th from 1:00p.m. till time of the funeral service at 3:00p.m. Cremation to follow. Memorial donations to Odd Fellows Humanitarian Services would be appreciated by the family. On line condolences may be made at www.hendrickfuneralhome.com
Condolences
Private Condolence
— Robert Laird, January 1, 2010
My heart goes out to all those who are hurting and feeling the pain in their hearts for the passing of Grandma. Knowing she is surrounded by endless love and peace, and the reassurance that her wisdom and spirit will live on in all of those she knew and loved brings great comfort. Not a day in our lives will go by that a fond memory will not be sparked, weather it's the sight of a beautiful flower garden, the song of a bird or the inability to part with a single piece of garbage without knowing that it's going to a useful place. If you watched and listened she had so much to teach about appreciation for the things we have in life, and that everything around us is a treasure and should be treasured. My heart is with you Grandma, you are a treasure--yesterday, today, and forever--your spirit lives with me and in me.
— Solange Maher, January 1, 2010
Isobel's Clan Cannot make the visitation or service due to work schedule. I was a lucky person to have met Isobel, she was very rich with spirit and character. Plus I got to hang out with Jackie and Doris. I'll treasure my original stuffed sock monkey always. Take care! Kate
— Kate Wick (Bayshore nurse), January 1, 2010
Blessings... Blessings... Gramma**** My Gramma will be missed by many hearts, including myself. I come from a line of strong women. My Grandmother is one of them. She has left us her legacy and I am honored to be a part of it.Gifted with her hands, giving from her heart.....that's my Gramma. She loved a good story and I would encourage my sister,Julie,(who is a great storyteller and is named after Gramma) to keep telling them because I loved to see and hear Gramma laugh.Gramma always made time for me and my siblings.Listening,understanding and caring with her calming words, "let it be girl, let it be". When we were young we all remember Gramma had her terms of endearment for us, we were her "little chick-a-dees" or her,"little shittie pies", depending on the situation at the time.We could write a book on "My Grama and Grampa ...I Remember". I have good memories of our times together.I envision Gramma walking, singing and dancing with Grampa in her Divine Garden.My heart is full of joy and love for you Gramma. Until we meet again ..........IN The ARMS OF THE ANGELS MAY YOU FIND SOME COMFORT THERE... Or in Grampas arms. Peace Be With You Both Love,Love, Love Nancy,Chance, James and Jarred**** Peace and Love to All Our Extended Family and Relatives
— Nancy Francis, January 1, 2010
Great Grandma, I am sorry not to be able to be there in person to say goodbye. I know that you are in a better place with Grandpa. I'll think of you with the fondest of memories. Love, Candee
— Candace Cox, January 1, 2010
Blessings....Blessings.....Gramma So happy for you..........So sad for Our Loss.Thank-you for our time together. I am so grateful. NOW you can WALK, SING and DANCE in the Divine Garden with Grampa by your side.I sing your favorite songs and hear your voice. My heart is full of joy and love.I am so proud to be your grand-daughter(as you know). Until we meet again my beloved Gramma Peace Be With You. Peace Be to All my extended Family and Relations Love, Love, Love Nancy, Chance, James and Jarred
— Nancy Francis, January 1, 2010
I just wanted to let you know that many of us at CMHA send our heartfelt sympathy and condolences to you and your family. PS - You know where I am if you need me.
— Tina irvine, January 1, 2010
Gramma, I thank you so much for the wonderful memories. I am selfishly saddened at your passing, but could never be more happy that you are now at peace. You taught me many things in life that I will smile at when teaching my girls. Please know that with every chipmunk and chickadee I see, I will think of you with love. As you walk though the gardens of heaven with my grampa please give him a hug from me. Love Always, Chicky
— Shirley (Chicky) Grant, January 1, 2010
Gram, I know that you are with Grampa and that fills my heart with joy - I miss you both very much. I am eternally grateful for everything you taught me, and I am a stronger person today because of you both. You are in my heart forever. You are at peace now, Love Teena and Dallas.
— Teena (Christine) Francis, January 1, 2010
Grandma, I am sorry I can't be there to say my goodbye to you,but know I think of you often and will always keep the wonderful childhood memories of our time together close to my heart.I know you will be happy now to be with Grandpa again. Love Thom
— Thom Bain, January 1, 2010