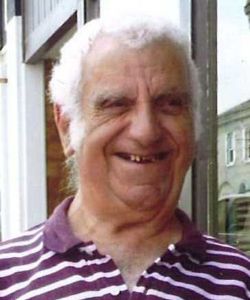 Joseph LaBarbera
June 29, 2014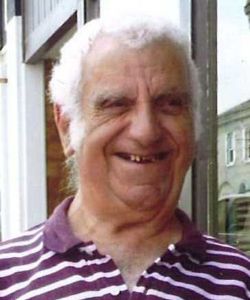 La Barbera, Joseph; at his home in Mount Forest on Sunday June 29th, 2014. Joseph Pino La Barbera in his79th year. Loved son of the late Ignazio and Giuseppa La Barbera. Predeceased by his brother Ignazio Jr. and sister Maria. Joseph will be missed by his many cousins and by his friends in Mount Forest. Friends may call at St. Mary of the Purification Church, Mount Forest on Tuesday July 8th from 10:00a.m. until time of the Funeral Mass at 11:00a.m. Interment at Holy Cross Cemetery. Funeral arrangements entrusted to the England Funeral Home, Mount Forest. Memorial donations to a charity of one 's choice would be appreciated by the family. On line condolences may be made at www.englandfuneralhome.com
Condolences
We were so sorry to here of Joeys passing. Allways such a kind man with an interest in how everyone was doing. We will miss our chats with him on the main street. Rest in peace Joey you have a smile that will be missed by all
— Robt. and Lucie Walker, July 11, 2014
Joey, in death as in life, will always be thought about by me with fondness and a smile. My sisters and I have known him our entire lives -- my parents since they were teens and Joey a young guy in his 20s. An amazingly kind soul who always made you feel as though you were the most important person in the world to him. You're missed, sweet man.
— Susie Spahr, July 8, 2014
To the family & friends of Joey It was with sadness that I read the news of Joey's passing. Although I had not seen Joey in a number of years, my family in the area always keep me up-to-date with the news in and around Mount Forest. My sister had told me that he inquired about me a week before his passing. That was Joey! He never forgot a face or a name even after all the years. His interest in the well-being of others was genuine and his concern was not a facade. I will always remember him as a gentle soul who used his faith to sustain him. I know that the town will miss his presence and his friendly ways. God bless and rest in peace Joey. You will be remembered.
— Florence Sullivan (Dinneen), July 7, 2014
Joe was a beautiful man. Always had a kind word and a genuine interest in how everyone in the family was -asking about each one by name. His immense love of people was the thing that sustained him, and we were all infinitly blessed as a result. I'm honered to have called him my friend, and will miss his smile and hug.
— Jack Kennedy, July 4, 2014
Joe... My dear old friend. I'm sad this morning to learn that you are gone. My last time spent was just like the good ol'days when we all lived @ the Belmont House. So many memories flood my thoughts, fill my eyes & make my heart ache. Looking @ your homeland on my phone & seeing the joy in your face will stay with me always. I am proud to call you my friend & will never forget you or how you could make me laugh, even if I was feeling blue. You are a rare gem in an ocean of stone. God has taken you home. Please say hello to my Mama & Daddy. My love to you always... Jainy
— Maryjain Steed, July 4, 2014
So sorry to hear of Joey's passing. I did not know him well however he was always so friendly and was happy to have a conversation with you at any time! He was someone I was so used to seeing regularly and saying hello to, since our family moved here ~ he was like the Mount Forest greeter ! Condolences to his family! His smiling and expressive face will be missed to all those he took the time to share a story with!
— Nicole West, July 3, 2014
Our dear friend Joey will be so missed by all of us who knew the wide smile, the tender heart and the lovely man that he was Rest in Peace my friend. My eyes are full and my heart is sad but we will never forget you and your smile...we where so lucky to have you in our lives God Bless
— Judy & Bill Gerber, July 3, 2014
I will miss you. My thoughts are with you and my prayers go out to you. Liz.
— Liz Couttz, July 3, 2014
Who didn't love,Joey? - He was a "rare bird" and charming character, to us ALL. -A Mt.Forest treasure! -That with a wide smile, and warm greeting, would make anyone feel special,as soon as they met him.-I doubt,if any of Us who knew him, will ever forget him?? --I know, that I won't! RIP -Joey! --Thanks, for crossing my life.You are Special.
— Patricia Morris, July 3, 2014
RIP Joey..such a great man with a contagious smile! He will always be missed in Mount Forest a lot of people knew him whether it was just in passing or to stop for a friendly chat. I worked at the Beckers/Macs Milk this is where I always enjoyed Joeys company.. he brightened my day. He always brought a smile to my face! He would always knock on the store windows hide and them come in and say " how's my pretty lady today".He was always sure not to spend to much money but he loved his scratch tickets and he would get so proud when he won even if it was three dollars and when he lost he gave his pout face but was sure he would win again. <>.He had a great love for children and was deeply saddened when their was a death in the community. He was proud of Mount Forest and he knew it all. He always made me smile and he defiantly was a friendly guy and great company! May you rest in peace my friend Joey, the streets wont be the same without you! An angel, may you now be at peace with your family gone before..
— Holly Allen, July 3, 2014
Always a kind man. Rest in peace Joe.
— Bart Penwarden, July 2, 2014
I will surely miss his smiling face. Joey was the one constant thing about Mt. Forest and he was friendly to all. He always remembered family connections and asked about them. I know you are sitting on a park bench right now with your family. Rest in peace Joey.
— Joan Arthur, July 3, 2014
My heart sunk when I read that Joey had passed away. He was the goodwill ambassador of Mount Forest! A fixture on the benches downtown. I will miss his stories of Italy, his love of children and small dogs and him telling me I am a movie star because he liked my perfume. RIP dear soul. I hope your reunion with your Mom was beautiful! xoxo
— Cherie Perks, July 2, 2014