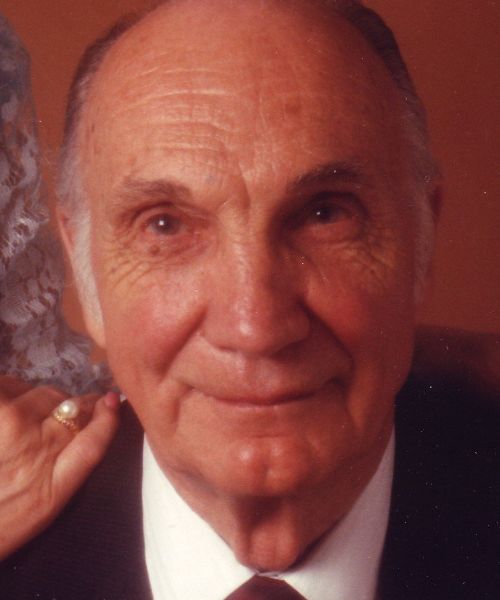 Oliver Kloepfer
July 10, 2008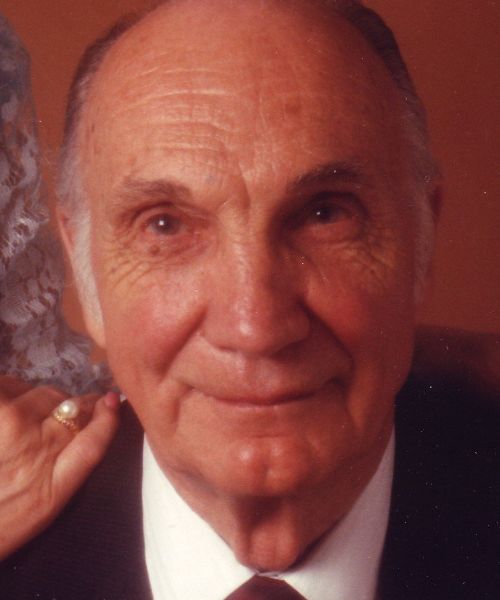 Kloepfer, Oliver'Ollie'; at Louise Marshall Hospital, Mount Forest on Thursday July 10, 2008. Oliver'Ollie' Norman Kloepfer of Mount Forest in his 95th year. Beloved husband of the late Mary (Grubb) Kloepfer. Loved father of Margaret Groh & husband Jim of Kingston, Dianne Strube & husband Chris of Lillooet, B.C., John Kloepfer & wife Anna of Calgary, Gary Kloepfer & wife Theresa of Goderich, Terry Kloepfer & wife Lucy of Wasaga Beach and the late Wayne Kloepfer. Loving grandfather of 12 grandchildren and 7 great grandchildren. Friends may call at the Hendrick Funeral Home, Mount Forest on Sunday from 2:00 to 4:00 & 7:00 to 9:00p.m. A Prayer Vigil will be held on Sunday at 4:00p.m. Funeral Mass will be celebrated at St. Mary of the Purification Church, Mount Forest on Monday July 14th at 11:00a.m. Interment at Holy Cross Cemetery. Memorial donations to St. Mary's Parish Family Centre or to the Heart Stroke Foundation would be appreciated by the family. On line condolences may be made at www.hendrickfuneralhome.com
Condolences
Please accept my deepest sympathy at this difficult time. Your father was a very good kind man and I know you will all miss him in your own way.
— Peter MacLellan, July 19, 2008
Terry, Lucy, Greg & Mike, So sorry to hear of Ollie's passing and sorry that we heard about it after the fact as we surely would have been there to extend our condolences and hugs* (*next time we see you!). Take care. Don and Marie
— , January 1, 2010
Hi Everyone. I wish I could have been there to celebrate Grandpa's life with all of you. It was always a pleasure going to visit and talk with Grandpa. His childhood stories could have entertained me for hours, as it always seemed to amaze me how things have changed. I will cherish the times we played cards together, while sharing many laughs. He was a supportive Grandpa, as he continuously asked about school and our lives. Oliver was a son, a brother, a husband, a father, a grandfather, and a great grandfather; a man who took each of his many roles with pride and grace. I'll miss you Grandpa. Love always, Jen 'Hennifer' Kloepfer
— Jen Kloepfer, July 15, 2008
Kloepfer Family, Sending you our Deepest Sympathies in the passing of your Father, Grand-Father, and Great-Grand-Father. We will miss hm at Mass. Laura, John, Adrienne, Marie, Ray, John, Helen, & Fr. Bob Love.
— The Catholic Family Caressant Care Harriston, July 14, 2008
Hello Everyone. I wish I could be back home to celebrate the life of grandpa with the rest of you. It seems to me that grandpa made the most of his ninety-four years of life. He enjoyed more than sixty years of a happy marriage to grandma, and with grandma, he raised six children of whom he was proud. Grandma and grandpa always took interest in each of their twelve grandchildren, and also their four great grandchildren. Most of can only hope to live a life as long and as full as Oliver Kloepfer's. We'll all miss you grandpa. Love, Ryan
— Ryan Kloepfer, July 13, 2008
Gary & Theresa, Thinking of you with sympathy. Doug and Jan Kellum
— Doug and Jan Kellum, July 11, 2008