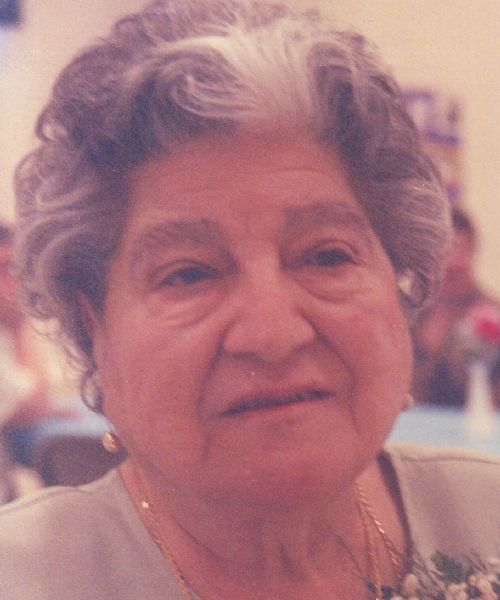 Rose Kirk
August 5, 2009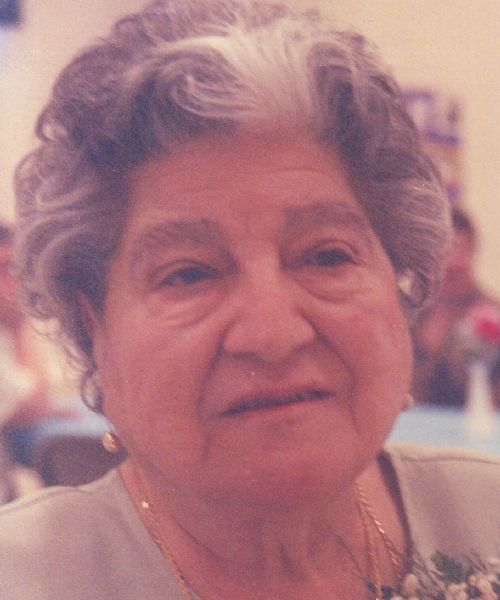 Kirk, Rose; at Saugeen Valley Nursing Centre, Mount Forest on Wednesday August 5th, 2009. Rose (Bondi) Kirk of Mount Forest in her 86th year. Beloved wife of the late Lloyd Kirk. Loved mother of Carol Burbee of St. Thomas, Janice Kirk & Al Rodrigues of Sarnia and Gerard Kirk & wife Laura of Guelph. Loving grandmother to Krista MacWilliam, Chad MacWilliam, Fischer Kirk and Chloe Kirk and loving great grandmother to her great grandchildren. Predeceased by sisters Mary Bondi, Grace Joseph and Clara Cardone, brothers Frank Bondi and Salvadore'Sam' Bondi and son-in-law Jerry Burbee. Rose is survived by her nieces and nephews. Friends may call at the Hendrick Funeral Home, Mount Forest on Thursday from 2:00 to 4:00 & 7:00 to 9:00p.m. A Prayer Vigil will be held on Thursday at 4:00p.m. The Funeral Mass will be celebrated at St. Mary of the Purification Church on Friday August 7th at 11:00a.m. Interment at Holy Cross Cemetery, Mount Forest. Memorial donations to the Canadian Diabetes Association, Lung Association or to the Heart & Stroke Foundation would be appreciated by the family. On line condolences may be made at www.hendrickfuneralhome.com
Condolences
I'll always remember how beautiful the altar at St. Marys looked after Rose was done arranging the flowers. She did such a wonderful job. I enjoyed her stories and her sense of humour
— Joan Arthur, August 21, 2009
My family and I came to Mount Forest in 1973 as summer residents. Mrs Kirk was an invaluable resource to us on all matters concerning our new habitat. She was kind, gracious and eternally interested in making us feel comfortable and a part of the community. It was always a delight to run into her in town and find that she remembered and cared about so many of the details of our family life. She was a wonderful lady. Sincere condolences to all her family. Anne Lamek, Alliston, ON
— Anne Lamek, August 15, 2009
Carol & Janice So sorry to hear of your mother's passing - God bless you and your families. Cheryl
— Cheryl (Sheehy) Williamson, August 8, 2009
Being a part of her life during her last years was a true gift. I am both inspired and in awe of all of her life accomplishments. She represented so much independence, will, determination and strength to make her family business so successful for so many years.. despite the loss of her husband at such a young age. She was educated and witty. Her sense of humour was dry and entertaining--her delivery made it even better! Rose Kirk was known to many in her community. She was an artist, a pianist, a horticultural queen with an edge that won her many contests in floral design. She was dedicated to her parish church and to her community. Rose Kirk was my mother-in-law and I was so honoured to be part of her life. We will miss her presence in so many ways.
— Laura Kirk, August 6, 2009
My thoughts and prayers are with you and your family during this difficult time
— , January 1, 2010
Please accept our most heartfelt sympathies for your loss of your mother. Our thoughts are with you and your family during this difficult time Torchlight Staff
— , January 1, 2010
May the treasured memories of your mother help you through this time of deep sorrow. May it help you to know that others care deeply and are remembering you with special thoughts and prayers. Yvonne Paterson
— Yvonne Paterson, August 6, 2009
I am so sorry for your loss Laura and Gerard. Our thoughts are with you in your time of sorrow. Robert Fulghum: I believe that imagination is stronger than knowledge -- myth is more potent than history -- dreams are more powerful than facts -- hope always triumphs over experience -- laughter is the cure for grief -- love is stronger than death. Thinking of you and your family, Amberley Arnold
— Amberley Arnold, August 6, 2009
My thoughts are with you and your family
— , January 1, 2010
Dear Gerard and Family. I was saddened to hear of your Mothers passing. My memories center around my childhood and the store. She could always be seen out front smiling and tending to the fresh fruit and vegetables. It was like having your own Rockwell painting every day on your walk home from school. Take comfort in knowing that your Mother touched many lives, in many positive ways. Take care Woody, your friend in childhood-your friend for life, Jack.
— Jack Kennedy, August 6, 2009
My deepest sympathy. Kens Painting Service Ken Seifried
— Ken Seifried, August 5, 2009