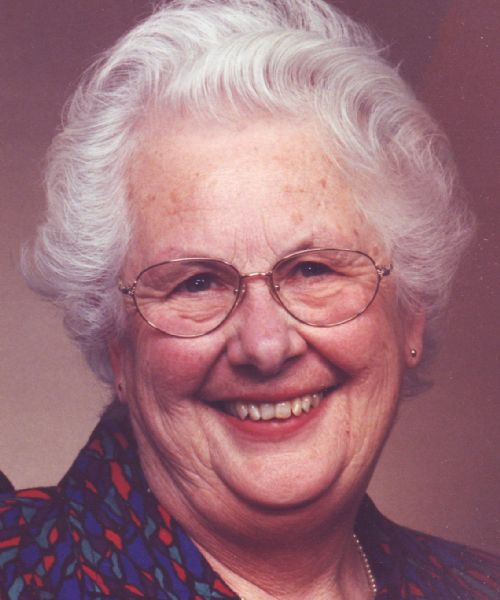 Jean King
June 20, 2009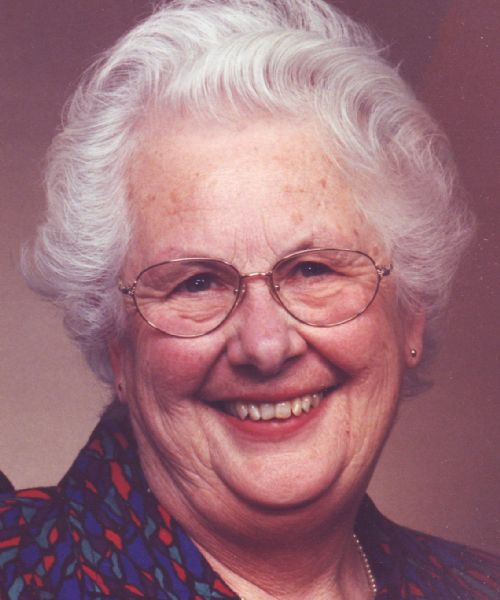 King, Jean; at Louise Marshall Hospital, Mount Forest on Saturday June 20, 2009. Jean Edith Mary (Hedges) King of Mount Forest in her 82nd year. Beloved wife of Michael King. Loved mother of Linda Soden of Aurora, Richard King & wife Renata of B.C., Helen King & Paul of Ayton, Yvonne Robinson & husband Tom of Mount Forest, Jason King & wife Stacey of Brantford and Lisa Rego & husband John of Guelph. Loving grandmother to her 9 grandchildren and 5 great grandchildren. Dear sister of Julian Hedges & wife Jennie of England, Olive Dickens of England, Robert Hedges & wife Dorothy of Wales and Michael Hedges & wife Clare of England. Cremation has taken place. Friends may call at the Hendrick Funeral Home, Mount Forest on Tuesday from 2:00 to 4:00 & 7:00 to 9:00p.m. A memorial service will be held at the Kingdom Hall of Jehovah 's Witnesses, Mount Forest on Wednesday June 24th at 2:00p.m. Memorial donations to Louise Marshall Hospital, Mount Forest would be appreciated by the family. On line condolences may be made at www.hendrickfuneralhome.com
Condolences
You are in my thoughts and heart. Love you Mum
— Helen, February 13, 2015
I tried 2 of your Mom's recipes tonite for my girls. Butter tarts and Mud Pies. (Don't tell anyone I'm getting all domesticated ;) ) They turned out great! She is fattening me up from beyond now LOL I loved the recipe book idea! I'm eventually gonna try them all. Thinking of the whole family. Take care!
— Tom McNall, June 26, 2009
It has only been five days and my heart still breaks. I miss you and love you.
— Yvonne, June 25, 2009
You are in our thoughts in your time of sorrow. God bless you all
— Jim Seifried and Karen Switzer, June 24, 2009
Thinking of all of you and especially Mike. Someone please give him a hug from us. Be assured that we share in your sadness. Renata and Savannah
— , January 1, 2010
A very sad day but also a moment of reflection on a woman whom I've had the priviledge of knowing for 30 years. Devoted, loving and tremendously loyal to her (many) friends. Jean was a rock of unconditional support for her children and grandchildren. She always looked for the good in people and most often found it. We have lost a link in our family chain and will need to work hard keep her memory and love alive.
— Renata Pylypiv King, June 24, 2009
We send our sincere condolence to Linda and her family for your loss.
— Ruth Holder, June 23, 2009
Our sincere condolences to Richard and his family on this very sad occasion. Our thoughts and prayers are with you. Love the Pylypiws of Brampton
— Kathy Pylypiw, June 23, 2009
Jean will remain alive in your memories and in ours.
— , January 1, 2010
We were so sad to learn of the loss of Jean. We were blessed that we were able to visit several times and get to know the King branch of the Collett family. Our thoughts and prayers are with you.
— Fred and Carol Collett, June 23, 2009
So sorry to hear of your loss. Just try and remember that soon you will be all together again in the Paradise earth. Remain strong my friends and family (Jason and Stacey) and the whole King family. Lots of love, our prayers are with you. Julian, Jennifer and Claire Boyd
— Jennifer, Julian and Claire Boyd, June 22, 2009
To my sister and brother in law, Jason and Stacey King. I am so sorry to hear your mom passed away. She was a beautiful person, who always cared for others. Jay, you have alot of her characteristics to keep her alive in you. Our thoughts are with you two. Love Dale and Tam.
— Tammy and Dale Strachan, June 22, 2009
Dear Jason and Stacey. Sending sincere condolences to you both. Your mom was very special.... Love Sandy and Allan, CJ and Dusty
— Allan and Sandy Dyment and Family, June 22, 2009
i miss you mum
— Jason, June 22, 2009
To my family I love you all We are all here for each other We will all greatly miss Mum together Lisa
— Lisa (King) Rego, June 22, 2009