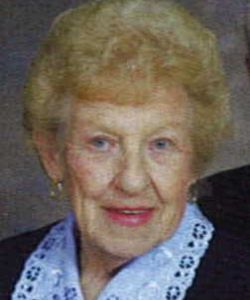 Bernie Kelly
May 24, 2012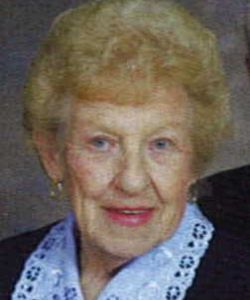 Kelly, Bernie at her home in Mount Forest on Thursday, May 24th, 2012. Bernie Mary (Hartwick) Kelly in her 79th year. Beloved wife of Len Kelly. Loved mother of Lynn Hammond and her husband Bill of Guelph, Patricia'Pat' Kelly and her husband Rick Moggach of Guelph, and Micheal Kelly and Natasha Scott of Kitchener. Loving grandmother of Katie, Doug, Amber, and Sarah. Dear sister of Marlene Daigle and her husband Vince and Jim Hartwick and his wife Agnes. Dear sister-in-law of Muriel Hartwick, Betty Hartwick, Mary Hartwick, Frank Boyle, and Shirley Hartwick. Predeceased by brothers John Hartwick, Clifford Hartwick, William Hartwick, and Joseph Hartwick and sisters Glenna Crough and her husband Bill, Marjorie Bircheneau and her husband John, Iona Hartwick, Mill Boyle, and Kaye Heffernan and her husband Tom. Bernie is also survived by Len 's family and her many nieces, nephews and their families. Friends may call at the England Funeral Home, Mount Forest on Sunday from 2:00-4:00pm and 7:00-9:00pm. A Prayer Vigil will be held on Sunday at 8:45pm. Mass of Christian Burial will be celebrated at St. Mary of the Purification Church on Monday, May 28th at 2:00pm. Cremation to follow. Memorial donations to the Heart and Stroke Foundation or Cancer Patient Services would be appreciated by the family. On-line condolences may be made at www.englandfuneralhome.com
Condolences
My sincerest condolences to you and your family in the loss of your Mother and friend. IT is always a sad time when one we love is called Home. May all your memories be of comfort to you and the love of friends and family sustain you through this valley of life. sincerely yours Ginny Gulyas
— Ginny Gulyas, June 4, 2012
Sorry to hear of your moms passing.
— Joel Hodder, June 3, 2012
Dear Lynn: Please extend to your family my deeptest sympathy on the passing of your mother.
— Ann Phillips, June 2, 2012
I have so many fond memories of Aunt Bernie,she was a strong and compassionate lady. I have never met anyone else with so much zest, humor and love. She exuded kindness and always shared the good things about people.I was lucky enough to enjoy her amazing culinary creations. Her food was close to divine and she taught me a few things about cooking when I would spend a week with the Kelly family on summer vacation! Most of all, she represents the kind of person everyone should meet at least once in their life! I miss you Aunt Bernie, you will always remain in my heart - Your niece Deb
— Debbie Halsted, June 1, 2012
Dear Linus, I met Bernie many many years ago and I remember thinking 'what a nice person she is' You've had a good life together and The Best is Yet To Come - - - Love, John's twin........
— joan kelly irving, May 31, 2012
Sending all my love to Aunt Pat and Uncle Rick during this difficult time. Love, Dee
— Dee Moggach, May 29, 2012
We were unable to attend the services for Bernie, but we would like to express our deepest sorrow hearing that Bernie left us. We will miss Bernie in many ways. Our condolences to Len and family.
— Shirley and Norm Martin, May 28, 2012
Sorry we couldn't make it to the funeral. Our prayers are with you & your family Len on this sad occasion. Great pic with the twins!
— Inge & John kelly, May 28, 2012
I was sorry to hear about the loss of Aunt Bernie. My prayers and thoughts to your family. Theresa Leonard Corey and Kelly
— Theresa Pecoskie (Clifton and Betty Hartwicks daughter), May 27, 2012
Lynn, Bill, Katie and Doug - our sincere wishes to all of you at this difficult time. Lynn, the loss of your mom is so difficult at any time, just understand that your friends are here for you. Our thoughts and prayers are with you now and always. Love, Kate, Steve and Samantha Sweetman
— Kate Sweetman, May 27, 2012
Dear Kelly & Daigle Families So sorry to hear of Bernie's sudden passing; know that my thoughts and prayers are with you all. I hold dearly the precious memories of her kindness and thoughtfulness which I will forever cherish.
— Beatrice Yong-Kee, May 27, 2012
Pat, I'm so sorry for your loss. My thoughts and prayers are with you, Rick and the rest of your family at this time.
— Lea Moggach, May 27, 2012
Dear Uncle Len, Lynn, Patti, Michael and Family, I would like to offer our deepest sympathies and prayers to all of you at this sad time. Aunt Bernie holds a special place in my heart and I will never forget her.
— Cindy, Ahmed & Emma, May 26, 2012
Dear Len, Lynn, Pat, Micheal, and families, We send our deepest sympathy to you on the passing of Aunt Bernie. We pray that you find the strength and hope to get through this difficult time. You are all in our thoughts and prayers. With love, Jaime, David, and Julian Diaz
— Jaime, David, and Julian Diaz, May 26, 2012
Dear Pat and Rick, Joy and I are very sad to hear about the loss of your mother and we send our regrets and deepest sympathy. God bless.
— joy and mark schneider, May 26, 2012
Dear Uncle Len, Lynn, Patti, Michael & Family; It is with sincere sadness to hear of the passing of Aunt Bernie. My thoughts and prayers are with you all at this very difficult time. God Bless, Brenda Holmes & Girls
— Brenda Holmes, May 25, 2012
Lynn, I do not know what to say. my thoughts are with you and your family. marty
— marty, May 25, 2012