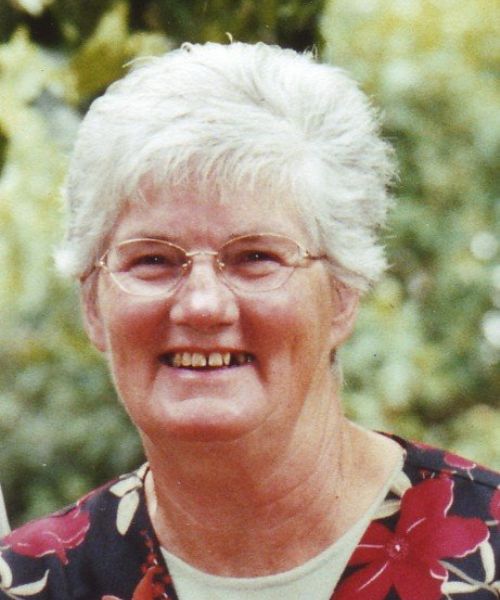 Mary Lou Holliday
March 26, 2008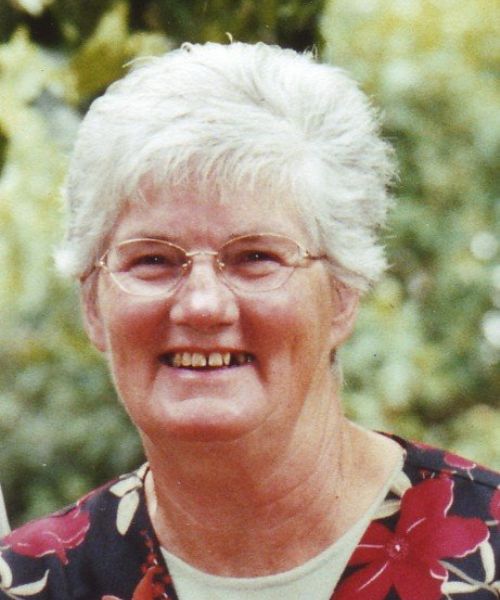 Holliday, Mary Lou; at Louise Marshall Hospital, Mount Forest on Wednesday March 26th, 2008. Mary Lou (Rae) Holliday of RR #4, Mount Forest in her 66th year. Beloved wife of Gordon Holliday. Loved mother of Diane Corley & husband David of Mount Forest, Gerald Holliday & wife Angeline of Mount Forest, Craig Holliday & wife Alison of Durham and accepted as family Tim Summers & wife Cathy of Durham. Loving grandmother to her 16 grandchildren and great grandson. Dear sister of Carson & Norma Rae of Stewart Town, Delton & Fern Rae of Clifford, Robert & Eileen Rae of Mount Forest, Ormand & Alice Rae of Mount Forest, Arnold & Marilyn Rae of Fergus, Laverne & Irene Rae of Clifford, David & Ruth Rae of Guelph, Shirley & Lloyd Brown of Blenheim, Edna & Donald Jackson of Troy, Michigan, Dorothy & Robert Ferguson of Mount Forest. Predeceased by sisters Norma (Mrs. Ross Bradshaw) and Betty (Mrs. Stan Groff). Friends may call at the Hendrick Funeral Home, Mount Forest on Friday from 2:00 to 4:00 & 7:00 to 9:00p.m. and Saturday at the Mount Forest Pentecostal Church from 12:30p.m. until time of the funeral service at 2:00p.m. Spring interment at Cochrane Cemetery. Memorial donations to Missions International or the Mount Forest Pentecostal Church would be appreciated by the family. On line condolences may be made at www.hendrickfuneralhome.com
Condolences
Bill and I extend our deepest sympathy to your family at this sad time. Mary Lou was a great lady and a prayer warrior she will be missed by so very many. Again so sorry love Bill and Judy Gerber
— Bill and Judy Gerber, April 15, 2008
Dear Gordon and Family, Our deepest sympathy to you and your family at this time. We all have our special memories of Mary Lou and she will surly be missed. Our prayers are with you all....Bill & Judy
— Bill & Judy Gerber, April 7, 2008
Gordon & family, I was sorry to hear about Mary Lou and please acccept my condolences. It's been a long time but I have very fond memories of Mary Lou's hospitality when I was a teenager helping with the hay at the farm.Some things we never forget! Take good care of yourselves as you go through this difficult time. God bless. ....Dan Allen
— Dan Allen, March 31, 2008
Our thoughts and prayers are with you.
— , January 1, 2010
Gordon, Diane, Gerald, Craig and Tim....My deepest sympathies to you and your family on the passing of a wonderful lady. I hold many great memories of coming to your home on Sat. to see your mom elbow deep in flour baking her heart out. I never saw so many cakes and pies in one place! My chickens had a hard job keeping up to her demands for eggs every Thursday night when she would faithfully come and pick me up for Missionettes. It was through Missionettes and Mary Lou's witnessing that I came to really know the Lord,and for that I am eternally grateful. While her work on earth is finished, her first days in the presence of the Lord has just begun. I cannot imagine the smile on her face right now! May the Lord bring you each peace,comfort and healing at this difficult time. My thought and prayers are with you all. Cheryl Speers
— Cheryl Speers, March 29, 2008
Gord and family, our thoughts and prayers are with you and yours at this time. She was a very special lady, always caring for everyone. Always there to lend a ear. She will be missed.
— Donald and Gwen Cormack, March 28, 2008
Our thoughts and prayers are with you all. So glad that I was talking to MaryLou last week. The day she died we had the most beautiful sunset and I'm sure she would have seen it and started planning a quilting bee around it. Love Les & Virginia
— Les & Virginia, March 28, 2008
Our deepest sympathies on the loss of a wonderful Mom, Grandmother, Great Grandmother, Aunt and friend. Our thoughts and prayers are with you all.
— , January 1, 2010
Gordon and Family, our thoughts and prayers are with you as you reflect on the life of Mary Lou. May all your happy memories bring you peace.
— , January 1, 2010
I am so sorry to hear of the passing of Mary Lou. She was a wonderful woman who has helped me so much. I learned many things from her. She will be missed!
— Barb Radmacher, March 28, 2008
Dear Family of Mary Lou Holiday, I have been so blessed to have known your Mother over the years and no one will ever forget all the wonderful works she has done for our Lord. I'm sure you all have been blessed to have such a wonderful Christian Mother, Grandmother and Greatgrandmother. She will be missed so much from all who knew her. At this time I would like to say that I really appreciated her as she helped me through a very difficult time in my life. When Brenda (Black) Kerr was very sick and your Mother was teaching Sunday School at the Mount Forest Pentecostal Church, she and the sunday school class bought goats milk for my daughter and she became well again after been in Sick kids Hospital in Toronto as well as much nutrition was provided. I will never forget her kindness to me at that time. It's always in my heart and will be a memory forever. May God give you all the strength you need to get through this difficult time but what a wonderful promise we have in the Bible is to be absent from the body is to be present with the Lord. We truly know where she is today and I'm sure that will give you all peace. God Bless you all Isabel Primmer
— Isabel ( Black ) Primmer, March 28, 2008
Our thoughts and prayers are with all the family. God be with you. Your happy memories will coninue through the years to come. Alvin and Joan Eccles
— Alvin and Joan Eccles, March 27, 2008
For Melanie, Rob and Tyler, So sorry to hear about the passing of your grandma, Melanie. I know that you will miss her; family is dear. Take care of yourself and know that I'm thinking of you during this time. Heather.
— Heather Aitken, March 27, 2008