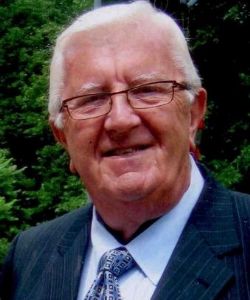 John Hendrick
June 5, 2012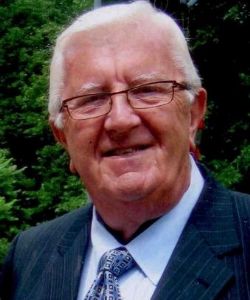 HENDRICK: Unexpectedly, at his residence, Oakwood Links, Grand Bend, Tuesday, June 5, 2012, John William Hendrick, formerly of Mount Forest, age 78. Beloved husband of Ruth Diane (Soldan) Hendrick. Much loved father and father-in-law of Jennifer Hendrick of Halifax, Jeff and Kim Hendrick of Elora, Joanne Hendrick of Fenwick, Janice Hendrick and Peter Van Dongen of Woodstock. Loving grampa of Becca and Will Hendrick, Jillian, Ben and John Takacs, Adrian and Joe Van Dongen. Dear brother and brother-in-law of Emil and Pat Hendrick of Exeter, Helen and Jerry Drysdale of Dashwood, Eleanor Hendrick of Exeter, Pat Hendrick of Grand Bend, Bill and Linda Soldan of Exeter. Remembered by his nieces, nephews and their families. Predeceased by his parents Samuel and Florence (Turnbull) Hendrick, brothers Hugh and Elgin Hendrick, sister-in-law Jeanne Phillips, brother-in-law Earl Soldan. Resting at the T. Harry Hoffman & Sons Funeral Home, Dashwood, with visitation Thursday, 2 to 4 p.m. and 7 to 9 p.m.; where the Funeral Service will be held Friday, June 8, 2012 at 11 a.m. The Rev. Harry Disher officiating. A family interment to follow at Grand Bend Cemetery. If desired, memorial donations (payable by cheque) to the Heart and Stroke Foundation or a charity of your choice would be appreciated. John and Ruth owned and operated Hendrick Funeral Home from 1969 to 1990 and retired to John's hometown of Grand Bend in 1995 to enjoy the company of his friends on the golf course and at the coffee shop.
Condolences
My sincere sympathy in the loss of John to family and friends. My prayers are with you at this time. Elizabeth Coutts, Saugeen Valley Nursing Center
— Elizabeth Coutts, June 14, 2012
Dear Ruth and family, My sincerest sympathy in the passing of your dear husband and father. I will always remember him as a kind and caring man.
— Miriam Long, June 11, 2012
To the Hendrick family ; I'm very saddened to hear of your loss. John's passion was people, and has helped so many through difficult times with his charm and grace. My thoughts and prayers are with you all...John
— John Robertson, June 11, 2012
Dear Ruth & family, My heartfelt sympathy to all at this sad and difficult time.I will remember John fondly for his care and compassion,especially when my family were involved.Please know you are in my thoughts and prayers. Sincerely, Donna Shaw
— Donna Shaw, June 10, 2012
Dear Mrs. Hendrick, Jennifer, Joanne, Jeff, Janice and families: It's hard to find any right words at a time like this, but please know you will be kept in my thoughts and prayers. Sincerely, Flora Burke
— Flora L Burke, June 6, 2012