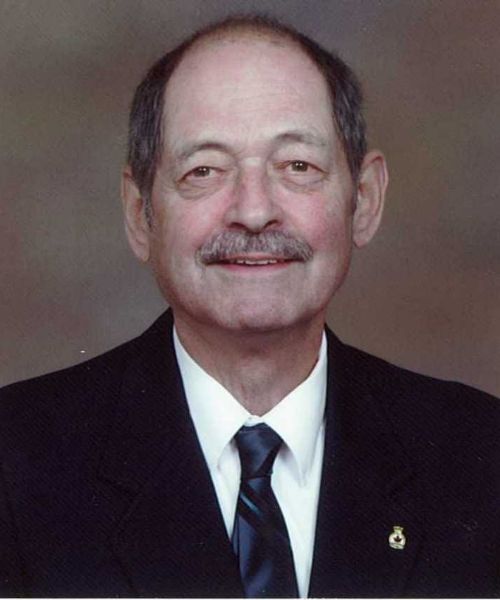 James Harnock
April 7, 2013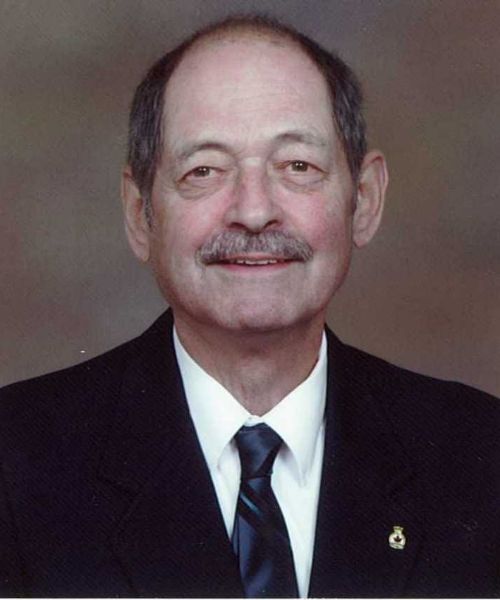 Harnock, James (Jim) Edward; passed away at the age of 75 on April 7th, 2013 after a courageous battle with Parkinson's. He was the son of the late George and Ivy Harnock and brother George. Jim was the beloved husband of Lois Pehlke, father of Catherine Boyer (David), Mike Harnock (Trish), Mark Harnock, Gayle Hartshorn (Michael), Michele Logel (Bryan). Papa to Adam Hartshorn, Mallory Boyer (Kyle Galloway), Luke Hartshorn (Gillian Merritt) Daniel Boyer (Taise Wendelaar), Tyler Harnock, Maxine Hartshorn (Nick Beyer) Brooklynn Boyer, Dylan Harnock, Nicholas Harnock, Joshua Logel, Jack Logel, and Georgia Logel. Jim served with the Royal Canadian Navy. The family would like to thank The Canadian Red Cross, especially Scotney, Cathy, Charlene, Bonnie and Heather, for their continuous help and support. The family will receive friends at the England Funeral Home, 294 Main Street South, Mount Forest on Thursday April 11th from 12noon until time of the Memorial Service at 1:00p.m. Refreshments will follow at the Royal Canadian Legion in Mount Forest. In lieu of flowers, donations to the Parkinson's Society made through the England Funeral Home would be greatly appreciated. On line condolences may be made at www.englandfuneralhome.com
Condolences
I was sad to hear about Jim's death. I hope to see Lois soon to express my sympathy personally.
— Jim Playford, April 15, 2013
My condolences to your family. He was a great man from what I learned in the few months I knew him. I'm going to miss coming to see him and hearing all his funny stories. He was blessed to have such a loving, caring family. My thoughts and prayers are with you..
— Scotney Hope, April 11, 2013
Gayle, Michael and family - we're so sorry to hear of the loss of your dad. We hope you find comfort in warm and loving family memories.
— The Willsteed Family, April 9, 2013
Lois, Michele and family.I am sorry for your loss. Jim will be sadly missed by everyone. My thoughts and prayers are with you all in this time of need.
— Brenda Eby (john @ gloria's daughter), April 9, 2013
Lois, the Reid family has many fond memories of Jim. The boys have really appreciated having an in-town grand parent. We will all miss Jim, and are only down the street if you need anything.
— Trevor and Amy Reid, April 9, 2013
Dear Lois and family. Our thoughts and prayers go out to you and yours at this difficult time. We hold fond memories of Jim and smile as we walk by your old house in Sprucewood. Hold on to the memories of the good times and know that you are not alone.
— James and Christine Holmes, April 9, 2013
Lois and family, we were deeply saddened to hear about Jim, throughout his battle with Parkinson's, he showed so much courage, and even when he wasn't feeling well he always maintained his sense of humour. Treasure his memories, he was a very special person, we will miss him
— Bernice and Rene, April 8, 2013
Lois, Michele & Bryan and the rest of your extended family. We would like to offer our sincere condolences for your families loss. Our thoughts and prayers are with you during this difficult time.
— Lisa & Joe Aiello & Family, April 7, 2013
Lois and Family--I am so sorry to hear of the passing of your dear husband Jim. My sincere sympathy to you and your family. My love,prayers and thoughts are with you all at this time. He will be missed in the neighborhood. Joan
— Joan McIntyre, April 7, 2013