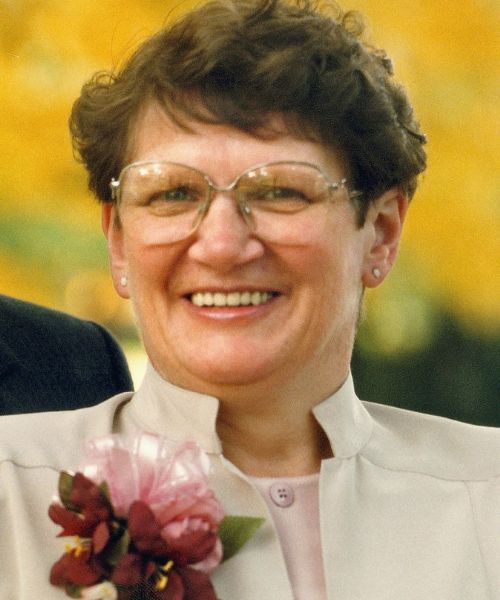 Betty Hall
February 15, 2011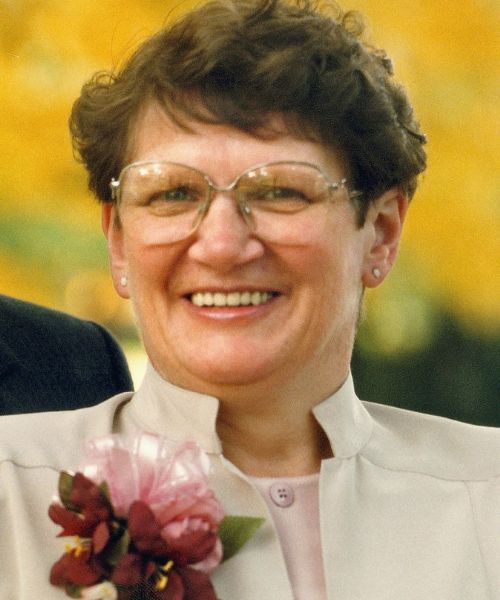 Mina Elizabeth'Betty' Hall, a resident of the Mount Forest area for over fifty-five years, passed away Tuesday, February 15, 2011 at Palmerston, Ontario, Canada in her 80th year. Beloved wife of Sam Hall of Palmerston. Loving mother of Suzann Marlene Stewart of Elmira, Ontario; Bill and Yvonne Stewart of Kenilworth, Ontario; Jeff Stewart and Sherilyn Bell of Toronto, Ontario; Julie Stewart and Larry Elgie of Hornings Mills, Ontario. Stepmother of Mark and Jane Hall of Loretto, Ontario; and LeeAnne and Shael Gelfand of Calgary, Alberta. Grandmother of Mike and Cecile Grimes of London, Ontario; Matt and Melissa Grimes of Elmira, Ontario; Corey Stewart & Melissa Ballentine of Mount Forest, Ontario; Crystal Stewart and Trevor Scott of Mount Forest, Ontario; Andrew Stewart of Toronto, Ontario; Diva Elgie of Hornings Mills, Ontario; Raynor Elgie of Hornings Mills, Ontario; Hilary Gelfand of Calgary, Alberta; Hayley Gelfand of Calgary, Alberta; Katelyn Hall of Loretto, Ontario; and Kara Hall of Loretto, Ontario. Great grandmother of Liam Grimes of Elmira, Ontario. Sister of Bob and Earline Edwards of Markdale, Ontario; Bill and Fran Edwards of Walkerton, Ontario; and Whit and Denise Edwards of Markdale, Ontario. Sister-in-law of Lorraine Edwards of Whitby, Ontario; Marie Stewart of Mount Forest, Ontario, Sam 's siblings and their spouses. Also survived by many nieces, nephews, first cousins, and their families. Predeceased by her parents, first husband Ritchie Stewart (1971) and brother Ray Edwards (1990). Friends may call at the England Funeral Home 294 Main Street South, Mount Forest on Friday from 2:00 to 4:00 & 7:00 to 9:00p.m. The funeral service will be held at the Mount Forest United Church on Saturday February 19th at 1:00p.m. Spring interment at Mount Forest Cemetery. Memorial donations to the Mount Forest United Church, Arthritis Society or Cancer Patient Service 's would be appreciated by the family. On line condolences may be made at www.englandfuneralhome.com
Condolences
I want to send my condolences to Betty's family, since I wasn't able to attend the service. Betty was my first teacher and lived with our family when she taught at SS #6. When she married Ritchie she asked me to be the flower girl...really exciting for a 5 year-old...and I still have the dress. My best to all, Norma(Brown)Mathews
— Norma (Brown) Mathews, March 9, 2011
Dear Jeff, my mother just informed me of your mother's passing...so so sorry....Our heartfelt thoughts and prayers are with you and your family, Diane and Patricia Meitz
— Diane Meitz, March 8, 2011
So sorry to hear of your mother's passing. Please know that you are in our thoughts and prayers at this time.
— Sharon and Don Irvin, February 24, 2011
We were sorry to hear about cousin Betty's death. Whit and Denise told us last summer when they visited us that she was not doing well. Mum, (Elta), and Nancy, my sister, and I have not seen any of the family for awhile and hope we can do so in the future. I think, Betty, Kay and Nancy and I are the only 4 girl cousins. Our sincerest sympathy, Roy and Elaine Dulmage and Elta
— Elaine (Edwards) Dulmage, February 24, 2011
To my good friend Jeff, all of my love and condolences to you, Sherilyn, Andrew and your siblings for the loss of your Mum. I hope you guys are coping as best you can and that you remember all of the best times with her. Love and hugs, Sean
— Sean Peever, February 18, 2011
Dear Bill, Yvonne and Family, We were so sorry to hear about your mom. Thinking of you, in sympathy, Bev and Ron
— Bev and Ron Milne, February 18, 2011
All my tough and prayers are with you and your family in those difficult days Yvonne.
— Sylvain Brochu, February 18, 2011
Hi Sam, Marlene, Bill & Yvonne, Jeff & Sherilyn and Julie & Larry; Sorry we can't be with you at this time of loss, but our thoughts are with all of you. Betty was a GREAT LADY! We will miss her smile. Bob & Sally Bell & family
— Bob & Sally Bell & family, February 18, 2011
We were sorry to hear of Betty's passing. Betty was a very kind and compassionate lady who made myself (Sandra) feel very welcome when I joined the staff at The Mount Forest Confederate. I truly enjoyed working with Betty every day. As you go through this difficult time, remember all the good memories.
— Sandra Fettes and Dave Walker, February 17, 2011
Sorry for your loss Jeff & family. Sending our love to you and your family
— Trevor, Denise, Riley & Mason Bridges, February 17, 2011
Jeff, Sherilyn, and Andrew I am sadden to hear the passing of your mom. Please know that you are always in my prayers. I really don't know what to write, but you know what I feel. Love you, Ronnie
— Ronnie MacCarl, February 17, 2011
Marlene, so sorry to hear of your mum's passing. From our little chats at Woolwich Community Services Thrift Store in Elmira, it sounded like you were close. It's hard I know, but hopefully you have lots of wonderful memories to cherish and share with that new little grandson, Liam. Take care! Judy
— Judy Barrette-Flint (daughter of Joe & Mern Barrette, formerly of Mt. Forest), February 17, 2011