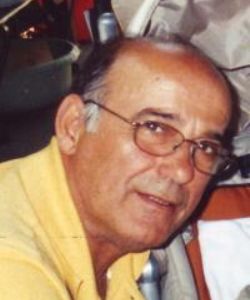 Costas Grafos
June 25, 2007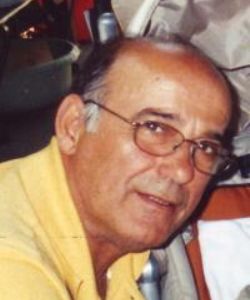 Grafos, Costas'Gus'; at Louise Marshall Hospital, Mount Forest on Monday June 25, 2007. Costas'Gus' Grafos of Mount Forest in his 59th year. Beloved husband of Joyce (Koebel) Grafos. Loved father of Angela Beren & husband Jason of Varney and John Grafos & wife Tasha of Mount Forest. Loving grandfather of Kayla, Cody and Gus. Predeceased by his parents John and Evangelia Grafos. Dear brother of Tasia Papayianni & husband Orestis of Athens, Greece and Spiro Grafos & wife Helen of Sykea, Greece. Brother-in-law of Dennis Koebel & wife Barb of Kitchener, Neil Koebel of Waterloo and Joanne Jutzi & husband Dave of Waterloo. Gus is also survived by his nieces and nephews Ari, Nassia, Angela and John in Greece and Leah, Kyler, Kalvin, Katelyn, Jenna and Alex in Canada. Friends may call at the Hendrick Funeral Home, Mount Forest on Wednesday from 2:00 to 4:00 & 7:00 to 9:00p.m. Trisagion Prayers will be held on Wednesday evening at 6:30p.m. Funeral service will be held at St. Mary of the Purification Church, Mount Forest on Thursday June 28th at 11:00a.m. Interment at Holy Cross Cemetery, Mount Forest. In lieu of flowers memorial donations to Louise Marshall Hospital Foundation would be appreciated by the family. On line condolences may be made at www.hendrickfuneralhome.com
Condolences
Joyce and family: I am so sorry to hear about 'Gus'... I wish I had known sooner... You will all be in our thoughts and prayers during this difficult time. I fondly remember my time at the 'Blue Mountain" !!! God bless you all, Mary and Ken Iles and Family
— Mary Iles, January 1, 2010
Joyce and family, Sorry to send my condolences so late but I did not hear of Gus's passing until just the other day. You did not have enough time to really let the diagnosis sink in before the disease had gotten out of hand. Thank you for letting us into your home for the short while we were there. Our thoughts and prayers have been for Gus and yourselves. Kate
— Kate Wick (Bayshore nurse), January 1, 2010
Dear Joyce and family, so sorry for your loss dear. You are in my prayers...God Bless Ruthie
— Ruthie Orchard, January 1, 2010
Dear Joyce and Angela: We are so sorry to hear of Gus's passing. We know we have wonderful memories of him on our trips we had together with Vi and Paul. Please know that our thoughts and prayers are with you and keep those dear memories you have close to your heart. Ruth and Jim (Josie's uncle)
— Ruth Symons & Jim Davis, January 1, 2010
Dear Joyce, John and Tasha, Angela and Jason, our thoughts and prayers are with all of you right now. I am so happy to have had the privelege to know Gus, I will always remember his great spirit and sense of humor. One of the things that I will remember most is him always asking me "Ang, how's my hair?" He will be greatly missed but forever remembered by many, sincerely Doug and Angie Hunt
— Angie Hunt, January 1, 2010
our sincere sympathy. norm and janet freiburger
— norm and janet freiburger, January 1, 2010
Dear Joyce, Angela and John: Our deepest condolences to you and your family. We were very saddened to hear about Gus passing, it is a great loss. Distance prevents us from being with you, just know you are all in our thoughts & prayers. We pray that God will give you the strength you need to get through this difficult time and the coming year. Lu, Louise and Deanna Belli
— Lu, Louise & Deanna Belli, January 1, 2010
Dear Joyce, John & Tasha, Angela & Jason: I am so sorry to hear about Gus' passing. I am also terribly upset that I can't be there in person to offer your family my best wishes. Please know my thoughts and prayers are with you all. I'm proud to have been part of 'The Spot' Family and Gus will always have a special place in my heart. Take Care, Steph ...or to Gus 'Stephanina' xo
— Stephanie Meulensteen, January 1, 2010
Our deepest sympathy. Sincerely, Chriso and Family Billias
— Chriso Billias, January 1, 2010
Our deepest sympathy. Sincerely, Dimitra and Family Stappas
— Dimitra Stappas, January 1, 2010
Our deepest sympathy. Sincerely, Alysseos, Pota and Family Stappas
— Alysseos and Pota Stappas, January 1, 2010
Our deepest sympathy. Sincerely, Constantinos, Barbara and Family Rougas
— Constantinos and Barbara Rougas, January 1, 2010
Our deepest sympathy. Sincerely yours, Ilias, Eleni and Family Trichas
— Ilias and Eleni Trichas, January 1, 2010
May the love of family and friends and memories you cherish, bring consolation to your broken heart. Our deepest sympathy. Sincerely yours, Dimitrios, Sophie and Family Georgakopoulos
— Dimitrios & Sophie Georgakopoulos, January 1, 2010
Joyce, Johnny and Angela; sorry to hear about the passing of Gus, He was a great man and taught me lots about the kitchen and much much more. Unfortunately i will be unable to attend the funeral but my thoughts and wishes are with you all.
— Colin Amos, January 1, 2010
Dear Joyce & family: Our sincerest sympathy go to all of you on this very sad occasion. We were so sorry to hear of Gus' death. We regret we cannot make it to Mt. Forest, but please know that our thoughts and prayers are with at this time. May you be blessed with God's love and peace. Sincerely, Claudette & Greg Minnick
— Greg & Claudette Minnick, January 1, 2010
May God give you comfort at this difficult time. Our deepest sympathy Peter Lucas and Family
— Peter Lucas and Family, January 1, 2010
Joyce, please accept my sympathy on the loss of your husband Gus. I know how hard it is to watch a loved one suffer and fade away and hope you will find strength and the courage to cope from the many prayers and kind words of your friends and family. Cherish the memories and the good times and take care of yourself.
— Bob Adams, January 1, 2010
Joyce, I am so very, very sorry to read of Gus' passing. I know what a difficult time this is for you and want you to know that you are in my thoughts and prayers. It has been a very long time since we have talked and I feel badly that we lost touch. When you are feeling up to it please e-mail me and we can get re-acquainted. I send my deepest sympathy to you and your family during this extremely difficult time.
— Gloria Dietrich, January 1, 2010
Joyce, John & Tasha, Angela & Jason, our condolences to all you at this difficult time. You are in our thoughts and prayers. Mike & Jeannie
— Mike & Jeannie Boylan, January 1, 2010
Dear Joyce, Angela and Johnny; Please accept my sincerest condolences on Gus' passing. Unfortunately distance prevents me from being there at this time, but I wanted to let you know that my thoughts are with you all. Sincerely, Steve Martin
— Steve Martin, January 1, 2010
Joyce, So sorry to hear about Gus. Mom just told me he's been ill for some time. Please know that our thoughts and prayers are with you at this time. God bless you. Take care. Marianne & Larry
— Marianne & Larry Keyko, January 1, 2010