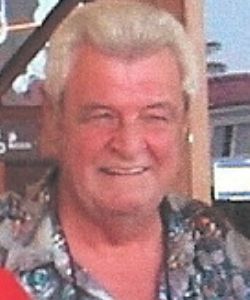 David Gow
May 24, 2010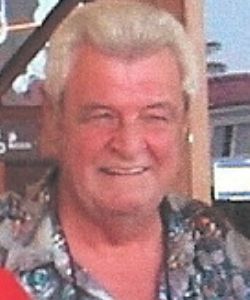 Gow, David; suddenly at his residence at Pike Lake on Monday May 24, 2010. David Calder Gow in his 71st year. Loved life partner of Donna (Ball) Webb. Loving father of Caralee Gow & Jacques Martel of Brentwood and Jason Gow & wife Lisa of Owen Sound. Loved grandfather of Jesse Martel. Dear brother of Diane Fletcher of Guelph, Bruce Gow & wife Sharon of Guelph and Leah Ricketts & husband Tim of Newmarket. Predeceased by his parents James & Florence Gow and brother Ron Gow. David is also survived by Caralee & Jason 's mother Sharon Gow of Sauble Beach and Donna 's family Julie George & husband Thomas & their son Ryan of Guelph, Todd Webb & wife Sindy of Hanover. David was the founder of Saugeen Telecable of Hanover and a pioneer in the cable industry starting at the age of 16. David also served as a member of the Masonic Lodge and Shriners. Cremation has taken place. A celebration of David 's Life will be held at The Owen Sound Legion June 8, 2010 at 2PM. Memorial donations to the Shriners Hospital for Children or to the Canadian Diabetes Association would be appreciated by his family. Funeral arrangements entrusted to the Hendrick Funeral Home, Mount Forest. On line condolences may be made at www.hendrickfuneralhomecom
Condolences
Well Dad, It's been a year since you left us and I find it very difficult to believe that fact, and how hard it's been on everyone. We were successful in laying you to rest the way you asked, and pretty much everyone was there in immediate family and friends. It was how you would have wanted it, with perfect weather and perfect laughs. I hope you are at peace now as I work at becoming peaceful with knowing you are gone. We had allot of everything together, good times and bad but mostly I will remember the laughs. I will miss you everyday...until we meet again. Love Jason and Lisa
— Jason and Lisa Gow, May 30, 2011
Donna, So very sorry to hear about Dave's ("LoveCuffs")sudden death. We had some FUN times and he will be fondly remembered. And sadly missed. Cindy Sachvie (Dawn's sister)
— cindy sachvie, July 21, 2010
Dear Donna and Family, Still having a hard time to find just the right words to say at this very sad time. It is still hard to beleive My Waybe is gone. We will truly miss him. We were looking forward to spending a week-end together and Andy was ready for Dave's comments about his dancing ability. I know he will be watching. I think about oatmeal cookies, the Piano Lounge, Home made bread and many other wonderful memories. My heart aches. We were honoured to have Dave in our families lives and will never forget him. He was One of the Best!!! Andy and Lucy
— Andy and Lucy Vandolder, June 7, 2010
Linda and I would like to offer our most sincere sympathies to Dave's family, most especially Donna and Jason, both of whom we consider dear friends. Together, we have so many fond memories of the good times and boating with Donna and Dave. Donna, I still remember the very first day we met in front at the Owen Sound Marina; we became friends immediately. You and Dave were so kind to us – our overnite dockage at "Shabibble Shores"; when after a wonderful week on the North Shore, you took our little dog "Secret" home with you while we limped across Georgian Bay from Key Harbour with only one prop; when Dave dressed in his "Sea Captain's" regalia to present Linda with her Caribbean Cruise tickets, making her 50th birthday that much more special; when you welcomed us into your home in Florida; when you took us to the Miami/Buffalo football game in Miami (squish the fish) and when we travelled home from Florida together in the conversion van. These, and the many other happy times together, will be cherished always. "Noble Brother" Dave - we will be miss him, but he will never be forgotten.
— Don and Linda Day, June 3, 2010
Dear Donna, I am sorry to hear about Dave's passing. You may not remember me, but I worked at Saugeen Telecable years ago. I can still remember Daves laugh. You were a pleasure to know, the little time that I did. Memories live forever Donna. Susan
— Susan Adlam-Hickling, June 3, 2010
Dear Donut, Julie & family, I am truly sorry to hear of Dave's passing. May he R.I.P. He will be truly missed. May God grant you strength at this time. Sincerely, Tricia
— Tricia Mc Laughlin, June 3, 2010
Jason & Lisa, My sincere condolences to you both for the loss of your Dad,Jason. My thoughts and prayers are with you at this sad time. Love to you both, Marjorie McCorquodale
— Marjorie McCorquodale, June 2, 2010
Jason & Family Sorry to hear of your lost. Had shared cocktails with your Dad many years ago aboard the NO LIFE LIKE IT, with some of his boating friends. (Cronies!) He'll be missed. Best Wishes. Jim & Cathy Gulliver some of his many boating friends some of his
— Jim Gulliver, May 31, 2010
My sincere condolences to: Donna,Jason,Carrie, Sisters-Diane&Leah, Brother-Bruce and families also Julie,Thomas and Ryan, Todd,Sindy and families, Dave and I go back to when we were both 17 years old and lived together at Dave's parents house where I was treated like family and our friendship carried on until his passing. Dave displayed a tough outer shell and acted the rebel many times to get a rise out of people however, he had a big heart and soft side that he did not like to show. I know personally, he helped me and many others through life with his genuine generosity. He always spoke very highly of his family and was proud of their accomplishments. Dave's passing was far too soon, but I know he would have said "THAT'S LIFE" and he is right. We will all go that way soon enough. I look forward to our next meeting Dave, Your friend Jim Knott PS: We always competed to be the best man with each other, but you won out Dave, you were my BEST MAN on July 9, 1988 Mine Too Love Dawn
— Jim Knott, May 31, 2010
Donna, Jason, Caralee, Julie, Todd & families So sorry to hear of your loss. Over the years we enjoyed many occasions of fun and fellowship. Memories of fishing trips as couples, downrigging for salmon, when there were fish in Georgian Bay. Dave would always offer his advice on how we could catch more. Visits on boating trips to Killarney, or at the condo in Florida, the hospitality was always over the top. You always felt welcome and appreciated. A gentleman and a friend, we are truly going to miss him. Paul, Kathy and family
— Paul & Kathy Walker & Family, May 31, 2010
Dear Donna & Family, We were so very sorry to hear the news of Dave's passing and we will miss him greatly. We can still remember all those great times on Georgian Bay....the hot tubs with Tony's trench coat on and then the next morning trying to remember when he left! When we told Ryan, the first thing he said was how sorry he was but then he reminded us of those cold Sunday mornings when we would arrive at your house with the ski doos and you guys couldn't do enough for Ryan from hot packs to breakfast. Every time we left, Ryan would say "I sure do like those Gowsies!" Thinking of you and sending our love. Tony & Carol Carson
— Tony & Carol Carson, May 31, 2010
Donna We are sorry to hear about Dave. We have fond memories of you and Dave and good times at Parkway Gardens. He will be missed. Bob & Gail
— Bob & Gail Barr, May 29, 2010
Donna, Julie. I can only send my sincere condolences to you and your family.I am so glad I became a friend and will certainly miss Dave. With all my thoughts and prayers, Herb
— Herb Greenhalgh, May 29, 2010
Donna and family, my sincere condolences to all of you for your loss, you are in my thoughts and prayers.
— Ashley Taraborrelli, May 28, 2010
You are in our thoughts and prayers during this difficult time. You have our deepest sympathy.
— Tammie & Andrew Morneau, May 28, 2010
Dear Donna and family, Being with you and Dave was like being with family. Always generous, always welcoming, always smiling. I will always remember Dave at the Fountains and the Fin and Claw." It's a guy thing", he use to say. Well, this is a girl thing.I am sad. You will be missed!
— Ros Goldberg, May 28, 2010
Our cousin Carole sent me the notice of David's passing. I haven't seen David for a long time but I am very sorry to hear about his passing. I know it's a great loss for your family. Via the grape vine I have heard so many good things about David. I am sorry we have gotten so isolated. I will let the rest of the family in this area know - in particular Belle and Harry Donald - an aunt and uncle to David. My daughter Heather has done some research on the family tree. If any of David's family would like some of that information please feel free to email her it heatherduff@gmail.com
— Janet Duff, May 28, 2010
Dear Donna.We were shocked to hear the sad news of Dave's death. We will always remember all the good times we all had together.Please keep in touch.Just remember all the wonderful times you had together.Love Ken and Pam.Your friends in Pompano Beach.
— Ken and Pam Lamberton, May 27, 2010
I am sorry to hear for your sudden loss of David. He was always a pleasure to speak to and do business with. My sincerest sympathy. Martin Clark, Accountant (Owen Sound, ON)
— Martin Clark, May 27, 2010
Donut and Julie, there are no words for us to say that can ease your pain. We will miss Dave more than he will ever know. We are going to miss him walking into The Fountains, especially when you guys first arrive for the season, him always pointing when asked where you were and saying "my mother" is right behind me.... We love you guys and are praying for you during this time, Julie take care of your mom.. I hope we see you here in Florida again. Love Marc & Jean Powers
— Marc & Jean Powers, May 27, 2010
Dear Donna, Wish we could be with you. We will miss Dave greatly and our thoughts and prayers are with you both at this difficult time. Our very best to all in the family. Love, Don and Marge
— Don Brewer and Marge Woodruff, May 27, 2010
Dear Donna & Family: We were shocked to hear of Dave's passing. Our thoughs are with you at this difficult time. Dave will be missed by all who knew him. Take care & remember the Good Times!!! Love, Marg & Jim
— Marg & Jim Hill, May 27, 2010
My deepest sympathies go out to all who knew Dave, or Uncle Dave, as I used to call him. I shall remember him fondly....xo he's having a drink with Derek :) no worries, all is well...xo Bibbs
— Bibbs, May 26, 2010
Carrie and Jason, I am so sorry for your loss. Remember that your family is here for you now and always. You are very loved. Keep your memories close to your hearts, his love will be with you always. Jamie, Jeff and Family
— Jamie-Lee Waddling (Blackmore Family), May 26, 2010
Donna and family, please accept our sympathies with Dave's passing. We are lucky to have known him when we did, some of our adventures put a definate smile on my face from memories when you guys were in the house my Dad built at Balmy Beach. His human spirit will live on in all of us.
— Steve & Brenda Meades, May 26, 2010
Donna, please accept my sincere condolences (to you and the family) on Dave's passing. He was always good to me over the years (in Owen Sound and in Florida). You also, have always been a great person who it was pleasure to be around. I will let my sister Barb know as well as my mother in Calgary. I hope you are doing OK under the circumstances. Brad
— Brad Shaddick, May 26, 2010
We are so sorry to have herd about your loss he was a great guy and we sure had a lot of good times together and good memories may he rest in peace.
— , May 26, 2010
Dear Donna and Family: Please accept our sincere sympathies. Your loss is felt by many, and it is such a shock. Knowing how Dave smiled Sunday night having a great time dancing and partying, makes us smile with him. I'm sure he will be missed by all who knew him. Our thoughts and prayers are with you all during this tough time.
— gord and joan vacon, May 25, 2010