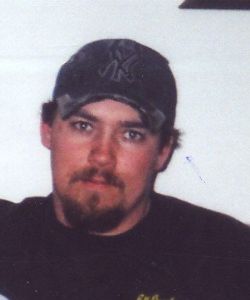 Jeffrey Gagnon
July 4, 2008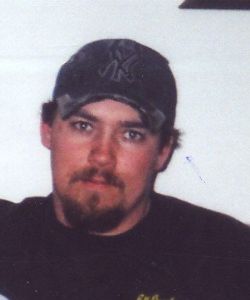 Gagnon, Jeffrey; as the result of an accident in Belleville on Friday July 4, 2008. Jeffrey James Gagnon of Owen Sound in his 35th year. Beloved husband of Loriann Watts. Loving father of Ashtin and Paisley. Loved son of Paul Gagnon and Jane Lightfoot of Chapeau, Quebec. Dear brother of Wendy Gordon & husband William of Guelph. Uncle of Maranda and David. Son-in-law of Don Watts & Sharon Baldwin of Conn and Gail Watts & Terry Dunne of Guelph. Brother-in-law of Greg Watts & wife Michelle of Winnipeg. Grandson of Hazel Lightfoot of Madoc and the late Floyd Lightfoot and Barbara Gagnon of Toronto and the late Leslie Gagnon. Jeffrey is also survived by his many aunts, uncles and cousins. Friends may call at the Hendrick Funeral Home, Mount Forest on Monday from 7:00 to 9:00p.m. The funeral service will be held in the funeral home chapel on Tuesday July 8th at 11:00a.m. Interment at Mount Forest Cemetery. Memorial donations in memory of Jeffrey can be made to his children Ashtin and Paisley thru the Hendrick Funeral Home. On line condolences may be made at www.hendrickfuneralhome.com
Condolences
Thinking of you Love Norma, Mike, Lisa and Derek
— , January 1, 2010
Janey, Paul Wendy and Family- We are thinking of you all at this time with heartfelt sympathy. Although we have not seen Jeff in the last few years we remember fondly the times he would come with Paul into the plant and was always so interested in everything. He even came by on his own a couple of times and he was so easy to talk to. We will be thinking of his family in our prayers. We are sorry we were unable to be with you at this time. Love Norma, Mike Lisa and Derek
— Norma, Mike, Lisa and Derek, July 9, 2008
Thinking of you in this time of sorrow. You have our deepest sympathy. Sincerely, John, Marilyn & Maggie Case
— , January 1, 2010
Our hopes and prayers are with you at this time of loss.
— William Kearney, July 7, 2008
Dear Paul and Family we send our condolences to you and your family. you will be in our prayers May god bless you during this time of sorrow. Jeff will be sadly missed. your friends at Promaster Garage Doors
— kathleen & monte Mackenzie/ Promaster Garage Doors, July 7, 2008
Jeff was a great friend of our son, Geoff, and spent many hours with us over the years- he loved helping others, and his laughter and constant smile will be sorely missed. Our condolences to his entire family. Denise, Bob, Steve & Geoff Bolton
— Denise Bolton, July 7, 2008
Our Deepest condolence to you all.So sorry to hear about your loss and just wanted to let you know we are thinking about you all. Donna Zablocki Leanne White/Free Gwen free
— Leanne White/Free, July 7, 2008
Joanne told me about your tragic loss. I cannot imagine what you and your children Ashtin and Paisley are going through. You have a special aunt who has always looked out for you and your family, take comfort in that. My thoughts and prayers are with you, if we can help in any way let Joanne know and we will do what we can.
— Mary Grein, July 7, 2008
Dear Jane ,Paul ,Wendy and Family my heart was filled sadness and memories when I heard of Jeff's passing. Jane let God guide you through these next few days and months because He'll always be there for you. You and your family will always be in my prayers. I love you. Louise.
— Louise Clifford, July 7, 2008
Dear Jane, Paul,Wendy and family, My deepest and saddest condolences too you all. I wish I could be there for you all in your deepest time of sadness my prayers go out to you all and Jeff you will be missed.
— Joanne Mott (Clifford), July 7, 2008