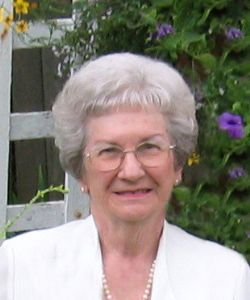 June Richardson
August 21, 2020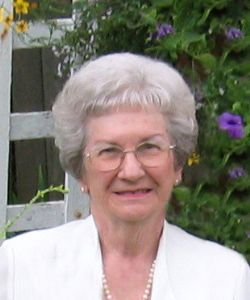 RICHARDSON, June – Peacefully at the Louise Marshall Hospital, Mount Forest, on Friday, August 21st, 2020 at the age of 93. Beloved wife of the late Harvey Shaver, Robert Richardson and Delmar Copeland. Loving mother of Helen Jane St. Amant (Ron) of Penetanguishene, and Jim Richardson (Diana) of London. Cherished grandmother of Matthew St. Amant (Diana) of Barrie, Geoffrey St. Amant (Jenny) of Victoria, B.C., Samantha Richardson of London, Julie Richardson (Doug) of London, and Katherine Richardson (Nathan) of London and great-grandmother of Emerson St. Amant, Dillon St. Amant, and Harrison St. Amant. Survived by her many precious nieces, nephews and their families and also by Harvey's loving family. Predeceased by her siblings: Wilmott Chipchase (Mary), Ross Chipchase (Betty), Glenn Chipchase (Viola), Andrew Chipchase (Bernice), Jean Chipchase, and Bernice Brockwell (Harvey). A private family service will be held with interment at Grand Valley Union Cemetery. Those wishing to make a donation in memory of June are asked to consider Cancer Patient Services or the Louise Marshall Hospital Foundation. Arrangements entrusted to the England Funeral Home, Mount Forest.
Condolences
Years ago Richardson's lived on South Water St. In Mount Forest. Jimmy my brother Daniel and I used to play together. At one point they had a raccoon Charlie I believe the name was. While the family was on holiday I took care of Charlie. I still have pictures of him. One day in the winter my mom was in the hospital I was out playing with the boys with boots but no socks on. My feet got so cold . Mrs. Richardson brought me in and warmed me up. I have never forgot that act of kindness.
— Ruth Rainey Rae, September 8, 2020
What a wonderful friend for many years, may her memory carry on with all of you! Our thoughts are with you at this time Love Helen Webster ( Bunston ) and families
— Helen Webster ( Bunston), August 29, 2020
Hi to Helen Jane, Jim and families, Our deepest sympathy on the loss of your mom but you were oh so blessed to have her all these wonderful years. With Jim we have lots of good memories from high school and beyond but Helen Jane I met and got to know through the many visits she made to our hospital with first June and Bob and then June and Harvey.. It was always a pleasure to catch up on what your families were up to. Take good care, God bless Stephen and Maureen
— Maureen Dineen, August 25, 2020
My condolences to Jim and family. June and Bob were great family friends for many years. We have lots of good memories. Sincerely.... Jim Barnard
— Jim Barnard, August 24, 2020
My sincere condolences to Jim and Diana and family. I fondly remember Mrs. Richardson making those special butter tarts for us to take up to the cottage. As June knew of my aversion to raisins she would lovingly make them without raisins for our enjoyment.
— Robert Davies, August 23, 2020
Jim and Family, Our sincere condolences. Our thoughts are with you during this difficult time.
— Nan, Rob, Kathy, Lynn, August 22, 2020
Helen and Ron, Jim and Diana and families; our thoughts and prayers are with you all during this sad time in your lives. We hope you feel the love and support of many inspite of these difficult restrictions. June was always friendly and interested in what was going on in our family. May it help to know that the love with your mom, mother-in-law and grandma is forever! We're sending our sympathy, friendship and love. The Fowler Family
— Dennis and Evelyn Fowler, August 22, 2020
Sorry to hear about June's passing. As a high school pal of her son Jim, I always found her so cheerful, pleasant, and vivacious. And always interested in life around her; a pleasure to know! Dave & Anne Marie Dineen, Edinburgh
— Dave Dineen, August 22, 2020
So sorry to hear about Aunt June's death. We will all have so many special memories of her love for all of us. We will be keeping everyone in our thoughts and prayers. Love, Bonnie, Hugh and family.
— Bonnie Blakely, August 22, 2020
Our thoughts and prayers are with you. June was a kind and gentle lady. Jim and Paula
— Jim and Paula Solway, August 22, 2020
So sorry to read of June passing. She was one awesome lady. The many rides to Cambridge, for her needle, I felt I got to know her. She loved Harvey, she loved her family. She will be missed, by me and many others. Rest In Peace June.
— Kay Ayres, August 21, 2020