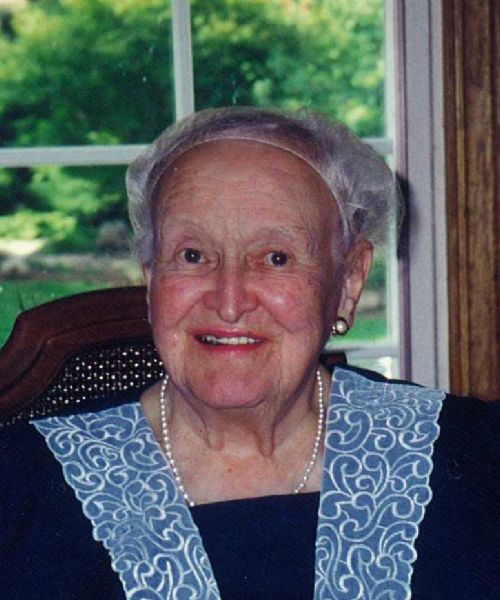 Josephine Feairs
October 21, 2014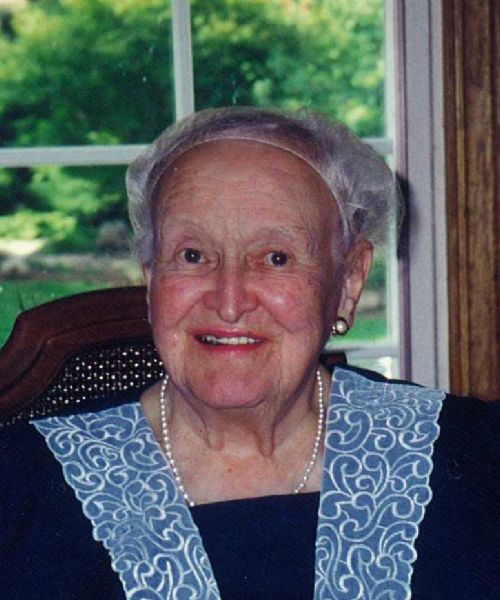 Josephine Feairs; Peacefully, at the Saugeen Valley Nursing Centre, Mount Forest, on Tuesday, October 21st, 2014, surrounded by her family, Martha Josephine Feairs, in her 98th year. Beloved mother of Elizabeth & William Wallace, Margaret & Raymond Owens, Joanie & David Wishnevski, all of Vancouver, Eleanor & Robert Mueller of Cambridge, Ruth Feairs of Mount Forest, and the Reverend James & Fran Feairs of Port Hope.

Cherished grandmother of Laurie & Stephane Mitchell of Anmore, B.C., Scott & Karen Wallace of Kelowna, B.C., Kristine & Dean Demontigny of Elmira, Jonathan & Emily Feairs of Toronto, David Feairs of Port Hope, Joseph Schnurr of Berlin, Germany. Great-grandmother to Brendon Labbe of Brandon, Manitoba, Madison and MacKenzie Wallace of Kelowna, B.C., Caitie, Ryan and Alexander Blankert of Vancouver.

Dear sister to Margaret Dowsett of Fort Erie, sister-in-law to Douglas & Jean Alexander of Guelph, Grace McGladdery of Toronto, and Evelyn Feairs of Hillsburgh. Lovingly remembered by her niece Brenda Harris. who was like a daughter & her husband Robert, and many dear nieces and nephews from the extended Feairs and McGladdery families.

Predeceased by her husband James in 1994, parents George McGladdery & Effie Blanche (Churchill), son-in-law Joseph C. Schnurr, and siblings, Eva Feairs, Arthur McGladdery, Percy McGladdery, Mary Susan (Maisie) Alexander.

Josephine lived all of her married life in Cedarville and took an active part in the community, and especially with Morrison United Church where she served as an Elder, Clerk of Session and Sunday School Superintendent and teacher. She cherished the lifelong friendships she made through her memberships in the United Church Women, Cedarville Women 's Institute and other groups.

Josie shared with her husband Jim, a love for music, writing and history and together they crafted a weekly Cedarville News column for the Mount Forest Confederate and Dundalk Herald newspapers for more than 50 years– Josie from 1948 to 2011. She received a 50th Anniversary Special Award from the Ontario Community Newspaper Association in 2000, recognizing her as one of 50 people who had contributed to the industry in the past 50 years. She received the'Senior of the Year' Award from the Township of Southgate in 2003, recognizing outstanding contributions to the community after the age of 65.

She was an eternal optimist who enjoyed each day and appreciated each person she met. Her family will be forever grateful for her enduring love and sterling example.
A Memorial Service for family and friends will take place on Tuesday, November 4th, 2014 at 1:00 p.m., with visitation one hour prior, at the Mount Forest United Church, with the Reverend Sheryl Spencer and the Reverend Bonnie Holiday officiating. In lieu of flowers, if desired, memorial donations to the Mount Forest United Church or the Woodland United Church would be appreciated by the family and can be made through the England Funeral Home, Mount Forest.

Cremation has taken place as per Josephine 's wishes. A private family interment of her ashes will take place at a later date in Walker 's Cemetery, Southgate.

Arrangements entrusted to the England Funeral Home, Mount Forest. Online condolences and donations may be made at www.englandfuneralhome.com
Condolences
Memories of Josie and her husband and all the children coming into the Cedarville church made quite impression with me. Even though I had an older sister Gwen and brother Ronald they were quite a bit older than me. My condolences to all the family.
— Carolyn (nee Campbell) MacDonald, December 30, 2014
My sincere sympathy to all the Feairs family. Josie was a remarkable lady and will always be fondly remembered by all who knew her.
— Lyn Lowry, November 7, 2014
Very regretfully I will be unable to attend the funeral due to great distances. I am however so very thankful to have been able to see her a few last times this past September and am grateful that the joyous event of our cousin Jon's wedding brought all of her children to be with her one last time all together at once. Grandma was an inspiration of Strong moral character, dignity and unconditional love. She will be greatly missed. Much love from Germany. Joe (and Anke)
— Joseph Schnurr, November 2, 2014
Ellie "& Bob, Kristine and Joe, We were sorry to hear of the death of your mother, grandmother this week. our thoughts and prayers are with you at this time. Much love, Maureen& Dave & Family
— Maureen& David. McGahey & family, November 1, 2014
Our condolences and prayers for peace are with your family. A very special lady and storyteller will be much missed. Her smiles and other gifts to the community (including years of amazing variety concerts!) are so well remembered.
— Melanie Lindayen and John Terry, October 31, 2014
Our sincere condolences to your whole family. She was truly a remarkable woman, vibrant to the end. And what an interesting life she led. Josie serves as a model to us all.
— Caroline Oliver & Jon Fear, October 30, 2014
I was sorry to hear of the passing of your Mom. I know you will all miss her especially you Ruth. Just to let you know I am thinking of you. Sincerely Lorna Ferguson
— Lorna Ferguson, October 28, 2014
Thinking of all of you at this sad time. Josie was a wonderful lady who leaves wonderful memories to many in her community where she was loved and respected. With sympathy,Terry and Jill
— Terry and Jill Funston, October 27, 2014
I wish to send my sincere sympathy to the family of the late Josephine Feairs, in the loss of a mother and best friend. She was a kind and considerate lady and will be missed by all how knew her. My thoughts and prayers are with you at this time.
— Elizabeth Coutts, October 27, 2014
Our sympathy to the Feairs family. When we think of Cederville we will always think of Josie, such a kind person. Our thought will be with you Diane & Bill Dineen and Leonard Seifried
— Diane Dineen, October 26, 2014
What an amazing lady! I loved to see her, always bright and interesting and interested. An amazing life she has lived. She will be missed.
— Nan St Louis, October 25, 2014