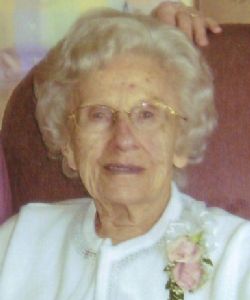 Joy Edwards
September 25, 2008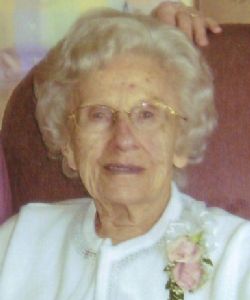 Edwards, Joy; at Louise Marshall Hospital, Mount Forest on Thursday September 25, 2008. Joy Evelyn (Clark) Edwards of Mount Forest in her 101st year. Beloved wife of the late Walter Edwards. Loved mother of Dawn Brown & husband Glenn of Holstein and Cheryl Edwards of Mount Forest. Survived also by her nieces and nephews. Predeceased by twin brother Roy Clark & wife Beatrice and brother Guy Clark & wife Lila. Friends may call at the Hendrick Funeral Home, Mount Forest on Monday from 2:00 to 4:00 & 7:00 to 9:00p.m. The funeral service will be held at the Mount Forest United Church on Tuesday September 30th at 11:00a.m. Interment at Cochrane Cemetery. Memorial donations to the Mount Forest United Church or to Cancer Patient Services would be appreciated by the family. On line condolences may be made at www.hendrickfuneralhome.com
Condolences
Dear Cheryl, Our sincerest sympathy on your moms' passing. She was one great lady!
— Norm & Janet Freiburger, October 3, 2008
Thinking of you with sympathy Gary & Sheila MacEachern
— Gary & Sheila MacEachern, October 2, 2008
Our sincere condolences to Cheryl and family. Cherish the memories of a wonderful dear lady. God bless you all.
— Betty and Al Seminowicz, October 2, 2008
Joy was such an inspiration to everyone who knew her. Mom always enjoyed the lively card games and get-togethers with Joy and Cheryl. She will be missed. Joan & Lloyd Aitken & family
— Joan & Lloyd Aitken & family, October 1, 2008
Dear Family, Our deepest condolences to you at this time. Warm Regards Ruthie & Judy
— Ruthie Orchard & Judy Gerber, October 1, 2008
My condolences to your family for your loss. My late grandmother, Winnie Elliott was such good friends with Joy. She was always speaking about her and I believe it was Joy that tipped grandma off the day we decorated my grandma's lawn for her 90th birthday. I have recently moved to Mount Forest and reflect daily on the memories of my grandmother and her friends here. The great ladies are back together again. Sincerely thinking of you and your loss, Marg Reid
— Marg Reid, September 27, 2008
My sincere sympathy to Cheryl, Dawn and all of Joy's family. Such a delightful lady who enjoyed life. We knew her for such a short time in her long life but it was a pleasure to know her. Meeting her was really special for Emmerson and he felt blessed to make that connection. I know you have lots of wonderful memories to console you at this time. My best regards to all. Marie Hamiton (Holliday)
— Marie Hamilton, September 26, 2008
Please accept our heartfelt sympathy in the passing of Joy, she was a great lady and will be missed by everyone. From Joan Tinney and Ted Boyd.
— joan tinney & ted boyd, September 25, 2008