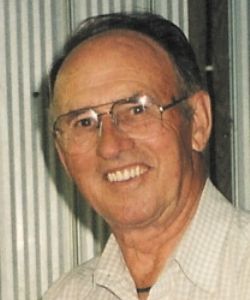 Martin Dowling
September 18, 2010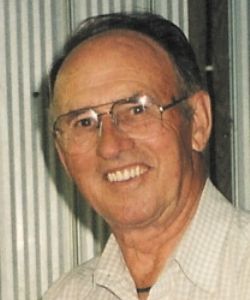 Dowling, Martin; at Louise Marshall Hospital, Mount Forest on Saturday September 18, 2010. Martin Milford Dowling of RR #2, Kenilworth in his 85th year. Beloved husband of Audrey (Irvin) Dowling. Loved father of Diane McGill & husband Paul of Mount Forest and Ron Dowling & wife Gayle of Mount Forest. Loving grandfather of Pam McGill and Steve Eadie, Kurt McGill & wife Stephanie, Andrea Frappier & husband Bill and Megen Galbraith & husband Sam. Loving great grandfather to his 8 great grandchildren. Dear brother of Velma Whetham of Harriston. Brother-in-law of Geraldine Quickfall of Kitchener. Also survived by his nieces, nephews and their families. Predeceased by his parents Milford & Mabel Dowling, brothers Elsmere Dowling, Garnett Dowling, Whitmore Dowling and sister Norma Roadnight. Private funeral arrangements entrusted to the Hendrick Funeral Home, Mount Forest. Memorial donations to Louise Marshall Hospital would be appreciated by the family. On line condolences may be made at www.hendrickfuneralhome.com
Condolences
Kurt, Stephanie and family, we would just like to say how sorry we are to hear that you lost someone so special. A grandfather, is someone so dear. Cherish the memories and special times spent together and share them with your family often. Our hearts and prayers go to you at this time.
— Brian and Linda Hunter, September 22, 2010
I was sorry to hear of the passing of Martin. My condolences goes out to his family at this time of sorrow. May Martin rest in peace in the hands of the Lord. I'm Lennard and Irene (Bubbles) Thompson's son. I have fond memmories of Martin when i was a child back on the farm. Dad often spoke highly and with respect to Martin. I'm sure it would be a good reunion when they met on the other side. Regards, Jim Thompson.
— Jim Thompson, September 22, 2010
Ron & Family. We are sorry to hear of the passing of your father. Losing someone so close is never easy. Great memories and time make it easier to deal with. Know that you are in our thoughts. Sending you all our heartfelt condolences. David & Linda Fowler.
— David & Linda Fowler, September 22, 2010
To my old highschool chum, Diane, and to your whole family, I'm so sorry to hear of your loss. If making the most of our days on earth determines how well we are remembered, I think your dad will have done just fine. He was well-loved and respected and also he had his share of fun in his lifetime. May those memories help to carry you through this time of sadness.
— Marianne Edwards (vanDongen), September 21, 2010
Dear Audrey, Diane, Ron and families: Please know that our thoughts are with you at this sad time. Sincerely Margaret Gillies,& Betty & Larry Henry
— Betty Henry, September 21, 2010
To Audrey So sorry to hear about your loss. My deepest sympathy. Pat Giilck (daughter of Elmeda Kraft)
— Pat Giilck, September 21, 2010
Martin has always been close to our family. He drove school buses for many years, for or business, he helped to build the fence & deck at our family home. I have spent some afternoons fishing with Martin, and also sharing fish stories over a cold rum & coke. (I think he shared a few of those with Frank). Over the last few years we have even shared some musical memories. Martin wll always be remembered as one of our family's closest friends & will be missed dearly by all of us. All our love & condolences to Audrey , Diane, Ron, and all your families.
— Tim, Paula, & Verna Epoch, September 21, 2010
AUDREY AND DIANE AND RONNIE AND undefined WE JUST HEARD OF MARTIN"S PASSING AND IT SEEMS ONLY LIKE YESTERDAY WHEN ALL THE NEIGHBOURS TOOK TURNS IN THE WINTER TIME DRIVING US KIDS TO S.S. NO 4 SCHOOL,ALOT OF GOOD MEMORIES, WE KNOW HE WILL BE MISSED,JUST A REAL GOOD GUY,OUR PRAYERS ARE WITH YOU ALL, DWIGHT AND CATHY BENSON
— DWIGHT AND CATHY BENSON, September 20, 2010
With Deepest Sympathy to you, Audrey and your family. It has been a pleasure working with you over the years. Martin was always the gentleman and will be greatly missed.
— Mary Ellen McFarlane/Wooddisse, September 20, 2010
Mrs. Dowling, Diane and Paul, Kurt and Stephanie, Pam and Steve, With Deepest Sympathy,,, Our thoughts are with you. Sincerely, Dale and Melanie Cober
— Dale and Melanie Cober, September 20, 2010
Dear Audrey and Family: Our thoughts are with you at this time. We remember many occasions when we were visiting Shirley's brother, Gerald Weber, and Martin and Audrey were there. Thanks for being friends to him and his family.
— Shirley and John Weltz, September 19, 2010
Dear Audrey, We have wonderful memories of Martin as our sons' bus driver so many years ago. His kind and gentle nature helped both of them adjust to a new life and new school. We always appreciated that he remembered them so fondly and asked about them each time we met. This is just a small remembrance of a great man. Ralph and Lesley.
— Ralph and Lesley Weaver, September 19, 2010
We send our thoughts and prayers to your family at this sad time. What a nice uncle Martin was and we will always remember his great smile and his kind-hearted nature. with our love and sympathies Don & Sharon
— Sharon and Don Irvin, September 19, 2010
As you remember the love, as you mourn the loss, may you also celebrate Martin's life. A well lived life leaves behind beautiful treasures and memories and a loving family to hold them close and carry them forward. Please know your in my thoughts and prayers.
— Angie Weber, September 18, 2010