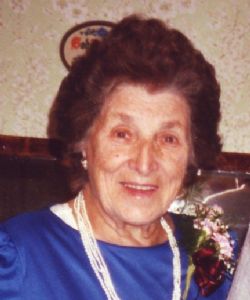 Elsie Donald
June 12, 2008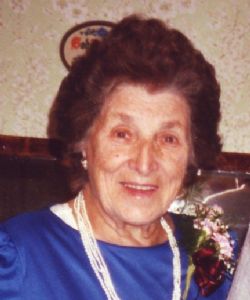 Donald, Elsie; at Groves Memorial Community Hospital, Fergus on Thursday June 12, 2008. Elsie Florence (Lowry) Donald of Arthur, formerly of Conn in her 95th year. Beloved wife of the late Bert Donald. Loved mother of Laverne Donald & wife Elizabeth of Conn, Gordon Donald & wife Pat of Kitchener, Wayne Donald & wife Sheila of St. Jacobs and Bill Donald & wife Dianne of Mount Forest. Loving grandmother to her grandchildren, great grandchildren and great great grandchildren. Dear sister of Ivan Lowry & wife Marion of Paris and step sister of Carmen Frazier & wife Vera of Topeka, Kansas. Predeceased by brother Harold Lowry and step brothers Bill and Dean Frazier. Friends may call at the Hendrick Funeral Home, Mount Forest on Sunday from 7:00 to 9:00p.m. The funeral service will be held in the funeral home chapel on Monday June 16th at 11:00a.m. Interment at Mount Forest Cemetery. Memorial donations to the charity of one 's choice would be appreciated by the family. Online condolences may be made at www.hendrickfuneralhome.com
Condolences
I remember Elsie with fond memories always cheerful and with bright smiles. A wonderful neighbour and kindness shall never be forgot. Rest In Peace Elsie God Bless. Former neighbour in Conn.
— lynda neilson, July 16, 2008
To the Donald family: We wish to offer our condolences on the passing of Elsie. I will always remember Elsie from the hockey days when her and Bert followed our hockey teams, always shouting great encouragement to all the players and coaches. May god give you the strength and courage you need in facing the difficult days ahead. Wayne, Kim, Ken and Amanda Dahmer
— Wayne Dahmer & Family, June 23, 2008
Our deepest sympathy in the passing of your mother, she was a very special lady, and I have many fond memories of her, may God get you through this difficult time.
— Ron and Roseann Weppler (Dahmer), June 22, 2008
We were so sorry we did not hear early enough to attend the service. Aunt Elsie will always be dearly and fondly remembered. Sincere condolences from Bonnie and Bruce.
— Bonnie MacEachern and Bruce Leung, June 21, 2008
To Laverne & Liz, Gordon & pat, Wayne & Sheila , Bill & Dianne and families. I want to Thank you all for allowing me to be part of such a wonderful family. Your Mom has been such an encouragement when I went through very difficult times in my journey. You'll never know how much I cared and loved your Mother, whom I called Mama, I will miss those phone calls every day at 9:20 am. My life already feels empty but I know she is in a better place, one day we will see her again. How I enjoyed her company but most of all her kindness and love to all. She truly is a testimony to all. Now that you're up in heaven Elsie show Roy how to dance, I sure enjoyed the last dance with you when you were in the nursing home, we had such fun. I will miss and love you Mama
— Isabel Primmer, June 15, 2008
Please accept our sympathy. Aunt Elsie was a great lady and had the warmest smile. You have lots of great memories. She will be missed. Love Gary & Sheila and family
— Gary & Sheila MacEachern, June 15, 2008
In Memory of a Wonderful and Caring Lady
— , January 1, 2010
YOU HAVE ALL BEEN SO FORTUNATE TO HAVE ELSIE DONALD (SUCH A WONDERFUL LADY) IN YOUR PRESENCE FOR SO MANY YEARS. IT WON'T BE GOOD-BYE, IT WILL BE TILL YOU MEET AGAIN. WITH OUR HEARTFELT SYMPATHY
— THE LABRE, NEISEN & NEWMASTER FAMILIES, June 14, 2008
Our love and thoughts are with you in this time of sorrow. An Angel on earth has now become an Angel in Heaven. With Loving Memories, Guy and Brenda
— Brenda Markham, June 13, 2008
I am so sorry to hear about your mom's passing. My thoughts are with you at this sad time.
— Sandy Tamminen, June 13, 2008
With loving thoughts of Aunt Elsie's sweetness, strength and love of family.
— , January 1, 2010
Bill & Dianne So sorry to hear of your Mom's passing
— Cheryl & Gary Williamson, June 13, 2008
Our deepest sympathy on the passing of your Mom. You are in our thoughts and prayers. Bill, Pat, Dan, Bill and Kate Stortz Christine, Jeff, Sarah and Spencer Shaw
— Christine Shaw, June 13, 2008