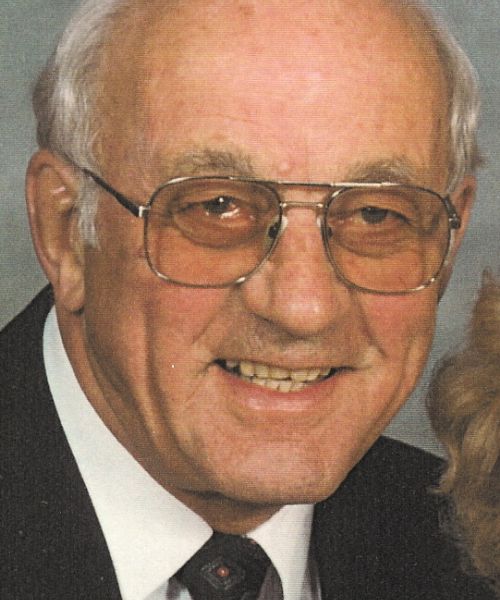 Dr. John Dippel
May 15, 2010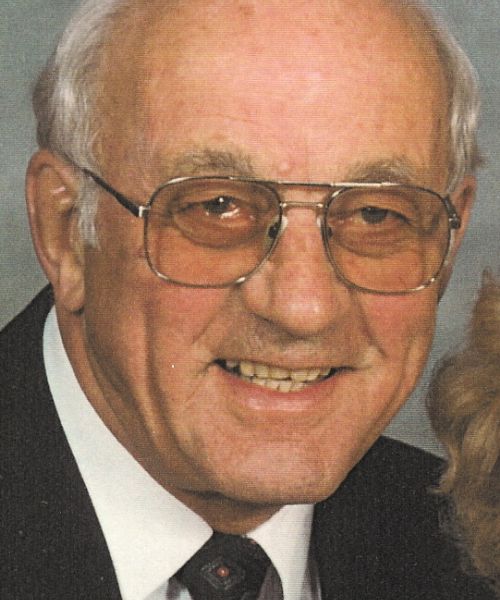 Dr. Dippel, John; at the Hanover & District Hospital on Saturday May 15, 2010. Dr. John Rodney Milton Dippel of Hanover, formerly of Mount Forest in his 87th year. Beloved husband of Christine (Seiler) Dippel. Loved father of Bob Dippel & wife Mary Allen of Mount Forest and Jim Dippel & wife Katherine of Mount Forest. Loving grandfather of Kristen, Andrew, Daryl, Michael and Adam. Friends may call at the Hendrick Funeral Home, Mount Forest on Monday from 2:00 to 4:00 & 7:00 to 9:00p.m. A Masonic Lodge Service will be held on Monday at 6:30p.m. Funeral service will be held in the funeral home chapel on Tuesday May 18th at 11:00a.m. Interment at Mount Forest Cemetery. Memorial donations to Louise Marshall Hospital or the Mount Forest United Church would be appreciated by the family. On line condolences may be made at www.hendrickfuneralhome.com
Condolences
To my Aunt Christine and Cousins Bob, Jim, and family. I'm saddened to hear of the passing of my Uncle John. So many memories - so little time ...
— Paul Seiler, Houston, TX, May 22, 2010
Our thoughts are with you all. Burying a parent is not an easy thing - even when it's anticipated!
— Ruth Mather Halford, May 21, 2010
please accept my sincere condolences on the death of your father, he was a lovely man with an infectious smile, Ron will hold him dearly in his heart as he welcomed him to the community when he decided to start his vet practice here, as for me , I know the loss of a father well, only recently losing my father, it is hard, just remember the good stuff over the years and it will get you through. Sincerely to all of the family. Pat.
— patriciabrogna, May 19, 2010
Jim & Family: Our thoughts and prayers are with you in the loss and passing of your father. May you experience Gods true comfort, peace and love during this time. May your family cherish the many wonderful memories you have shared together.
— Dan & Kathi Johnson, May 18, 2010
Dear Christine Sincere sympathy to you and your family in regards to John's death. With fond memories. From your old friends, Len and Doris
— Doris & Len, May 18, 2010
Dear Christine, Jim, Bob.and families Please accept our sympathy at the passing of John. We did have a field between us, but that did not deter us from being neighbors. We often looked out our back deck and knew when you were home. Although you were quiet neighbors we always knew you were there. Thanks for being who you were. Best regards Mike and Linda Byrne of Wiarton
— Mike and Linda Byrne, May 17, 2010
Christine, Bob and Jim: We were very sorry and surprised to hear of John's death. We have so many good memories of neighbours and before that John as the "vet" when Jim and I took our sick cat to him. We were kids and the cat was very sick. I remember his sympathy and compassion for two kids who were very worried about their beloved pet. Cherish the many good memories you have. WE will be with you in spirit. Sincerely, Paul and Ruth
— Paul and Ruth Knox, May 17, 2010
Christine, Bob, Mary, Jim, Katherine and grandchildren, We were saddened to hear of the passing of John. Cherish your many memories, especially the ones at the lake, and share your stories! You are all in our thoughts and prayers at this difficult time. God Bless
— Don, Marie, Scott, Dana and Greg, May 17, 2010
To Jim & Kathy, Sorry to hear of your loss. Please accept our deepest sympathy on the passing of your father(in-law).
— Russ & Cathy Barker, May 17, 2010
Christine, Jim and Bob. We were very saddened by the news of John's passing. As a close friend of Jim, I have endless memories of his kindness and humor from the many years spent at your home. He had great wisdom and was a honorable father figure to all of us. Our thoughts and prayers to you and your families.
— Martel and Marion Dukes, May 17, 2010
to Jim, Kathy and Family, our thoughts are with you at this sad time. Keith and Bonnie McMillan
— Keith and Bonnie McMillan, May 17, 2010
Our most sincere condolences upon John's passing. May God bless and comfort you all at this time.
— , May 17, 2010
Jim , Katherine and Family- We are so deeply saddened to hear of John's passing. He was such a lovely and caring man. We will never forget his generosity toward our family in time of need. Our deepest sympathies to you all.
— Dee Dee and Arnie Eurig, May 17, 2010
Christine, Jim, Bob and families. Please accept our condolences on the passing away of John. We were always thankful to have John and Christine as neighbours, they were great to chat with on the front porch and if we were away we knew someone was keeping an eye on our place. Many times we woke after a big snowstorm and the snow was already blown out of the end of the driveway. May you be comforted knowing that he is free of pain and watching from above.
— Marilyn, Murray, Scott and Carly McQueen, May 16, 2010
Our condolences and thoughts at this difficult time.
— , May 16, 2010