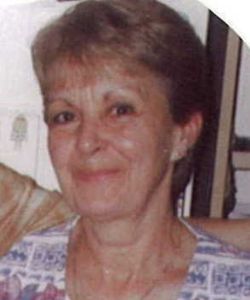 Dale Cribbin
February 23, 2011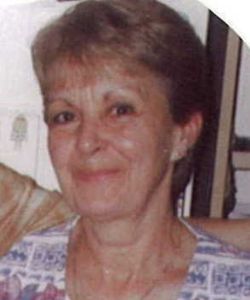 Cribbin, Dale; at her home in Mount Forest with her family by her side on Wednesday February 23rd, 2011. Dale Elizabeth'Charlie' (Cotterill) Cribbin in her 61st year. Beloved wife of John Cribbin. Loved mother of James Cribbin of Mount Forest, Johnny Cribbin & wife Glennyce of Drew, Jeff Cribbin & wife Colleen of Kitchener and Jason Cribbin & wife Jaime of Moorefield. Loving Ma of Shayla, Ryley, Zachary, Caleb and Drew. Loved daughter of Hazel Gadsby & husband Carl of Petrolia and the late James Cotterill. Special daughter of Peter Epps. Dear sister of Thomas Cotterill & wife Linda of Sarnia, Julie'Boo' Smith of Sarnia, Rick Epps & Jane of England, Will Epps & Kim Reese of Patrolia, Bonnie Epps of Sarnia and Aaron Boudreau & wife Krista of Sarnia. Loved daughter-in-law of Connie Cribbin of Sarnia and the late Joseph Cribbin. Also survived by her brothers & sisters-in-law, nieces, nephews, cousins, her special'Banana' and angels Pat and Alma. Cremation has taken place. A service of remembrance will be held at the Drayton United Church 34 Main Street East, Drayton on Saturday February 26th at 1:00p.m. Memorial donations to the Children 's Wish Foundation would be appreciated by the family. On line condolences may be made at www.englandfuneralhome.com
Condolences
Dear John and family I am so sorry to hear about your loss. My thoughts and prayers are with you.I have alot of fond memories of working with her at Geri-care Nursing Home in Harriston. She truly was a great person.
— Candice Austin (MacDougall), March 1, 2011
My condolence goes out to you and your families on the passing of Dale. I used to work with Dale years ago at Saugeen Valley. My prayers are with you at this difficult time. Jennifer
— Jennifer Freiburger, February 27, 2011
We are deeply sorry of the lost of your loved one she will be missed by all, always in our hearts and on our mind's A mass is being said in her honor at St Joseph's parish Sarina Ontario. Sending all of our love and prayers the Aunt Cecile & Family
— Cecile Haywood & Family, February 26, 2011
I will always remember Dale for the good times and the mother she was. God bless your family, Love always Olie;
— Aunt Olie and Family, February 26, 2011
Our condolences at this time of loss Will miss dale alway nice to chat with her when i was doing service calls in the building
— kevin coutts, February 26, 2011
My thoughts are with the family and all who were close to Dale. I have fond memories of my Aunt Dale from when I was a young child playing at Grandma Hazel's for many Christmas and Thanksgiving gatherings; it saddens me to learn that Dale has passed. I hope that the family will be there to support each other during these trying times. Please know that my thoughts are with you. Love, Carly.
— Carly Epps, February 25, 2011
May the Lord comfort all of you in this very difficult time. Love always, your friends, Jo-Anne, Dan, Rachel, Aaron and Ryan.
— Jo-Anne Brown, February 25, 2011
John and Family, Our condolences at this time of loss.Dale will always be in that special place in your hearts and will never be forgotten. Howie and Peggy
— Howie &Peggy Murphy, February 25, 2011
Our deepest sympathy goes out to the entire family. You are all in our hearts and we will be praying for you all in the days to come. Regrets that we are unable attend the service for Dale. We have some fond memories of Dale and will remember her always. Sincerely, John & Brenda O'Connor
— John & Brenda O'Connor, February 25, 2011
Wishing you and your family, John, my sincere regrets for the loss of Dale. I enjoyed working with her for many years and missed her when she became ill. She and your family have been in my prayers. God bless you with His peace at this time.
— Lorraine Bain, February 25, 2011
To all of Dale's family, My thoughts and prayers go out to undefined at this sad time. She will always be in your hearts and thoughts, remember now she has no pain and that you will meet again one day. May she rest in peace
— Patricia Noftall and family, February 25, 2011
Jason and Jaime and family. I thoughts are with you at this difficult time. Jason and Tracey Short and boys
— Tracey Short, February 24, 2011
Dear Jason and Family We are very sorry to hear of your loss. Remember she will always be with you. The Cochrane's
— The Cochrane Family, February 24, 2011
John and family i am so sorry for your loss, Dale was a wonderful person when we worked at saugeen we always had fun she always had a smile on her face she will be greatly missed thinking of you and your family in this sad time Bev
— bev, February 24, 2011
Dear John and Family It is with a very heavy heart that I write this note. I only knew Dale briefly but in that short time I came to call her "Sis". Dale was witty and funny and did not suffer fools gladly! I loved her sarcastic sense of humor. I will always remember the "tea party" I was able to attend last summer when I was home visiting Mom and only wished that I could have spent more Wednesday nights with the girls. It was truly an honour to have called Dale a friend and to have had a sister for a short period of time. Thank you for letting me be a small part of your and Dales lives. May time find you peace and fond memories. With love Bonnie
— Bonnie Bradley, February 23, 2011