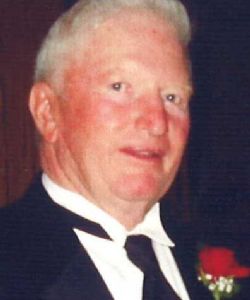 Leonard Caughlin
June 26, 2012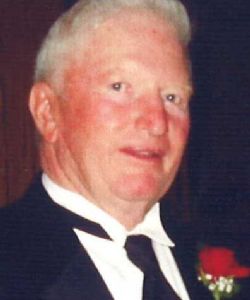 Caughlin, Leonard; at Louise Marshall Hospital in Mount Forest on Tuesday, June 26th, 2012. Leonard Joseph Caughlin of Mount Forest in his 72nd year. Beloved husband of Loretta (Black) Caughlin. Loved father of son Steven Caughlin of Brampton and daughter Lisa Cranston and husband Mark of Brampton. Cherished Grandpa of Ella and James Cranston. Dear brother of Rita Caughlin and Margie Moyer of Mount Forest. Predeceased by his parents William and Theresa Caughlin, brothers Kenneth and Harold, sister Adele Duff, 1 infant brother and 2 infant sisters. Leonard was a former employee of Armbro Ready-Mix, United Aggregates and Dufferin Custom Concrete Group. Friends may call at the England Funeral Home, Mount Forest on Thursday, June 28th from 2:00 to 4:00 & 7:00 to 9:00 p.m. A prayer vigil will be held on Thursday at 4:00 pm. Mass of Christian burial will be celebrated at St. Mary of the Purification Church, Mount Forest on Friday, June 29th at 11:00 am. Interment at Holy Cross Cemetery, Mount Forest. Memorial donations to a charity of one 's choice would be appreciated by the family. On line condolences may be made at www.englandfuneralhome.com
Condolences
Dear Steven, Mrs. Caughlin & Family, I Would Like To Send My Condolences To You All At This Time. My Thoughts & Prayers Are With You All Always, Love Lynne Klos xo
— Sandra- Lynne Klos, July 4, 2012
Dear Rita & Margaret: We were so sorry to hear of Leonard's death. I, Marie, have many memories of your family while growing up in Proton. Our sincere sympathy to you both and to Leonard's and children. Mel & Marie
— Mel & Marie (Connolly) Thompson, June 29, 2012
Dear Mrs. Caughlin, Lisa and Steven, My most sincere and deepest condolences on the passing of your loving husband and father. I have many fond memories of the little house on Harper Rd...and especially Mr. Caughlin. May God Bless you today and always. May friends comfort you, Faith uphold you, Loving memories heal your heart. With heartfelt sympathy, Maria Palombi
— Maria Palombi, June 29, 2012
I wish to convey my sincere sympathy to the family of Leonard Caughlin. My prayers and thoughts are with you at this time.
— Elizabeth Coutts, June 29, 2012
Hello Lisa, Mark, Ella and James, We just wanted you to know we are thinking about you and hope you are doing okay. Remeber to focus on all the great memories. We are truly sorry to not be able to make it up for the services but Karen and I want to come up and visit you hopefully in a few days. Our deepest condolences, Mark, Kathryn, Charlotte and Owen Fleet
— Kathryn and Mark Fleet, June 28, 2012
Loretta and Family. Leonard was a good man and great for helping out anyone who asked. He was always there to help set up or put away tables and chairs at the church hall. Our thoughts and prayers are with all his family and friends who will miss him. Bill & Diane Dineen
— Bill & Diane Dineen, June 28, 2012
Unfortunately prior engagements prevent our family from attending. Leonard's generous smile and affable personality will be missed. Our sympathy to your family.
— Dianne & Colin Reesor, Linda & Rick Ruff and Mary Jane Cantlon, June 28, 2012
God takes the good ones to ease their pain and hopes we understand. Always remembered by Ron Campbell and Marg King
— Ron Campbell and Marg King, June 28, 2012
Dear Loretta, Lisa and family and Steven, My sincerest condolences to you and your family. I have fond memories of Mr. Caughlin as he was very cheerful with a smile on his face whenever we met. He didn't seem to mind the drive down to the tobacco farm in preparation for my wedding some years ago. Sincerely, Annette and Steve Scheers and family
— Annette Scheers, June 28, 2012
Dear Loretta, Lisa, and Steven, Our thoughts and prayers are with you at this difficult time. We have fond memories of time spent with Leonard. He was a wonderful man who will be remembered always. Love, Denise & Mike
— Denise and Mike Bulger, June 27, 2012
Dear Loretta & Family; Our sincere, heartfelt sympathy to all of you. We are out of town until late Friday, but our thoughts and prayers are with you. Bob had made arrangements with Len Seifried re the Cemetery if there should be a burial at Holy Cross before Sat. Please extend our sympathy to Leonard's sisters and we will be in touch next week. With sincere sympathy and prayers for strength to cope with the difficult days ahead, Bob & Mary McIntee
— Bob & Mary McIntee, June 27, 2012
Our thoughts and prayers are with you at this most difficult time. Pete&Lori Wells
— Peter&Lori Wells, June 27, 2012