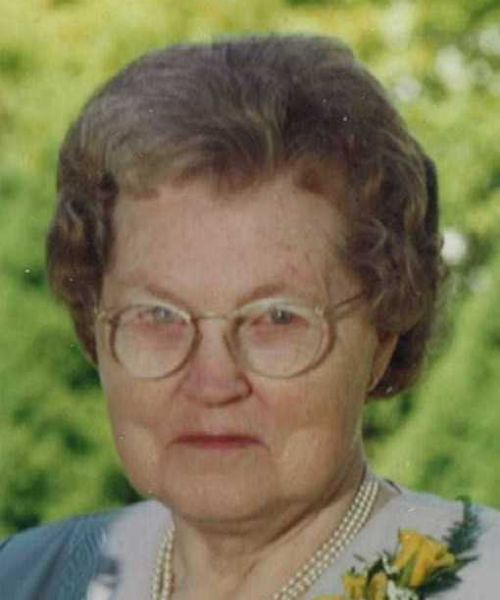 Jessie Brown
December 24, 2013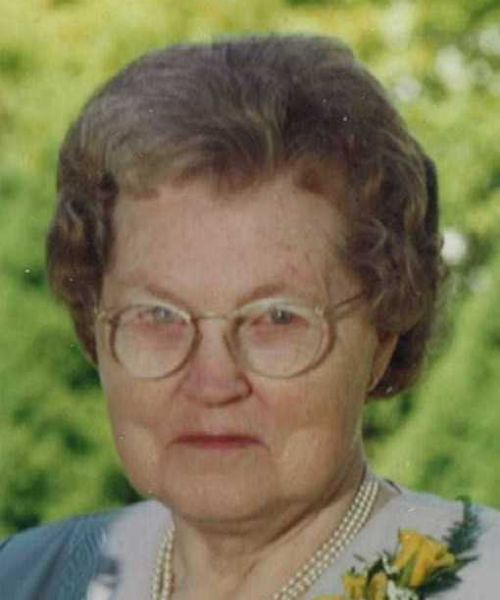 Brown, Jessie (Rae); Passed away peacefully Tuesday, December 24 at Chateau Gardens Elmira. Jessie was born July 2, 1927 and was the much loved wife of John Brown (2001) for 50 years. Mother of Cheryl and Ross (Elmira), Kevin and Cyndy (Mount Forest) and Paul and Darlene (Kitchener). Grandmother of Tim and Terri, (Elmira), Brian and Jamie (Toronto), Jessica and Brad (Mount Forest), Justin and Christine (Kincardine) and Matthew (Terrace, B.C.). The proud great-grandmother of Ethan (Elmira). Survived by sister-in- laws Fern Brown and Betty Williams and brother-in-laws Bill Brown and Stan Brown. Predeceased by her sisters Lorene and Verna and in-laws Clarence, Bev, Helen, Bob and Wilma, Joe, Mary and Don. Jessie and Jack worked together for many years as the ESSO agents in Mount Forest,Together they cared for their mothers as they aged as well as several beloved aunts and relatives from the Mount Forest Pentecostal Church where they were long term members. She took pleasure in gardening (both flowers and food) just like her father Wes had. The family is so grateful for the staff at Chateau Gardens , for their care and concern for Jessie for the last few months. The family will receive relatives and friends at the England Funeral Home, Mount Forest on Friday December 27, 2013 from 2 - 4 p.m. and at the Mount Forest Pentecostal Church on Saturday from 1p.m. until time of the funeral service at 2p.m. As expressions of sympathy, donations to Canadian Cancer Society or Multiple Sclerosis Society would be appreciated.
Condolences
Jessie was a lovely lady and we were sorry to see her leave Birmingham Retirement. My condolences to the family.
— Roslyn Fortier, December 30, 2013
my condolences to the family. sorry i was unable to attend the visitation.
— steve chambers, December 29, 2013
Cheryl and family, our sincere condolences to you at this sad time. Our thoughts are with you.
— Don and Cheri Voll, December 29, 2013
We are sorry that we could not attend Jessie's visitation or funeral service but our thoughts and prayers are with you all.
— Reg Gilstorf and Colleen, December 28, 2013
Sorry to hear of the passing of your mother. We remember her as that quiet godly women and wife of John Brown at church every Sunday! We are unable to attend visitation due to work. Please except this as our expression of sympathy.
— David and Diane Corley, December 26, 2013