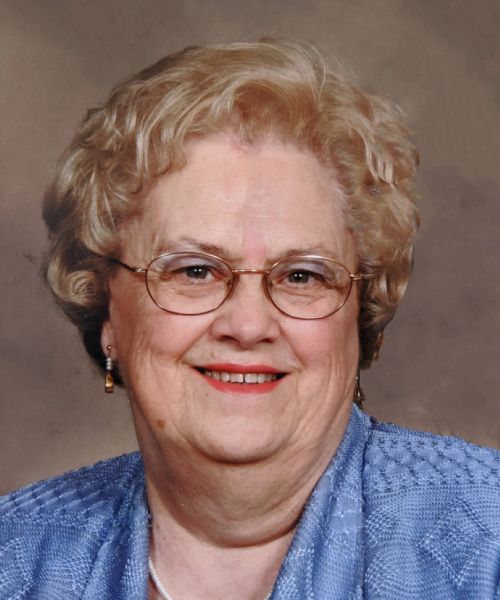 Peggy McGregor
June 19, 2020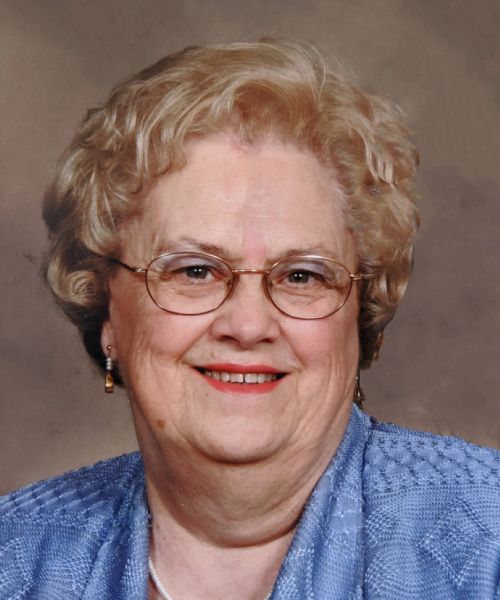 Margaret "Peggy" Myrtle McGregor, 89, formerly of Mount Forest, passed away June 19, 2020.

Peggy was born in Toronto December 1930 to Alfred and Myrtle Sawyer. They later moved to the farm in Greenock Township. After graduating from school in Paisley, she started her first job as a Bell Telephone operator in Walkerton.

It was during school that she met the love of her life, Jack McGregor. They married September 20, 1952, going on to have 3 daughters Susan, Lynn and Laurie.

After moving to Mount Forest in 1965, Peggy started working at the Mount Forest District High School.  She retired in 1994 after being secretary there for over 25 years - a job she loved.

Together Peggy and Jack enjoyed curling, a sport they were both good at. She was a member of the Mount Forest Kinettes (24 years), Mount Forest Historical Society, Mount Forest United Church and the Eastern Star.

After retirement, she indulged in gardening, quilting, volunteering with the Hospital Ladies Auxiliary and the public school breakfast club.

She loved crosswords and sewing. Two of her best sewing accomplishments was the creation of Lynn and Susan\'s wedding dresses.

She and Jack could often be found during the nice weather sitting on the front porch enjoying a cold beverage and watching the comings and goings of the neighbourhood.

Family and friends  were a big part of her life and she enjoyed their company and having a good time. She will be fondly remembered for her laugh and smile.

Peggy was predeceased by her loving husband Jack (2012). Lovingly remembered by her daughters Susan and her husband Richard Hunter, Lynn and her husband Mike Reeves and Laurie and her late husband Larry Williamson (2012). Cherished Grandmother of Barbara and Mark Van der Sluis, Lauren Hunter and Dan Crawford, Matthew Hunter, Jaclyn and Josh McDonald, Megan and Shawn Sinnamon, Sean and Lina Reeves, Janessa and Kaite Williamson.

Special Great Momma to Dylyn, Nolan, Liam Aitken, Hudson McDonald, Hunter and Rowan Sinnamon, Aurora Reeves and Addison and Rebecca Van der Sluis. Also survived by sisters in law Sandra Sawyer, Verna Cormack, Enid Fenton, Vivian McGregor and Connie Mayjere, brother in law Jimmy McGregor and his wife Jean and many nieces and nephews. Predeceased by her parents Alf and Myrtle Sawyer, brother Glen Sawyer, Jacks' parents  David and Annie McGregor, in laws Dorothy and Lawrence Ellis, Francis and Stewart Webb, Duncan and Betty McGregor, Jean and John Cobean, Helen and Willard Calhoun, Andrew Cormack, Peter Fenton and Lenore McGregor.

A private funeral service will be held.

As an expression of sympathy, memorial donations to Mount Forest Museum and Archives would be appreciated by the family. Arrangements entrusted to England Funeral Home, Mount Forest.
Condolences
So sorry to hear of the passing of your Mother. Our thoughts are with you and your family at this time. Deb & Frank van den Broek
— Deb van den Broek, August 5, 2020
To Peggy's daughters, Our sincere condolence to you on the passing of your mother. I remember Peggy when she lived with us in Walkerton. She was working at Bell Telephone at that time. In later years I ran into her at the curling club. Cherish your memories. Sincerely, Allan& Rosemary Beange- nee Oberle Goderich, Ont.
— Rosemary Beange, June 28, 2020
Our condolences to Susan, Lynn and Laurie on the loss of your Mum. Peggy had a way of making everyone's day better as I learned as a teacher at MFDHS from 1969-1991. Over her years as Head Secretary, she ran the office with a unique blend of efficiency and kindness. We all remember her fondly and will not soon forget her contributions to education. Stan & Glenna Dungey
— Stan & Glenna, June 25, 2020
Thoughts from our family to yours at this difficult time. What a lovely obituary detailing her life. Sincerely, Brett, Caitlin, Ava and Will Reeves.
— Caitlin and Brett Reeves, June 25, 2020
Susan, Lynne, Laurie and families, our sincere condolences at this time. We will always remember Peggy's laugh whether she was at the curling rink or in the high school office. Hope the stories and memories give you comfort. Mary, Patti-Jo & Jim, Jamie & Chris and family
— PJ McLellan Shaw, June 25, 2020
Sorry to hear about your Mom, I went to school at Bradley School when she did. I was also married in September 1952 & live in Owen Sound. I met her brother Glen at one of the school reunions at Bradley a few years ago. My brother Harold Lemont was a good friend of your Dad. Sincere sympathy Evelyn & Stuart Edmontone
— Evelyn Lemont Edmonstoneone, June 25, 2020
My condolences to the family. I too went to MFDHS and remember Mrs. McGregor well. She was always so pleasant and helpful.
— Vikki Reavely (Rapp), June 24, 2020
Susan, Lynn and Laurie we are thinking about you at this time. Andy and Cathy Cormack
— Andy and Cathy Cormack, June 24, 2020
My condolences to the family of a great wife and mother and a highly respected high school secretary.
— Hugh Perrin, June 24, 2020
To The McGregor Family So sorry to here about your Mom. We met in the barbershop days when I was a member of the Harmonaires. Sure had a a lot of fun with your Mom and Dad. Sincerely, Doug and Sandra Inglis
— Doug and Sandra Inglis, June 23, 2020
Sorry yo hear about Peggy. Carman who lived on the 16th of Greenock up the road from the Sawyers knew Peggy and Glen well, Alfred and Myrtle were great neighbours. Carman did business at the garage Jack owned in Paisley for years. Deepest sympathy to the McGregor girls. Sincerely Carman and Barbara Fullerton
— Carman & Barbara Fullerton, June 23, 2020
Lynn & Mike,Susan & Richard & Laurie & family. Please accept this as my sincere sympathy in the loss of your dear Mom. I was so pleased to have them as residents at Birmingham Retirement when I worked there when they moved from their home. My parents Peggy & Ruby Neil always talked fondly of both your parents. Cherish the wonderful memories who no one can ever take away
— Linda Sinclair, June 23, 2020
Sincere sympathy to Peggy's family. As a MFDHS student and then teacher George has many memories of "Mrs. McGregor." She touched the lives of many students and teachers. You are held in our thoughts and prayers, George and Bonnie Holliday
— George Holliday, June 23, 2020
My condolences to Susan,Lynn and Laurie on Peggy's death. I remember a woman with a terrific sense of humour combined with a competence that made my work as a colleague at the Mount Forest District High School run smoothly. All of us were fortunate to have had Peggy in our lives Doug Leiper M.F.D.H.S. 1961-1989
— Doug Leiper, June 23, 2020
Our deepest sympathy. I always loved her laugh and her love for life. We have great memories of her and Jack. We will keep you in our prayers. Dan and Gwen O'Connor
— Dan O\'Connor, June 23, 2020
Lynn, Laurie and Sue. I am so sorry to hear of your mom's passing. I have many fond memories of hanging out at your house many years ago. My thoughts and prayers are with you all.
— Mary Tighe, June 23, 2020
Sue, Lynn and Laurie, Our sincere sympathy to you and your families. It was always fun to have a little chat with Peggy. Such a nice lady.
— Barry & Thelma Rawn, June 22, 2020
So sad to hear of Peggy's passing. I started my second career as a high school teacher at MFDHS, and Peggy always made it welcoming ' going to the office ' for whatever reason. Her smile and happy nature were appreciated by all, and my two older children Bryan and Kristin had pleasurable memories of their office visits.
— bob tokarsky, June 22, 2020
Our sincere condolences to all the family. May your forever memories be a comfort to you , Sue and all your Mom's loved ones. Heather & Roy Thomson
— Heather Thomson, June 22, 2020
Our sincere sympathy! Peggy is remembered by us as a friendly, cheerful, former Paisley friend. She and Jack will forever be missed! May pleasant memories comfort you always. Hugh and Katharine (Dryden) Watt.
— Hugh and Katharine Watt, June 22, 2020
Our deepest sympathies to the family. I remember her while I was at High School. Always very kind and helpful to the students. She was a very lovely lady. Cathy (White) Dursun
— Cathy Dursun, June 22, 2020
My condolences to you Lynn and your family for your loss. I well remember your Mom from when I went to high school back in the day.
— Joan Arthur, June 22, 2020
Sue, Lynn & Laurie - So sorry for your loss. Peggy was a wonderful woman who leaves so many of us with fond memories.
— Dan & Marj Allen, June 22, 2020
Jim and I would like to express our deepest sympathies to Peggy's family. She was a great lady and we will always remember the memories of her in the office at MFDHS.
— Katherine Dippel, June 22, 2020
On behalf of Peace Chapter No. 52, Order of the Eastern Star, we would like to extend our deepest sympathies to Peggy's family. Our thoughts and prayers are with you as you mourn the loss of a wonderful lady.
— Katherine Dippel, June 22, 2020
My deepest sympathies to you all Susan , Lynn and Laurie. I have such great memories of growing up around both your mom and dad as a child at the curling club or at your house where I was always welcomed like one of their own. She had a great smile and a wonderful laugh that always made you smile when you heard it. She will be deeply ,missed by all of you but your memories of her will keep her spirit alive in your hearts. Cheryll Vandepas
— Cheryll Vandepas, June 22, 2020
Peggy was such a pleasure to know. Mary and Paul Dowling
— Mary and Paul Dowling, June 21, 2020