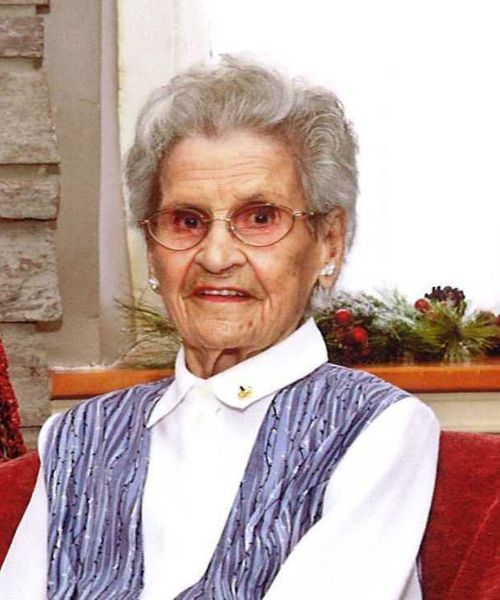 Evelyn Bannister
January 28, 2015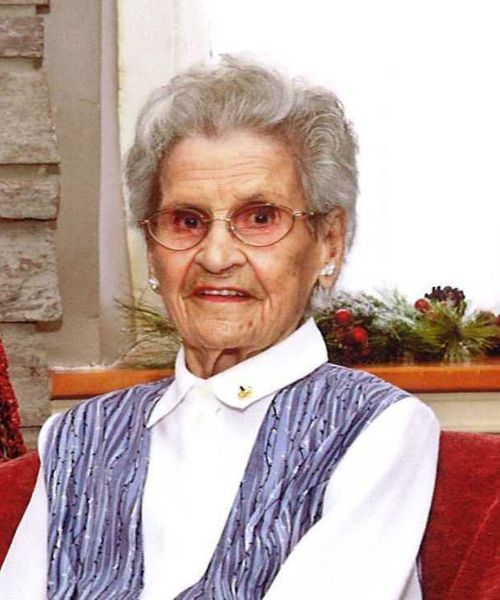 Bannister, Evelyn; at the Louise Marshall Hospital, Mount Forest on Wednesday January 28th, 2015. Evelyn (Coleman) Bannister of Mount Forest in her 96th. Beloved wife of the late George Bannister. Loved mother of Gordon Bannister & wife Judy of Arthur. Loving grandmother of Tina Miller & husband Donnie of Keswick, Debbie Bannister & Greg Witzel of Arthur, Penny Boyd & husband Kyle of Guelph and Dale Bannister of Arthur. Loving great grandmother of Tyler, Shaelyn, Hudson, Rayna, Lilah and Chance. Survived by nieces, nephews and their families. Predeceased by sisters Ruth Braun & husband Hugh and Florence Lamont & husband William. Friends may call at the England Funeral Home, Mount Forest on Saturday January 31st from 11:00a.m. until time of the funeral service at 12noon. A reception to follow at the Royal Canadian Legion, Mount Forest Branch #134. Spring interment at Mount Forest Cemetery. Memorial donations to the Louise Marshall Hospital Capital Campaign would be appreciated. On line condolences may be made at www.englandfuneralhome.com
Condolences
I grew up knowing Eve as a neighbour on Water St and a co-worker at Canadian Tire where she worked for many years. Eve was a great lady and I will always remember her. Gordon and family, our thoughts are with you. Gary & Carol Walsh
— Gary Walsh, February 6, 2015
WE send our thoughts and prayers to your family. Eve was such a great friend to our mother Dorothy and they had many adventures together. Just a trip through the back yard where they each knew the other would be ready for a visit. Eve was such a nice lady and we got to know her through our Mom. Dorothy sends her sympathies and hugs and love to the family. She will miss her good friend Eve very much.
— Sharon and Don Irvin, January 31, 2015
Penny has always talked about what wonderful lady she was and her importance to your family. I'm so sorry for your loss. Words always seem completely inadequate at a time like this. Please know you are in my thoughts. Nadine
— Nadine Armstrong, January 31, 2015
We were all so saddened to hear of the passing of the eldest member of our "Beaver Girls". Eve was a wonderful person and truly always a lady. She will be missed. You are in our thoughts and most certainly our prayers. Rest peacefully our dear friend....Love the Beavers xo
— the Beavers, January 30, 2015
Please accept our deepest sympathy on the passing of a wonderful vivacious lady. She always had a smile and happy "Hello" when she met you. What a special neighbour!
— Margaret Gillies & Family, January 30, 2015
Condolences to the family. Eve was a wonderful loving & caring person. I am so blessed to have known her. My thoughts & prayers are with all you at this sad time.
— Jack & Jean Newton, January 29, 2015
Eve was our neighbour for over 20 years and a neighbour to my parents about as long. We will remember her fondly and may she rest in peace.
— Rick Vaine and Laura Douglas, January 29, 2015
My sincere condolences to all of Evelyn's family. It was a pleasure to have known Eve for the twenty years I was her neighbour. She would often stop for a chat on her daily walks. She was a lovely, kind and caring lady. She will be missed. Miriam Long
— Miriam Long, January 29, 2015
Evelyn was a delight to know and we shared many pleasant conversations over the years at Hope Bay campground. Our most sincere condolences to her family.
— Roy & Marilyn Rouleau, January 29, 2015
Sorry to hear of Evelyns passing she was a great lady well loved at Hope Bay missed her when she moved out. My thoughts & prayers are with the family
— Art Showers & Joyce Moore, January 29, 2015
Our condolences to the family. Someone as special as Evelyn will not be forgotten. She was our neighbor at Hope Bay Campground. It always brings a smile to my face when I remember her joining us for our ladies night dinner and a movie on the deck. Such a delightful person.
— Dave & MaryAnn Boyle, January 29, 2015
We are sorry to hear of the passing of a great lady she was a treat at hope bay not to be forgotten always had a kind word for every one she passed on the road love ya Evey. Ronnie n Gayle read44
— Ron n Gayle Read, January 28, 2015
Our thoughts and prayers are with all of the family at this very difficult sad time. I have very loving memories of Aunt Evelyn and she will be in all of our hearts forever. Everyone that knew Aunt Evelyn were very fortunate to be able to remember her being the headstrong, caring, loving person that she was. There was absolutely nothing that she could not accomplish. Aunt Evelyn was a second mother to the Braun children and went way beyond being an aunt and we will always cherish her motherhood. I know that she is in a loving place with Uncle George, her two sisters(my mom and Aunt Flo) and my dad and Uncle Bill. May her loving and caring memories stay in all of our hearts forever. Be at peace Aunt Evelyn and you will be missed.
— Sandy & Phil Blumenthal, January 28, 2015