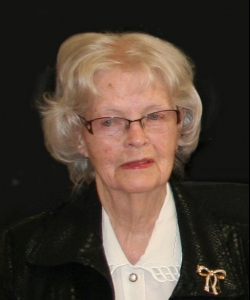 Gertrude "Trudy" Mader
August 25, 2021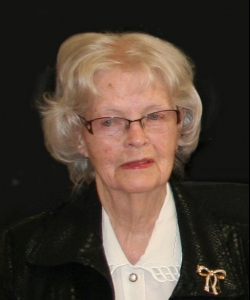 MADER, Gertrude "Trudy" – Peacefully at Strathcona Long Term Care on Wednesday, August 25, 2021 in her 96th year. Predeceased by her husband Hubert Mader (2007). Loving mother of Myrna Vermeulen and Joan (Doug) Woods and mother-in-law of Dianne Culp, and Ray Eaton. Dearly loved by her seven grandchildren and seven great-grandchildren. Survived by her brother Peter (Marjorie) Goymour. Predeceased by her children Bruce Culp, Dianne Eaton, son-in-law Don McEwen, and sister Mabel (Roy) Graham. Trudy was a hard-working, single mother who lovingly raised four children. Her passions included volunteering, sewing, gardening, and spending time with her children and grandchildren. Trudy loved people and was always up for a laugh or good joke. The family would like to thank the Staff of Strathcona Long Term Care for their wonderful care and compassion. Visitation will be held at the England Funeral Home, 294 Main Street South, Mount Forest, on Saturday, August 28, 2021 from 9:30-10:30 a.m. To attend the visitation, please schedule an appointment by visiting www.englandfuneralhome.com or by calling the funeral home at (519) 323-2631. Masks are mandatory and Covid protocols are in place. A private funeral service will be held with interment at Mount Forest Cemetery. Extended family and friends are invited to view the service livestream on Saturday, August 28th at 11:00 a.m. by visiting: https://www.facebook.com/England-Funeral-Home-1863283503935858. Those wishing to make a donation in memory of Trudy are asked to consider the Strathcona Residents Council. Arrangements entrusted to the England Funeral Home, Mount Forest.
Condolences
Hugs to all xoxo









— Donna Stoner, August 29, 2021
Sending hugs to you all. Xoxo
— Donna Stoner, August 29, 2021
Joan, Doug, Myrna and family So sorry to here of the loss of your Mother and Grandmother. You will have many happy memories. Brian & Brenda
— Brian & Brenda Leibold, August 29, 2021
Dear Joan , Doug and Family. Please accept our sincere condolences on the loss of your mother. Our thoughts are with you. Sincerely Mary Lou & Paul Bolen

— Paul and Mary Lou Bolen, August 29, 2021
We were very sorry to hear of your Mom's passing. She was a truly lovely woman who always enjoyed chatting when I would go into the nursing home to see dad. She loved children and her face lit up when any of my grandkids went in with me. She had a special twinkle in her eyes for Paige who would actually go to her room as your Mom sought out some candy. There is never a good time to lose someone we love, but Covid does make loss more difficult as so many things we do to show support aren't encouraged. I hope you know that we feel deeply for your loss and hold you and your whole family in our thoughts and prayers.

— Donna and Bob McFarlane, August 28, 2021
Our Deepest Condolences.
Brian and Tami
— Brian Goymour, August 28, 2021
Joan, Doug and Family:
Our thoughts and prayers are with you. May good memories be a blessing at this time and in the days ahead.
George and Bonnie Holliday
— George and Bonnie Holliday, August 28, 2021
My Deepest Condolences. She was an Amazing Woman. She will live on in everyone she Loved and Touched.
— Dave McEwen August 27 2021, August 27, 2021
Joan,Doug,Jody,Jarrett and families.
My sympathy to all as you mourn your Mother and Grandmother

— Sharon Wilson, August 27, 2021
Ray & family - Bob & I wish to express our deepest sympathy on the passing of Trudy. She had a wonderful life and was a great Mother to her girls.

Regards Bob & Marlene

— Marlene Gilchrist & Bob Brown, August 26, 2021
Joan, Doug and Family, Our deepest condolences on the loss of your family member. Remember the good times you shared.
— Lorne and Marg Dally, August 26, 2021
Joan, Doug and all your family members, I offer my deepest sympathy.
Please know that my thoughts are with you as you face these sad days in your life.
Pauline Brown

— Pauline Brown, August 26, 2021
Deepest sympathies to you and your family, She was a very caring and lovely lady.
— Marlene Malison (Jacki Culp), August 26, 2021
Sorry to hear of the passing of your mom. You will miss her. Our thoughts and prayers are with you at this sad time. Wayne and Sandra
— Wayne and Sandra Lytle, August 26, 2021
Doug, Joan and family: Deepest condolences for your loss. May your memories ease the pain at this difficult time.
Doris Carmount
— Doris Carmount, August 26, 2021