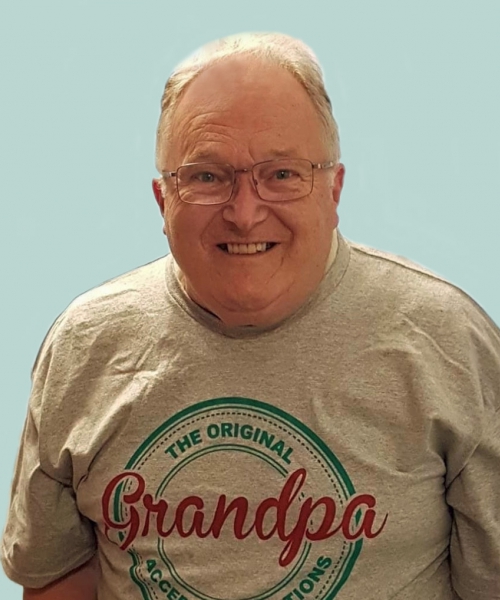 Charles Kerr
September 2, 2021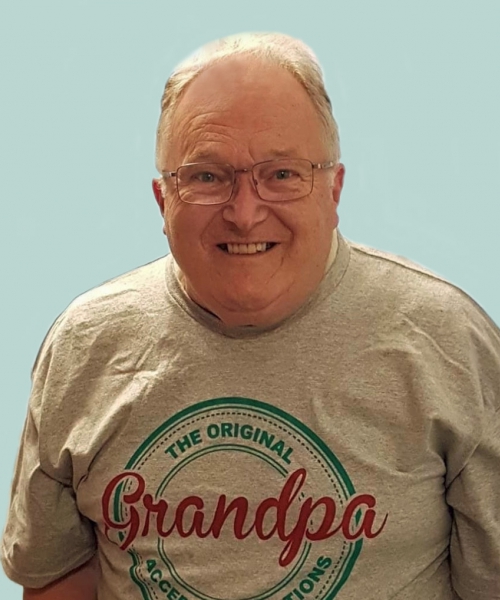 KERR, Charles - Suddenly at home on Thursday, September 2, 2021 at the age of 80. Cherished husband of Maxine for 58 wonderful years. Loving father of Christine (Gerry) Nicholson and Sharon (Byron) Perry. Proud Binya/Papa to Pearl (Gavin), Ryan (Maddy), and Grace. Survived by his 'bestest' sister Jacqueline and brother George. He will be missed by his extended family and friends. Predeceased by siblings Alice, Edward, Dawson, Joe and granddaughter Abby.
Charles was an elementary teacher for 35 years, who had the pleasure of teaching his own family. After retiring from education and moving to Mount Forest, he drove for Fettes Tours and worked at MacDonald Home Hardware. He enjoyed his 'hobby jobs' and the people he was able to meet. Charles enjoyed going to the sugar bush in the spring each year. We will really miss his witty remarks and many cherished moments together.
Visitation will be held at the England Funeral Home, 294 Main Street South, Mount Forest, on Monday, September 6, 2021 from 2:00 - 4:00 p.m. A funeral service celebrating Charles' life will be held at Mount Forest United Church, 175 Queen Street East, Mount Forest, on Tuesday, September 7, 2021 at 11:00 a.m. To attend the visitation or funeral service, please make a reservation by visiting www.englandfuneralhome.com or by calling the funeral home at (519) 323-2631. Masks are mandatory and Covid protocols are in place. Interment to follow at the Mount Forest Cemetery. To view the service livestream, please visit: https://www.facebook.com/England-Funeral-Home-1863283503935858. Those wishing to make a donation in memory of Charles are asked to consider the Louise Marshall Hospital Foundation or Cancer Patient Services. Arrangements entrusted to England Funeral Home, Mount Forest.
*By making a reservation to attend the funeral service, you are welcome to arrive at the church any time between 10:00-11:00 a.m. There will be an opportunity to visit with the family during this time.
Condolences
Maxine & family
So sorry for your loss. Charles was a great guy and a good friend to Mom & Dad.
We also had the privilege of enjoying your and Charles hospitality while blueberry picking up at Mathieson.
Our thoughts and prayers are with you at this time.
Yvonne & Bill
— Yvonne Stewart, September 13, 2021
Sharon and family,
I am sorry to hear of your loss. Take care.
Sincerely June
— June Osborn, September 10, 2021
Sorry for your loss Prayers for the family


Joyce & Karla Gervais
— Karla Gervais, September 9, 2021
We were sorry to hear about your dad/grandpa.. Charles was a very nice man he always had a smile ..may happy memories help at this difficult time Our Deepest Sympathy
Bill and Lee Nelson
— Bill and Lee Nelson, September 8, 2021
I was just talking about him with my friends at the cottage. I was remembering going blueberry picking, and raspberry picking, and smut. :) It's so terrible to lose him.
— John Kerr, September 7, 2021
Maxine, Christine, Sharon, family, friends and colleagues. My sincere sympathy and condolences for your loss. Mr. Kerr was a wonderful person and so happy to have known him. My most fond memories of Mr. Kerr was in Abitibi Canyon when I really meet him and his family. He was the Principal of the school at the time. My he rest in Peace.

— Doug Parks, September 6, 2021
Maxine, Christine, Sharon and Families
We were very sorry to hear about Charles. He will certainly be missed. Our thoughts and prayers go out to all who knew and loved him.
Hugs to all.
David & Linda

— David & Linda Bertrim, September 6, 2021
Sharon and Family,

Thinking of you at this sad time and sending sincere condolences.
Hugs,
Ruth Hildebrand
— Ruth Hildebrand, September 6, 2021
Dear Maxine and family,
My thoughts and prayers are with you in the loss of Charles, such a gentle loving man. Janice Carser (cousin)

— Janice Carser, September 6, 2021
Sending hugs and sincere condolences to you all. It was a privilege to have known such a gentleman.
— Matthew and Lenore Farr, September 5, 2021
Charles will be remembered as a true gentleman with strong values and great admiration for his family and friends. His specialty was the care he showed to the students he encountered. Pleased to have known such a devoted and kind man. Will miss him dearly.

— Domenic and Gail DeFelice, September 5, 2021
I have many fond memories of Mr Kerr. A great man who will be missed. Thinking of you all. Robbie 💕
— Robbie Lougheed, September 5, 2021
Rowland and I would like to express our sincere condolences on the passing of Charles. He and Rowland became friends when Charles was ar the hardware store. They shared many stories of their times as elementary teachers.
They always took time for "a chat" whenever they would meet around town.
Prayers and Blessings from Marlyn & Rowland Howard
— Marlyn Howard, September 5, 2021
Hi Sharon. Sorry for your loss. Our thoughts and prayers with you and your family.
— Ali Nasser, September 4, 2021
Dear Maxine &family…so sorry…..we met the Kerr family when posted to the Timmons area and Sharon boarded with us while going through for a nurse. Charles was the brother Bob never had. I have great memories of picking blueberries with him and the McNab's and enjoying picnics and excursions with he and Maxine. He was the most kind and generous man you could ever meet. Treasure and hold in your hearts the love he so freely shared. Cheers Charles…..Love……Barb. (Barbara Kerr)
— Barbara Kerr, September 4, 2021
Maxine, Christine, Sharon and Family.
So very sorry to hear of Charles passing. We all moved to Mount Forest around the same time and enjoyed our get togethers and getting to know all our new neighbours. He will be missed. Our thoughts and prayers are with you.
Dan and Doris Tone
— Dan & Doris Tone, September 4, 2021
Maxine and Cheryl
My condolences to you both. I always enjoyed my little chats with him when we met on the street or at a store. He always seemed to have a smile and I couldn't help, but to smile a little after our chats. He will be missed.
Steve
— Steve Chambers, September 4, 2021
Our deepest condolences to Maxine and Sharon and Chris . Charles will be sadly missed by all who knew him. Rest In Peace Charles love Garnet and Lorraine and Dixie xxoo💕💕💕
— Dixie Lamb, September 4, 2021
I met Charles and his wife and family through his brother Joe and wife Betty Kerr. He had such a dry humour and a twinkling smile . He and Maxine were to become loyal customers of mine at a Williamson's in Uxbridge and purchased many vans from me. They came a long way to deal with me and It was very much appreciated. They both came to my husbands funeral when he passed at 55. I will always treasure that. I am very sad for you and your family to have lost Charles. His memory will live on forever.
— Diane Richardson, September 4, 2021
Maxine and family

What a wonderful picture, Charles was a very proud popa. We will sure miss his daily emails and treasure all the memories we have. Wishing you peace and comfort in the days ahead. Sincerely Diane & Bill Dineen
— Diane Dineen, September 4, 2021
I will forever miss your laughter, jokes, jibes, and bear hug.
Uncle Charles, I am so sorry that I could not sit with you, one last time. I missed out on too many years.
Dad and Joe, will see you at the lake...
Until Valhalla uncle.
Aunt Maxine, Sharon, Christine, cousin Karen has my number.
If you need anything, I mean it, call.💔
I'd love to hear your voices again.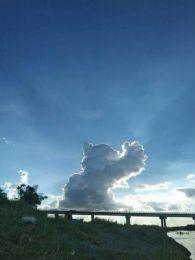 — Deborah Kerr, September 4, 2021
I remember Charles from MacDonald Home Hardware because he was always so nice and very helpful.
Joan Arthur
— Joan Arthur, September 4, 2021
So very sorry to see this. Our condolences Maxine and family. Charles was such a very nice man and I enjoyed my chats with him when we met up on the street. RIP Charles.
— Ruth Truax, September 4, 2021