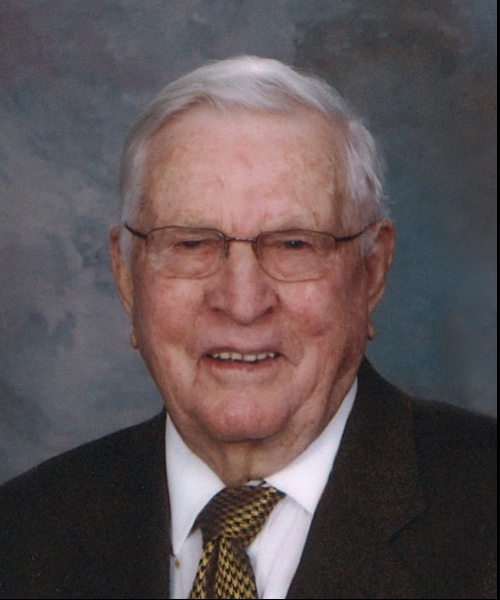 Elwyn Shaw
September 22, 2021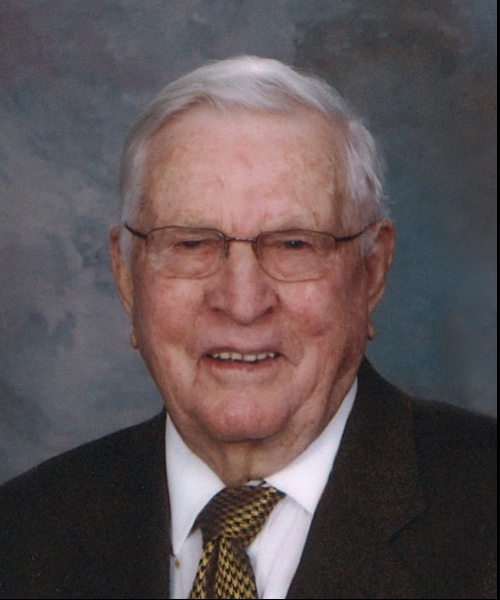 SHAW, Elwyn – Passed away peacefully at the Louise Marshall Hospital on Wednesday, September 22, 2021 in his 94th year. Beloved husband of Lyla Shaw (née Noble) for 64 years. Loving father of Steven Shaw and his late wife Darlene, Dennis Shaw, Susan Bender and her husband David. Dear grandfather of John (Suzette), Lisa (Michael), Stephanie (Ryan), and Laura. Cherished great-grandfather of Adrian. Survived by his brother Lloyd (Donna) Shaw, brother-in-law Carman (Florence) Noble and sisters-in-law Lois Morgan and Shirley Noble. Elwyn is lovingly remembered by many nieces, nephews, friends and neighbours. Predeceased by his parents Leila and Otter Shaw as well as several brothers and sisters-in-law. Elwyn was a long-time farmer in the Arthur and Minto Township communities, continuing to farm into his 80's. Visitation will be held at the England Funeral Home, 294 Main Street South, Mount Forest, on Monday, September 27, 2021 from 6:00-8:00 p.m. To attend the visitation, you must schedule an appointment by visiting www.englandfuneralhome.com or by calling the funeral home at (519) 323-2631. Masks are mandatory and Covid protocols are in place. A private funeral service will be held with interment at Mount Forest Cemetery. Extended family and friends are invited to view the service livestream on Tuesday, September 28th at 11:00 a.m. by visiting: https://www.facebook.com/England-Funeral-Home-1863283503935858. Those wishing to make a donation in memory of Elwyn are asked to consider St. Paul's Anglican Church or the Louise Marshall Hospital Foundation. Arrangements entrusted to the England Funeral Home, Mount Forest.
Condolences
Sending my sympathies on the passing of Elwyn. I remember Lisa and Laura telling endearing stories of their grandparents back in the days of piano lessons. I'm thinking of you all.
— Trina Collette, October 3, 2021
So sorry to hear the passing of Elwyn, as a youth I was always at their house, with Elwyn and Lyla treating me as family. Elwyn taught me how to do a wrist shot in hockey, and was always kind and a role model for me. My deepest condolences to Lyla, Dennis, Steve and Susan for your loss. Unfortunately I was out of the province during the visitation, but my thought are with you during this tough time. Elwyn enjoyed a long rich life, with a great family.

John & Cathy Burke

— John Burke, September 30, 2021
Sorry to hear of the passing of Elwyn i played cards with him and he talked to me about family and things
— MikeWick, September 27, 2021
Dear Aunt Lyla, Steven, Susan, Dennis and family
My condolences to all of you in Uncle Elwyn's passing.
I know he is no longer suffering and is in a peaceful place.
May he be farming the land in heaven!
Shelley Woodhouse nee Noble
— Shelley Woodhouse (nee Noble), September 27, 2021
Our condolences to Lyla and family.
— Ken and Karen Thompson, September 27, 2021
To Lyla & family, Lloyd & Donna & family, Sorry to hear the loss of Elwyn, many memories of him, Our deepest sympathy
— Dennis & Wanda Caswell, September 26, 2021
Lyla an Family
So sad to hear of Elwyns passing. May the strength you seek be alive in memories
— Wes an Eleanore Gerber, September 24, 2021
Lyla and the rest of your family so sorry to hear of Elwyn passing. He will be missed by many. My thoughts are with you.
— Karen Rave, September 24, 2021
Thinking of all of you at this sad time. Your family was part of our community growing up. I know my Mom and Dad had so much fun and many great times over the years. Please know we are thinking of you.
Brenda and David Holliday
— Brenda Holliday (Strachan), September 24, 2021
Elwin will be missed at the Mount Forest seniors Group card games.
He was a very valued member. Enjoyed talking to Elwin. So sorry for your loss.
— Kay Ayres, September 24, 2021
Lyla and family, Lloyd and Donna
Sorry to hear of Elwyn's passing. He will be missed. Deepest sympathy to all.

Gladys Stevenson
— Gladys Stevenson, September 24, 2021
Sorry to hear of the passing of Elwyn. Our thoughts and prayers are with you Lyla and your family
— Doug & Donna Darroch, September 23, 2021
Lyla and family.
We are so sorry to hear of Elwyn's passing. I know he loved his card games and the guys are going to miss him. He had a very quiet disposition and always had a smile. Our thoughts and prayers are with you all.
Dan and Doris Tone
— Dan & Doris Tone, September 23, 2021
Lyla & Family

My sympathy on the loss of Elwyn
Thoughts are with you during this difficult time

Marion Plume
— Marion PLUME, September 23, 2021
Sincere sympathy to Lyla and family. Thoughts and prayers are with you at this time. Russell & Marilyn Rogers
— Russell & Marilyn Rogers, September 23, 2021