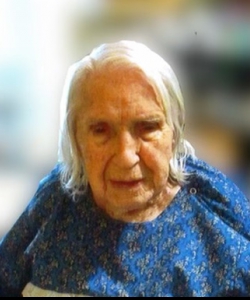 Bethel Iris "Betty" Creese
November 5, 2021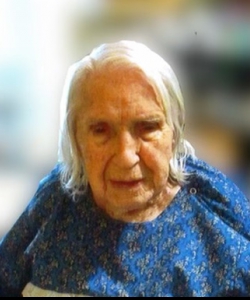 CREESE, Bethel Iris "Betty" – Peacefully on Friday, November 5, 2021 in her 104th year.
Beloved mother of William "Bill" Creese and his wife Becky of Holstein, Bethel "Beth" Crook of Port Perry, Ted Creese and his wife Miriam of Waterloo, Bronwen Hodgins and her husband Doug of North York, and Victoria Creese and her husband Walter Jeschke of Ballantrae.
Loving grandmother of David Creese (Maggi), Charles Creese (Joy), John Creese (Christine), Thomas Fullerton, Rhian Fullerton (Collin Lee), Marieke Creese, Victoria Hodgins, Alison Jeschke (Craig), Richard Jeschke, Stephen Jeschke (Heidi) and Rebecca Jeschke and great-grandmother of Mary, Emma, Hannah, Andrew, Eleanor and Simon.
Betty will be sadly missed by her sister-in-law Emma Creese and by her many nieces, nephews, cousins, extended family and friends.
Betty loved being active, but above all, she loved her family. She was very devoted to raising her children and caring for her siblings later in her life.
A funeral service to celebrate Betty's life will be held at 11:00 a.m. on Tuesday, November 9, 2021 at the St. James Fairmount Anglican Church, 196759 Grey Road 7, Grey, ON (at the corner of Grey Road 7 and Grey Road 40) with visitation starting one hour prior to the service. Masks are mandatory and Covid protocols are in place.
Interment and a graveside service will be conducted on Wednesday, November 10, 2021 at the Mount Pleasant Cemetery, 375 Mount Pleasant Road, Toronto at 1:00 p.m.
Those wishing to make a donation in memory of Betty are asked to consider Doctors Without Borders or a charity of your choice.
Condolences
Dear Bronwen - please accept our deepest sympathy on the death of your mother.
What a long and beautiful life God has bestowed on her.
May she rest in peace in the arms of the Lord.

Bob & Vi
— Robert (Bob) & Violet Lambert, November 18, 2021
Never easy saying good bye. Thoughts to Mr Creese (teacher and marching band leader) and to Tory from way back in high school days.
— Ruth Mather Halford, November 16, 2021
103 years of life is quite remarkable, as was Betty. She was an important part of the community of St. Theodore of Canterbury for many years, and was always a supporter of its many activities. She also was always smiling! Our condolences to the entire family.
Bruce and Joan Bostock
— Bruce and Joan Bostock, November 15, 2021
I remember Betty as such a warm and loving person. I always enjoyed spending bits of time with her on Inez Court in Willowdale and at Girl Guide functions over the years. Thinking of you all.

Pat McKenna
— Pat McKenna, November 15, 2021
Sending sincere condolences to the Creese family.
— Jane Johnson, November 10, 2021
Our deepest sympathy to you and you family in the passing of Betty.
May you get through this difficult time, through prayers and the comfort of family and friends
*Over the years I had the pleasure of having interesting visit with Betty.
*Always interesting conversations while enjoying a nice cup of tea!
Angèle and Jules Gilbert
— Angèle & Jules Gilbert, November 8, 2021
Rob and I would like to express our heartfelt condolences to all the family for your loss. Your Mom was a very special lady who will be missed.May your precious memories help you through this very difficult time. She is in God's hands now, and He will take good care of her.Love Linda and Rob Crook.❤️
— Linda and Rob Crook, November 7, 2021
We sincerely send our condolences to the entire family. Beth introduced us to "Mom ". at her engagement party to Dave. She was easy to get to know and we've heard of some of her life. Hopefully sharing your memories with family and friends will help you all through this transition and sadness.

John & Sandy

— Sandy & John Torrington, November 7, 2021
Mr.Creese was one of my High School teachers. Sorry to read about the loss of your mom Mr. Creese.
— Dean Berkers, November 7, 2021