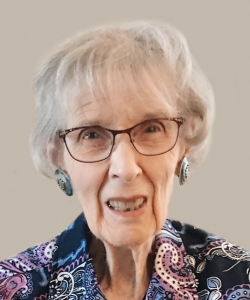 Audrey Hauch
November 15, 2021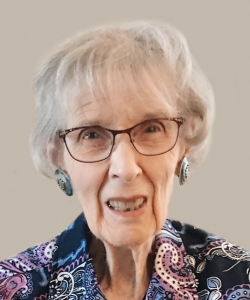 HAUCH, Audrey - On Monday afternoon, November 15, 2021, Audrey Yvonne Viola Hauch (née Pountney), 94, of Mount Forest went home to be with Jesus. Audrey was a godly woman who loved the Lord and her family.
She set a wonderful example for her children, grandchildren, and great-grandchildren, and has left for them a legacy of faith lived out in every aspect of her life.
Audrey was born in Toronto, Ontario on January 24, 1927, to the late Albert and Rose Pountney. She was married for 57 years to her beloved husband, the late Robert Wayne Hauch (2002). She is survived by her sister, Eleanor Wood. Audrey loved her Saviour, the Lord Jesus, with all her heart and she loved God's word. Though she was a humble, gentle woman, Audrey was nonetheless a powerful prayer warrior, and only heaven knows what a wonderful and eternal impact all her many years of faithful praying have had on her family, her friends, and the world at large. She was a member of First Baptist Church in Mount Forest.
She was a loving mother to Murray (Cynthia) Hauch and Susan (John) Vukson; a much loved grandmother to Mark (Jennifer) Hauch, Leah (Jason) Premseler, Amy (David) Poore, Caroline (Steve) Funston, Timothy Vukson, Elizabeth (Scott) McIntosh, and Emma (Dylan) Hoffman; and a great grandmother to Callum, Norah, Seth, Eloise, Isla, Nolan, Bennett, Mason, Blythe, Everett, Alec, Hugh, Zanna and Jones.
The funeral service will be held at First Baptist Church, 116 Fergus Street North, Mount Forest, on Thursday, November 18, 2021, at 1:00 p.m., with visitation from 12:00-12:45 p.m. Registration is not required, all are welcome. Masks are mandatory and Covid protocols are in place. If you are unable to attend in person, you are invited to view the service livestream by visiting: https://www.facebook.com/England-Funeral-Home-1863283503935858. Interment at Cochrane Cemetery.
In lieu of flowers, the family would appreciate donations to the Canadian Bible Society.
Condolences
Dear Mark and Jennifer and family ,
I am thinking of all of you at this sad time in your life. The love from and for a grandmother is so special, and I hope you can treasure every memory of Grandma Audrey. May Christ grant you peace at this time.
— Cheryl Lee, November 19, 2021
Dear Murray and Cynthia and family
Sincere condolences to you as you remember and celebrate your dear mother's life and her impact on you all. Wishing you grace and peace at this time.
Love from Nick and Lynn Van Halteren
— Lynn VanHalteren, November 19, 2021
Dear Sue and Murray,
You're Mother was so special to our family. Memories flow back to St. Andrews in Toronto at the girls Grandfather's Church where Alex McCombie preached.
Audrey was a devoted Prayer Warrior and prayed daily for my recovery and Kimberly's low birth weight (2.5lbs). She continued to pray for Kimberly when she became a young Mother and often treated her to a Christmas card with a generous gift inside.
I'll always have a fond memory of your Mother. One of the most outstanding memories for us is when we were asked to take up the offering for the first time. We had know idea what we were doing and managed to pull it off. We chuckled about that often.
I'll miss our Tea Parties…
but mostly, I'll miss Audrey.

Love Barbara and Family
— Barbara Dawson (McCombie Family), November 19, 2021
Dear Sue, Jonh and family,
Very sorry to hear of the loss of your dear mom. What a blessing she has been to her family, church and community. Praying for you all during this sad time.
— Samantha Gravelle, November 18, 2021
Dear John, Susan and family. Thinking of you at this time of loss. Peace be with you.

Sincerely,
Caitlin and Brett Reeves
— Caitlin and Brett Reeves, November 18, 2021
Sue John and family so very sorry to hear of your loss. Our thoughts and prayers are with each of you along with our sincerest sympathy. Praying for peace and comfort. Al and Ruth McEachern
— Al and Ruth McEachern, November 17, 2021
Sue, John & Family,
We are thinking of you during these difficult times. You continue to be in our prayers.
— Stan Glenna Dungey, November 17, 2021
Sue, John and family,
It is with a mixture of sadness and joy that we heard this news of your Mom's death. Our memories of Audrey are of a gentle lady with a compassionate heart and gracious spirit and a kind word about everyone. It was a great honour to know her. We will miss her now, but are confident that will see her again one day! Our thoughts and prayers are with all of you at this time, as together with you we rejoice in this hope we have in Christ Jesus!
Gary and Ruth
— Gary and Ruth Stopps, November 17, 2021
Dear Sue, John and families
Audrey was such a special lady! She a quiet and gentle spirit that touched everyone she met and we are going to miss her. Our deepest sympathies to all her family
Rod and Gaye White
— Gaye White, November 16, 2021
Dear ( Sue) Vukson and Hauch families I am saddened to hear about the loss of your mother. She was a loving person and will be sadly missed by all

You and your family are in my thoughts as you grieve this loss.

Jeff Davidson
— Jeff Davidson, November 16, 2021
Dear Vukson and Hauch families we are sad to hear about your loss but glad that Audrey is not suffering. She was a lovely lady and we will miss her! Mary Beth and Felix and family
— Mary Beth and Felix Amiri, November 16, 2021
Sue and Family....I am sorry to hear this news. If you need anything let me know
— Barb Leigh, November 16, 2021