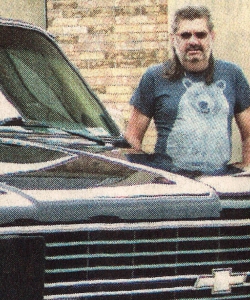 William "Wayne" Scott
December 8, 2021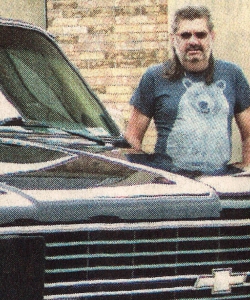 SCOTT, William "Wayne" – Unexpectedly at his residence in Mount Forest on Wednesday, December 8, 2021, in his 63rd year. Predeceased by his parents William "Bill" Scott and Jean Lougheed. Remembered by his long-time friend and roommate, Daryl Sanderson. Wayne had many friends in the Mount Forest Community and will be dearly missed. Wayne was the proud owner of a 1984 Chevy Silverado and would often be found at car shows showing off his prized possession.
The funeral service will be held at the England Funeral Home, 294 Main Street South, Mount Forest, on Wednesday, December 15, 2021 at 11:00 a.m. with visitation from 10:00-10:45 a.m. In order to attend, you must make a reservation by visiting www.englandfuneralhome.com or by calling (519) 323-2631. Masks are mandatory and Covid protocols will be in place. If you are unable to attend the service in person, you are invited to watch the service livestream by visiting www.englandfuneralhome.com and clicking on the link below Wayne's obituary. Spring interment will be held at the Mount Forest Cemetery. Those wishing to make a donation in memory of Wayne are asked to consider the Louise Marshall Hospital Foundation.
Funeral Service for William
Condolences
Uncle Wayne I have always loved you I will miss u so much u were an awesome person to me we had a lot of great times together and we had always joked around about me trying to drink ur truck u will always be in my heart uncle Wayne xoxo
— Steven Middleton, December 21, 2021
R.I.P uncle wayne i will miss running into you and just talking to you outside. Im sorry i was not there to say goodbye but just know in my heart you are never forgotten and I hope all our family is surrounding you now with love
— Sarah Middleton, December 15, 2021
Rest In Peace scat
— Ronald and Rosalie Grimes, December 15, 2021
I'm Wayne's niece I'm so sorry uncle Wayne that I can't be there saying goodbye to you I will always cherish the memories I had with you since I was little and even as an adult you have always been by my side hugging me every time
I was upset telling me you love me no matter what I did in my life you always loved me I will miss you so much xo love you so much
— Mercedes Pegelo-coutts, December 15, 2021
I am Wayne's wife and it brings great sadness that he passed I am very sorry for your loss Daryl as I know how close you both were may you RIP Wayne
— Connie Hill, December 15, 2021
We are so sorry for your loss.
Frank and Cathy Higdon
— Cathy Higdon, December 14, 2021
Darryl...we are so sorry for the loss of a great friend and roommate. Sending our sympathy
— Crystal Johnson, December 14, 2021
So sorry for your loss
Linda Ross
— Linda Ross, December 14, 2021
Wayne, was always a great friend for my father Daryl. They kept each other company and he was always there for a laugh.
Since meeting my daughter he was always a wonderful part of our lives.
He was like a second grandpa to her and we will miss his light in our lives.
— rachel sanderson, December 13, 2021
Our sincere sympathy to Wayne's family and friends.

— Dwight and Cathy Benson, December 12, 2021
Wayne my friend, what can I say, you were one of a kind. You had a kind and caring heart, and you truly cared for your friends. I am going to miss you terribly, you were a part of my daily life for the past 6 years. You loved your truck, and I was honoured that I was one of the select few that you allowed to drive it. You loved and spoiled your little buddy Jag the cat, I am going to miss our daily routine. All my sympathy to Daryl , you have lost a true and loyal friend, and all my sympathy to all who knew and cared for Wayne, we have lost a good friend. R.I.P my friend, I am going to miss you.

Murray Gardner
— Murray Gardner, December 12, 2021
We are so very sorry to read this. Wayne has been a part of our lives for 30 plus years. Our thoughts and prayers for peace are with everyone who knew him. RIP our friend.
— Donna and Jeff Bilton, December 11, 2021