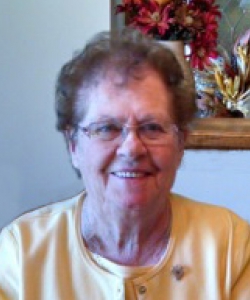 Velva June Leibold
January 7, 2022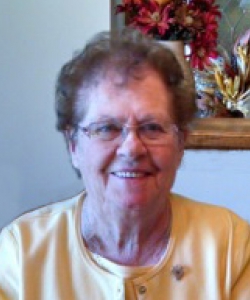 LEIBOLD, Velva June - Peacefully at the Louise Marshall Hospital, Mount Forest on Friday, January 7, 2022 in her 94th year. Devoted wife of the late Norman Clarence Leibold (2011) for 64 years. Cherished mother of Joseph Leibold & his wife Alice of Mount Forest, Gloria Gillan & her husband Robert of Windsor, Barry Leibold & his wife Marie of Kitchener, Bonnie Chartrand & her husband Pat of Mount Forest, and John Leibold & Joan Stevens of Varney. Loving grandmother to all her grandchildren and great-grandchildren. June will be sadly missed by many nieces, nephews extended family and friends. Predeceased by her son David Leibold, parents Wesley & Mabel Andrews, and brothers Russell and Rennison Andrews.
June was a very faithful woman who encouraged all to believe in the Lord. She worked hard to help her church - teaching Crusaders, creating beautiful artwork and quilting for missions. Her love and dedication for her family was limitless. She is loved so much and will always be remembered.
Visitation will be held at Mount Forest Pentecostal Church, 259 Fergus Street South, Mount Forest, on Monday, January 10, 2022 from 12:30-1:45 p.m. where the funeral service will take place at 2:00 p.m. To attend the visitation or funeral service, you must make a reservation by visiting www.englandfuneralhome.com or by calling (519) 323-2631. Masks are mandatory and Covid protocols will be in place. If you are unable to attend in person, you are invited to view the service livestream by visiting: https://www.facebook.com/England-Funeral-Home-1863283503935858. Spring interment at Cochrane Cemetery, Mount Forest. Those wishing to make a donation in memory of June are asked to consider Mount Forest Pentecostal Church or the Canadian Bible Society. Arrangements entrusted to the England Funeral Home, Mount Forest.
Velva June Leibold
Condolences
Just heard yesterday of June's passing. Our thoughts and prayers are with all of you in the loss of your wonderful Mom!
With sympathy,
Glenn and Carol
— Glenn and Carol Leibold, January 12, 2022
June was a wonderful Christian woman. When I didn't own a bible she gave me one. I then went back to her home and bought some. She was always so loving and kind. Always had a meal. If we all could be like you June You have left wonderful memories and will be missed.
— Isabel Black Primmer, January 10, 2022
My deepest sympathies for the family. June was my cousin who had a good heart.

— Pat Whyte (nee Yake), January 10, 2022
My sincere condolences to the Leibold family. May Aunt June Rest In Peace.
— Sharon Lange (Leibold), January 10, 2022
To all June's family and friends. Please accept my sincere condolences. All of you are in my thoughts as you prepare to say goodbye to this incredible woman, who touched so many lives in so many ways. You will be missed June. Jayne Stevens
— Jayne Stevens, January 9, 2022
To the entire Leibold family
My condolences in the loss of you mother, grandmother and great grandmother.
Aunt June was a very special person.
I regret that I will not be able to attend the visitation or service for Aunt June but my thoughts will be will all of you during this difficult time. Her faith was strong and she was a kind woman.
May your memories provide strength during this time.
Sincerely,
Alethea Sawdon and family

— Alethea Sawdon (Andrews), January 9, 2022
We send our most sincere condolences to you all and your families. I believe she has reached her life long goal of spending eternity in the loving arms of her Lord and Saviour. Rest in peace June.
— Adrian and Donna Bonnema, January 9, 2022
Sincere condolences on the passing of your Mother/Grandmother...our thoughts & prayers are with you @ this difficult time.
— Brian & Marilynne Adams, January 9, 2022
Thinking of the whole Leibold family! June was a lovely soul and I have such fond memories of her. I remember her laugh so vividly!!
Xo
— Kim pegg, January 8, 2022
I had the privilege of meeting Grandma when I was 14. She was always very kind and became my grandma too very quickly. She had a joy about her that was sweet and contagious. She would always be humming and singing while working away in the kitchen. I remember her love for Jesus was always evident. She had a servants heart. Teaching Sunday school, doing the bulletin board with her drawings and quilting for missions. She was very creative. She loved to sit and go through her photo books and talk about the memories as we flipped each page. She loved her family! Thank you Grandma for loving me as one of your grandchildren. All these memories I will hold onto until I get to see/hug you again! ❤️
I'm sure your Graduation into Glory was amazing!!
You are healed, whole and happy, singing Hallelujah with the angel choir, dancing with Grandpa down streets of gold embracing your baby David and just loving being in presence of our Heavenly Father, your Saviour for all eternity!! ❤️
— Tricia, January 8, 2022
"May peace fill your heart and faith lighten your grief knowing that your loved one is safe in God's arms." With Deepest Sympathy to all Aunt June's family and friends! I will cherish all our memories together! RIP Aunt June! Love Myrtle & Family
— Myrtle Winters & Family, January 8, 2022
so sorry to see this, I totally remember when we went to high school our bus driver would stop there on the way home and we would get popsicles or chocolate bars to eat on the way home.
Thanks for those memories
sheila meyer


— sheila fischer meyer, January 8, 2022
Our deepest condolences to the family of Aunt June. She will be greatly missed. Our thoughts and prayers are with you all during this difficult time.
Alvin, Dale and Joan
— Dale & Joan Hershey, January 8, 2022
Our sincere condolences in your loss. Our thoughts and prayers are with all your family in your loss. Sincerely David and Gayle Eaton.
— David & Gayle Eaton, January 8, 2022
Mark and family
So sorry to hear about your grandmother's passing.
Our prayers are with you all.
From
Deep East Crew

— Oral Noseworthy, January 8, 2022
Aunt June will always be remembered for her beautiful smile and love of life and family.
She has left many wonderful memories for everyone who knew her..Condolences to all of her family...
— Larry & Wilda Leibold, January 8, 2022
Thoughts and prayers for the family. Many fond memories of buying candy from June at Leibold's Corner. Good memories last forever!
— Gary Williamson, January 8, 2022
My sincere condolences to all of June's children & their spouses. Her grandchildren & great grandchildren. Its never easy loosing someone you love. Loosing your mother is truly heartbreaking. She gave you life, she was the happy face you first saw when you opened your eyes. Pure Unconditional love. She kissed away your hurt & made everything all better. Everything was OK when she was close by, especially when she was in the kitchen cooking & baking. She was magic. She somehow knew what was best for us & what we always needed. Special occasions were when she shone most, making your favorite cookies or cakes all with such ease. The things we took for granted in our carefree days, are the things we will pine for one day & miss forever. Fpr me, June will be forever missed & lovingly remembered as much as my own sweet mother. May she rest with her Lord & loved ones who have gone before her & may cherished & loving memories of her bring you peace in your healing journey & in your heart.
Joan Stevens
— Joan Stevens, January 8, 2022
I'll never forget coming up to see you and grandpa up at your house on Queen street doing puzzles and playing dominoes as a kid and just getting to enjoy your sweet company not knowing how special it was in that moment to have a great grandparent in my life I'm truly great full to have had you around and you truly will be missed by so many.
— Aiden, January 7, 2022
Love you Grandma

I will always remember the wonderful sugar cookies made from extra pastry while making pies and being crammed in the station wagon with my cousins taken out for ice cream with you and Grandpa, Until we meet again!

Your grandson Shawn.


— Shawn, January 7, 2022