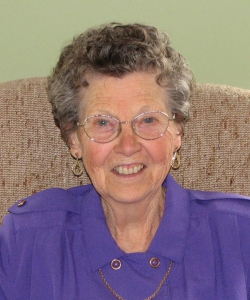 Ardath Alexis Pringle
January 8, 2022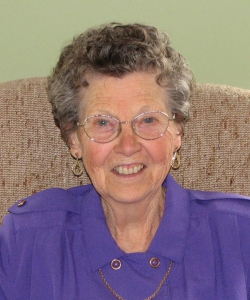 PRINGLE, Ardath Alexis (née Curl) – Passed away peacefully at Strathcona Long Term Care on Saturday, January 8, 2022, in her 92nd year. Predeceased by her beloved husband, Wilfrid Pringle (2020). Loving mother of Donna Pringle (Nancy) of Etobicoke, Pat Pringle (Linda) of Georgetown, Helen Gelyk (Bryan) of Meaford, Jill Capes (David) of Etobicoke, June Schestak of Mississauga, and mother-in-law of Colleen Pringle of Burlington. Cherished grandmother of 14 grandchildren and many great-grandchildren. Dear sister-in-law of Inez Curl and Audrey Curl. Fondly remembered by her extended family and friends. Predeceased by her son Dale Pringle, brothers Geoph Curl, Walter Curl, Ches Curl and Reg Curl.
Private arrangements entrusted to the England Funeral Home with spring interment at Mount Forest Cemetery. As an expression of sympathy, the family would appreciate donations toward purchasing therapeutic dolls for the residents of Strathcona Long Term Care. To make a donation, please contact the funeral home at (519) 323-2631.
Condolences
Our Deepest & Heartfelt Sympathy to the Pringle & Curl Families,
So many memories with Aunt Ardath over the years with Family Weddings, Reunions & Camping times that we shared. She raised a beautiful & loving family with Uncle Wilf. Aunt Ardath was kind hearted, strong spirited, funny, patient, smart, beautiful, devoted & loving who kept everyone in line! She was very respected & admired! We will all miss her smile & laughter. Hopefully all your cherished memories will bring comfort & peaceful moments in the days ahead. Thinking of you all during this time. Love & Hugs, Bruce,Patricia Curl & Family💗🌹🕯xo
— Bruce & Patricia Curl, January 16, 2022
Our Sincere heartfelt Sympathy on the death of your loved one. I have wonderful memories of her and your father, Wilfred, when they lived at Birmingham Lodge. Your father had such interesting tales of when he worked on the rail lines in downtown Toronto. Your mother was busy trying to sort out the many photos she had. In our home on Miller St., we have the cutest old rocker, purchased at the garage sale. We have regrets that we did not have your parents over for a visit. You will cherish your happy memories and hopefully feel she received the best of care at Strathcona Home Care. We last saw her there when they had two memorial services on a Sun. before Christmas. She was there as I remember and due to her mental health condition, still had that wonderful smile. She is at Peace and hopefully as you miss her and your dad, you will feel they are at Peace, free from all the struggles of Covid with lock down at the Nursing Home. Hopefully you were allowed to visit her due to her pending death. Hug often and talk about the good times. Love, Sympathy, and Peace, Bob and Mary McIntee, on Miller in Mount Forest.
— Bob and Mary McIntee, January 16, 2022
What a beautiful picture of aunt Ardith.
Condolences to family and friends of a beautiful lady.
She was blessed with many loved ones.
R.I.P
you will be missed.
— Bev Bowman, January 14, 2022
Sorry to hear of Aunt Ardath passing, she will always be fondly remembered.
— Bob and Pearl Greenough, January 14, 2022
My deepest condolences to the Pringle and the Curl families. I knew both Ardath and Wilfred through meeting at the United Church. We shared a number of lunches together. Wilfred would come to the Museum and Archives to share his knowledge of his trains with us. Ardath was a great worker at the church and we were in the same Church Women's unit. I miss them both deeply as I am sure you all will, as well.
My thoughts and prayers are with you all.
Pauline Brown
— Pauline Brown, January 12, 2022
My most sincere condolences on Ardaths passing. She will always be remembered as an amazing Lady, Wife, Mother, Mother-in-law, Grandmother & Great Grandmother. May She rest in eternal peace.

Kelly & David Pringle (Great Grandson)
— Kelly Pringle, January 11, 2022
Sad to hear of Ardath's passing. Wilfred and her were wonderful neighbours on Ayrshire Street. May they both R I P
Sharon Wilson
— Sharon wilson, January 11, 2022
I love you Gramma and will miss you terribly. Be at peace with Grandpa and my Dad. See you all again one day ❤️
Daniel
— Dan Pringle, January 11, 2022
Our deepest sympathy to the whole Pringle family. Your Mom was a truly lovely woman and we will miss the friendship we shared both with her and your dad.
Donna and Bob McFarlane
— Donna McFarlane, January 10, 2022