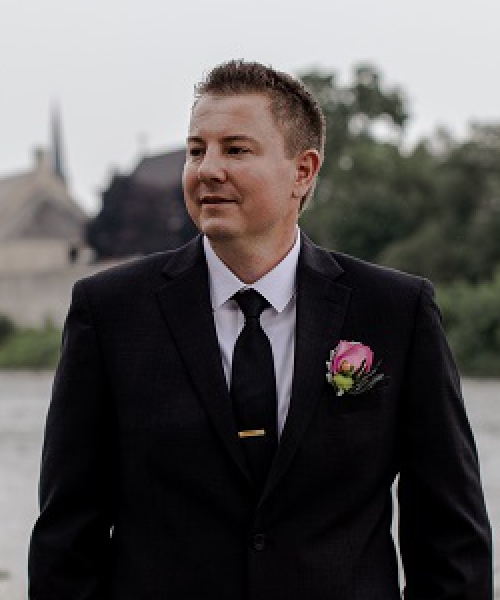 Marcin Peter "Martin" Sokol
January 21, 2022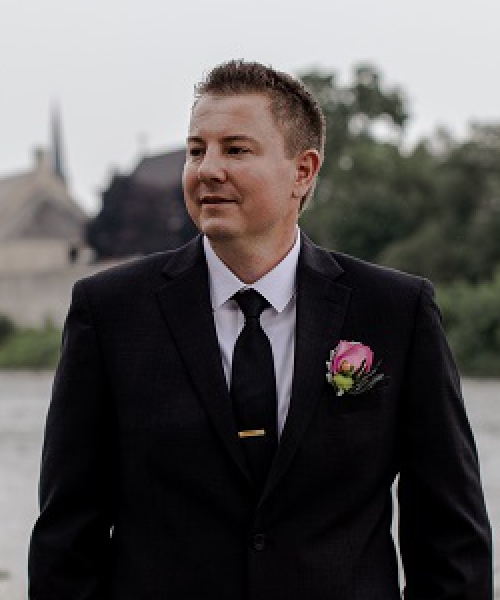 SOKOL, Marcin Peter "Martin" – Passed unexpectedly at Palmerston and District Hospital on Friday, January 21, 2022, at the age of 38. Cherished husband, soulmate and best friend of Nicole Sokol (née Lienhart). Beloved son of Waldemar Sokol (Ewa) and Jolanta Sokol; and son-in-law of Debbie and Joe Lienhart. Dear brother-in-law of Amy (Dwayne) Furtado and uncle of Hudson and Owen. Remembered by his best friends: Dave (Dean), Ray (son Nick) and Joe (Louisa).
Martin loved being one with nature. Whether it be exploring conservation trails, fishing with his wife, or setting up camp to relax under the stars. He adored all animals, especially his "pups". Martin never hesitated to throw himself into passion projects, especially when it came to his vehicles and the challenge of the stock market.
After proudly graduating with distinction in Logistics, he started a new career in May 2021 as a Logistics Coordinator for JSMD Logistics, where he enjoyed making connections with various industries across Canada, USA and Mexico.
Martin was a kind and gentle soul, who would always put the needs of others before his own. He will be deeply missed by those who were lucky enough to have him a part of their lives.
Visitation will be held at the England Funeral Home, 294 Main Street South, Mount Forest, on Wednesday, January 26th from 1:00-3:00 p.m. To attend, you must schedule an appointment by visiting www.englandfuneralhome.com or by calling (519) 323-2631. Masks are mandatory and Covid protocols will be in place.
Those wishing to make a donation in memory of Martin are asked to consider the Canadian Lung Association and the Allan Park Conservation Area.
Condolences
My deepest condolences to Nicole, Marin's parents and the rest of the family. Martin was always kind and a pleasure to deal with, and he will be missed.
— Douglas King, January 31, 2022
Martin may you rest in peace. I am sorry that you are not here with us anymore. You were a good person even back in High School hopefully I saw you you again in heaven. Rest in Peace my friend.
— Danny Custureri, January 30, 2022
Our deepest condolences to You - Parents, Wife and all who loved Marcin

God saw you getting tired
A cure was not to be,
So He put his arm around you
And whispered "Come with me"
With tearful eyes we watched you
And saw you fade away,
Although we loved you dearly,
We could not make you stay.
A golden heart stopped beating
Your tender hands at rest,
Good took you home to prove to us,
He only takes the best. 🥰🙏❤️
— Renata Horbacz with Family, January 26, 2022
My most sincere, deepest, and warmest condolences to the family especially, Marcin's parents Waldek and Jolanta.
I can't imagine loosing a child, and also my child hood best friend who had a huge heart and nothing but kindness to offer his friends and family.
May the good Lord take him into his open arms and assure him that Marcin will be safe in the Lords kingdom.
We are the ones here, grieving that need the strength and help to get over this loss.
Rest in piece old friend. 😔
— Jerry kolodziej, January 26, 2022
Our Deepest Condolences to you and your family.
May God grant you and your family the strength to bear this loss.
Out thoughts and prayers are with you and yours during this painful time.

— Gill Manufacturing Ltd., January 26, 2022
Wyrazy szczerego żalu i współczucia dla całej rodziny przesyła kuzynka Ania Sienkiewicz z rodziną
— Anna Sienkiewicz, January 26, 2022
Martin had a kind and gentle heart and although our family did not know him for a long period of time, you could tell that he that special gift.

Our hearts are sad for Nicky, Amy, Dwayne, Hudson, Owen and Joe and Deb.

It is a great loss.


— Karen and Doug Lienhart, January 26, 2022
My sincerest condolences. I knew Martin for a relatively short time but in that time we connected on a number of topics and engaged in some very good conversations during Friday lunches where I visited him and Roger at work.

I will miss him and the prospect of getting to know him more.

Chris
— Chris Wilson, January 26, 2022
Dears, we received the message and it made us truly sad. We can't be there for you today but we do share your sorrow with love and friendship.
There are no words that would comfort you right now but please remember that you are not alone in your grief. Marcin will stay in our hearts and in our memory now and always.
Our deepest sympathy and prayers to you and your families
The Cwalina Family
— Anna Cwalina, January 26, 2022
We can not express our sadness at Martin's unexpected passing!
We are so deeply grieved by his passing, and praying for his immidiate family! We hope that the memories will bring peace to his Wife Nikki, his Mother Yolanda, and his Father Waldek ❤️.


— Arek, Ana and Amelia Przybyla, January 25, 2022
Wiadomość o śmierci Marcina pogrążyła nas w ogromnym smutku. Ciężko jest się pogodzić że Marcin odszedł od nas w momencie kiedy tworzył dla siebie i jego rodziny szczęśliwą, pełną nadzieji przyszłość.
Składamy wyrazy szczerego żalu i współczucia. Jolu, Pan Bóg zabral do siebie to co miałaś najcenniejsze - Twoje dziecko. Łączymy się z Tobą w Twoim wielkim bólu. Odejście Marcina uczy nas pokory. Anioł Śmierci jest rywalem ponad nas i nikt z nim nie wygra. Till we meet again. RIP Marcin.

We received the news of Marcin's passing with tremendous sadness. It's hard to believe that Marcin left us at the time when he was building a beautiful, bright future for himself and his family.
We express our sincere condolences and sympathy. Jolu, God took the most precious thing you had - your child. We are joined with you in your pain and grief. Marcin's passing teaches us humility. The Angel of Death is a rival above us and no one win against him. Till we meet again. Rest In Peace Marcin.
— Sylvia Remplakowski, January 25, 2022
Our deepest sympathies and condolences to all family members during this very difficult time. Our thoughts and Prayers are with everyone.
— Paul and Lisa Reist, January 25, 2022
Our hearts are breaking with sorrow over the loss of dear Martin. He was a kind and gentle man who became like a family member to us. Martin was the best friend of our son, David and a cherished second son to my husband,Philip and myself,Sylvia. We cannot express in words how devastating Martin's passing has been and would like to offer our sincerest condolences to Nicole and the entire Sokol family. Martin will remain in our hearts and minds forever.
— Philip and Sylvia O'Sullivan, January 25, 2022
We are deeply sorry for your loss.
Losing the one you love is so hard and so , We are praying hard for you ,for peace ,for comfort ,for whatever you need right now.
Please accept Our Warmest Condolences .
Uncle Marek and Aunt Wiesia
Oakville 25.01.2022
— MAREK PRZYBYLA, January 25, 2022
Our hearts go out to the family


Victor&Zenia
— Victor Zymantas, January 25, 2022
RIP our old friend Marty. Condolences to the family and friends .
— Tomislav Hrkac, January 25, 2022
Our heart goes out to you and your family Waldek during this difficult time. We are so sorry to hear about your loss. You will all be in our prayers.
— Gerta and Tomek Galkowski, January 25, 2022
My deepest condolences to all Family .
Tadeusz Bednarski
— Ted Bednarski, January 25, 2022
We are so sorry for your loss our deepest condolences to Waldek and his Family and Friends.God bless His soul.❤️🌺 Rajewicz Family
— Malgosia iPrzemek Rajewicz, January 25, 2022
Our sincere Condolences to Waldek and his family. Words fall short of expressing our sorrow for your loss.
Wishing you peace to bring comfort, courage to face the days ahead, and loving memories to forever hold in your heart.
With you in sorrow...
Celina,Grzegorz and Jason

— Celina and Grzegorz Walczak, January 25, 2022

My sincerest condolences, this is such a tragic loss of a life cut too short. It is often hard to find the right words at a time like this. May you find peace, comfort, and all the love you need in the days to come.

Cousin Joanna & Mike and the kids
— Joanna Weatherill, January 25, 2022
Our sincere condolences for Martin mom, dad, wife , extended family and friends.
May His soul Rest In Peace.

Teresa and Waldemar Wrona
& family
— Teresa Wrona, January 25, 2022
My sincere Condolences for Martin family and friends. I remember him as smart, sweet, and polite boy. May His soul Rest in Peace.
— Grazyna Farmus, January 24, 2022
Our condolences to family Danuta i Bogdan
— Danuta, January 24, 2022
Martin will be truly missed by all. He was a great friend to my son (Nicholas) , Me (Ray) and my mother (Gail) . He watched my son grow up and was a big part of our lives. We had countless good memories. Martin will always occupy a spot in our hearts. Our deepest condolences to all his friends and family members. R.I.P Marcin; Everybody's great friend.
Our deepest sympathy, Nicholas, Ray and Gail
— Raymond Buntin, January 24, 2022
Our sincere condolences from Ewa and Slawek
— Ewa and Slawek, January 24, 2022
My heart goes out to Nicky and the Sokol family . I was so honored to work with Martin he was such a gentleman and scholar. RIP my friend you deserve the best God Bless.

Gerald Melwicks.

— Gerald Melwicks, January 24, 2022
I sincere express my condolences to Nicky and Family, Martin was a great person and fun co-worker to talk too. You will be missed Sir.
— JESSE GUTIERREZ, January 24, 2022
Our condolences to family and friends of Marcin. May you find comfort and peace during this difficult time. Ania and Włodek , Poland
— Ania i Włodek Maron, January 24, 2022
It is with great sadness that I learned about Marcin's death ...
I am in sadness. I express my condolences to my mother, father, wife and all extended family.
May God welcome him into the Kingdom of God and let him see his face in heaven. Let us commend this soul to Mary and Joseph and let them accept him into their hearts.

Z wielkim smutkiem dowiedziałam się o śmierci Marcina..
Jestem pogrążona w smutku . Składam kondolencje matce , ojcu, żonie i całej dalszej rodzinie.
Niech Bóg przyjmie go do Królestwa Bożego i da mu oglądać swoje oblicze w niebie. Polećmy tę duszę Maryj z Józefem niech go przyjmą do serca swego.

Zofia Brzezińska
Poland, Szczecin


— Zofia Brzezińska, January 24, 2022
We sincere express our condolences to mum, dad, wife and all of Marcin's relatives. Our hearts and prayers are with you in this very difficult time of pain and sorrow ....

Serdecznie składamy kondolencje mamie, tacie, żonie i wszystkim bliskim Marcina. Nasze serca i modlitwy są z wami w tym bardzo trudnym czasie bólu i smutku…

Ela Leszek Kwasniewsy
Poland, Szczecin
— Elzbieta Leszek Kwasniewsy, January 24, 2022
Sincere condolences to Nicky and her family
And the Sokol family.
May his soul Rest In Peace
Gone too soon
— Sharon Heeralall, January 23, 2022