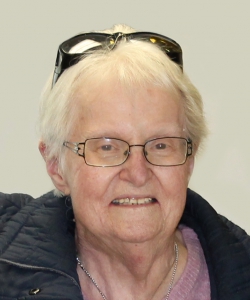 Helen Kelley
January 31, 2022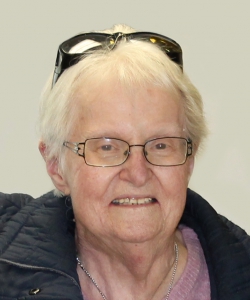 KELLEY, Helen (née Frank) – Passed away at the Louise Marshall Hospital, Mount Forest on Monday, January 31, 2022 in her 84th year. Helen will be missed by her daughters Debbie Cudney (Steve Routenburg), Cheryl Kelley (Scott McFarlane) and her daughter-in-law Shelley Kelley. Helen in predeceased by her son Scott, brother Bill, sister-in-law Nancy Frank, along with her parents Grace and Earl Frank. Helen was a wonderful grandmother to Melissa Klein (Rob), Kelsey Beauchamp (Matt) and Don Cudney (Sam). She was also adored by her great-grandchildren: Shayne, Karlee, and Carter Cudney-Peppler; Mackenzie and Brooke Beauchamp; and Megan Klein.
Helen worked side by side with the Holliday Family at Dave Holliday Limited (John Deere now Premiere Equipment) in Mount Forest for over 25 years. Helen was a fierce competitor and dedicated volunteer with the Mount Forest Lawn Bowling Club, Mount Forest Curling Club, Mount Forest Seniors Euchre and the Seniors Bowling League. Mom was always on the go – lawn bowling competitions, curling bonspiels, card games and helping out these clubs filled her days and nights for the past 30 years.
Special thanks to Penny and Shaun along with Dr. Lumsden at the Grand River Cancer Centre/Mount Forest Clinic, Kim McCarthy and Dr. Reaume "John" from Claire Stewart Medical, the Community Paramedicine Program, VON Meals on Wheels as well as Walsh's Pharmacy for supporting Mom while she battled numerous ailments.
Visitation will be held at the England Funeral Home, 294 Main Street South, Mount Forest on Saturday, February 12, 2022 from 11:00 a.m. – 1:00 p.m. where the memorial service will be held at 2:00 p.m. Inurnment will take place at Mount Forest Cemetery. To attend the visitation and/or service, you must make a reservation by visiting www.englandfuneralhome.com or by calling (519) 323-2631. You are welcome to view the service livestream by visiting the funeral home website and clicking on the link below Helen's obituary.
As an expression of sympathy, memorial donations to the Louise Marshall Hospital Foundation or the Mount Forest Lawn Bowling Club would be appreciated by the family.
Funeral Service for Helen Kelley
Condolences
Debbie, Cheryl, Shelley and family. So sorry to hear of your Mom's passing. Your Mom and my sister Velda Francis were great friends and loved their lawn bowling, curling and their little get away excursions. Your Mom was a great lady. I sincerely hope your Mom and Velda are enjoying each other once again and enjoying their lawn bowling and curling. Our deepest condolences to you and your family.
Jim and Ruth Penwarden
— Ruth Penwarden, February 9, 2022
So very sorry to hear of Helens passing. Helen was one of our favourite people to bowl against as she was such a wonderful competitor, and if you wanted to beat her you had to play your best game. Whether she won or lost she was the same - she just loved playing the game. She will surely be missed on the greens.
Liz & Larry Boshart
— Liz Boshart, February 7, 2022
I has the privilege of curling with Helen at the Mount Forest curling club. She always had a smile, an encouraging word and open welcoming nature for all. Helen and Velda were a force of nature on the curling rink and lawn bowling green, and we are so happy so have watched their friendship. Love to Helen's family. Brian and Elizabeth McQuarrie
— Elizabeth McQuarrie, February 6, 2022
On behalf of the Meaford Lawn Bowling Club we acknowledge that a wonderful lady has left us. Helen was a terrific competitor and a pleasure to bowl against. No matter if she was up or down she always had a smile and if you drew Helen as an opponent you could always expect a competitive game. I personally enjoyed catching up with Helen each time we met. She loved all games especially those on the computer.
An all star lady and one who will be greatly missed.
— Gladys Williams, February 5, 2022
To Debbie, Cheryl and families. Sorry to hear about your moms passing. We go back a long way, being a close neighbor of my parents and I when I was a child. Chatted with her many times over the years as we both moved to Mt. Forest. Saw her last at my parents 60th Anniversary. Always a warm welcome to see her. She will be sadly missed.
All our sympathy.
Wayne and Bev Andrews ( Becker)
— Beverly Andrews, February 5, 2022
We are saddened to hear of Helen's passing. I first met Helen through lawnbowling and alley bowling. She became well known in the lawn bowling world and was always a good player and competitor. You will be missed. Rest in please Helen.

Shirley and Tony Walker

— Shirley Walker, February 4, 2022
My deepest sympathy in the loss of a wonderful Mom. Helen was a good friend and was always available to help you when ever you needed it. Always greeted you with a smile at euchre and easy to joke with. It didn't matter how good or bad you were at bowling she always teamed up with you and gave you lots of encouragement - she was a true "sportsperson". She will be greatly missed.
— Carol Jessop, February 4, 2022
Competed in many lawn bowling competitions; Helen really was one of a kind. We enjoyed seeing her cheery face and recognition of us was always welcome. She was a good sport and a fine hostess when we came to Mount Forest, too. Always competitive, always genteel, I have liked sharing my emails with her for the last few years. She will be in peace now and no more pain.
God bless all the family.
Steve & Barb Schuknecht
Dist.8 lawn bowlers
— Steve & Barb Schuknecht, February 3, 2022
I was so sorry to hear of Helen's passing. She was a most wonderful person and an awesome lawn bowler. She was terrifically competitive and won her share of district and provincial tournaments with her good friend Velda Francis. The tournaments in Mount Forest we're always competitive and most friendly and the meal afterwards was totally awesome mainly because we enjoyed Helen's deviled eggs!!
She will be truly missed. 💕💕
— Barbara Eaton, February 3, 2022
I share your deep sadness with the passing of your Mom. I first met her at the Mount Forest Curling Club and later at the Mount Forest Lawn Bowling Club where she was integral part of the club for many years. Her guidance and quiet leadership has guided me for the last 10 years. She will be sorely missed in the club and community.
— Brenda Eckhardt, February 3, 2022
Helen was such a warm welcoming face when Brad and I were new to Mount Forest and brand new curlers. The curling club events and spiels ran pretty smooth with Helens helping hands and words of experience. A pleasure to be around .Peggy Henderson
— peggy Henderson, February 3, 2022
I was very sad to hear the news of Helens passing. She was a great Alley Bowler and Lawn Bowler , she taught me every thing about the two sports as well as going to tournaments in Lawn Bowling. She had a funny side to her but also a serious side. I was still asking questions about a month ago about Lawn Bowling. She was a great instructor and made you want to progress instead of giving up. We will miss Helen greatly as well as the phone calls we used to have. Please accept my condolences she will always be remembered. Susan Doucette
— Susan Doucette, February 2, 2022
Our sympathies to all of Helen's family. Many trips to the John Deere shop led to a lasting friendship for us. Curling with Helen was always an enjoyable experience both on and off the ice. "Koodos' to the family for allowing her to spend her last days in her cosy home. John and Marybelle.
— John and Marybelle Nanninga, February 2, 2022
My Sincere Heartfelt Sympathy on the death of your dear one. I had the priveldge of meeting Helen through Velda Francis her dear friend. Helen and I visited Velda when she was in Royal Terrace in Palmerston and the happy look on Velda's face when she walked in was wonderful. They had travelled together to many events, especially Lawn Bowling Tournaments and Curling event. Helen attended the Junior C, Patriot Hockey games where Velda's grandsons played. Mostly any event they would be there together. May you treasure your happy memories and feel good about how you 2 daughters looked after your dear mother so she could stay in her cosy home. She is at Peace. Sincerely Mary McIntee.
— Mary McIntee, February 2, 2022
Sincere sympathy to the family. She was a great friend to us. She invited me to curl with her at many bonspiels; lawn bowl with her in many tournaments when I moved to Mount Forest. She was competitive but was also interested in inviting new members to curl or lawn bowl with her regardless of their knowledge of the sport. She will be missed. A pleasure to have known Helen. Marilyn Rogers
— Russell & Marilyn Rogers, February 1, 2022
Helen, will be missed at the Mount Forest Seniors Group. She was fun to play cards with. Occasionally beat her in a game, but not often.
Rest In Peace Helen.
— Kay Ayres, February 1, 2022
I am sad to read of Helen's passing, even though I knew she was not well, it still seems a bit of a shock. Helen was a great mentor and friend at the Curling Club - I learned a lot from her, especially about being quietly competitive….. I will miss her a lot and she will be missed by many people at all the activities she participated in.
— Mary Allen, February 1, 2022