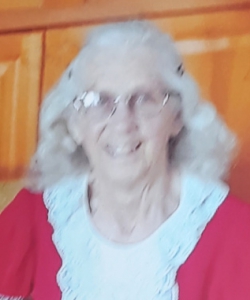 Elaine Ruth Denouden
February 3, 2022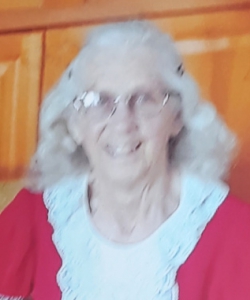 DENOUDEN, Elaine Ruth (née Leppington) – On Thursday, February 3, 2022 in her 80th year, Elaine left her loving husband of 60 years for her first love, Jesus Christ. Loving mother of John E. Denouden Jr. and his wife Susan, and Ruth Clark and her husband Ken. Dear grandmother of Sabrina and great-grandmother of Cruze, Lucas and J.P. Elaine is predeceased by her granddaughter Alyda. She will be greatly missed by her extended family and friends.
Elaine was a Sunday School Teacher for many years and was always actively involved with Children and Youth Ministries. She was a hard worker, and the best bookkeeper at her husband John's automotive garage.
A memorial service will be held at First Baptist Church, 116 Fergus Street North, Mount Forest on Saturday, February 12, 2022 at 2:00 p.m. with visitation to follow. Masks are mandatory and Covid protocols will be in place. As an expression of sympathy, memorial donations to the Alzheimer Society of Ontario would be appreciated by the family. England Funeral Home entrusted with arrangements.
Condolences
Words cannot express the deep condolences that I have. She was like a grandmother and a very dear friend. I know that she is in heaven and that one day I will get to see her again but for now there's a void in my heart. Much love and prayer to John her wonderful and loving husband and to the family. I Will always Love You and miss you until we can meet again.
— Marcus Frazer, March 30, 2022
Mr. Denouden, I grieve with you on the loss of your dear wife. You always spoke so highly of her, and your love for her was clear. She was a beautiful and kind woman. Cherish those memories. Although she's in a better place, it's not easy to live without someone you've lived with for so long. I am glad she is with the Lord. May this give you peace and comfort that she is well and happy, and you'll get to see her again. What a joyful reunion it will be when the Lord returns! May the Father make His presence and comfort known to you, and may you draw near to the God of all comfort.
— EM, February 12, 2022
Dear John and family,
I am very sorry to hear of your great loss. I am so thankful that Elaine trusted Jesus Christ as her Saviour and is safe in His arms. She was a kind, gentle lady and I appreciated her help with Awana Sparks back in 2012/2013. May God help you in the difficult days ahead. My prayers are with you. Psalm 34:18 and 2 Corinthians 1:3
— Brenda Menzies, February 12, 2022
Hi John. Very sad to hear that you lost Elaine. Very glad that you were able to have so many years together, and that she has gone to be with the Lord, to experience pain no more. Although losing a loved one is difficult, it's very comforting to know that death for the Christian, is not the end, but rather the entrance into a glorious eternity with the Lord Jesus Christ. I'm glad we were able to have known Elaine, and I pray for you during this time of transition.
— Robert Menzies, February 12, 2022
John and family...so sorry to hear about Elaine's passing. She is resting peacefully with her Heavenly Father. Such a sweet and kind lovely lady. I know John you will miss her dearly.
Love and prayers David and Carolyn Bender.
— Carolyn and David Bender, February 8, 2022
To John & Family,
Sorry to hear of Elaine's passing. It is a deep loss however a peace knowing that she is now resting in God's hands. Thoughts & Prayers ~Ross & Evelyn
— Ross & Evelyn, February 8, 2022
John and family, so sorry to hear of Elaine's passing BUT we praise God that she is in HIS care now and will be enjoying eternity with Jesus. We look forward to seeing her again when we get to GLORY!! May God give you the peace and comfort that only HE can give at this time. Love in Christ Garn & Barb.
— Garnet Troyer, February 7, 2022
John & family- I am so sorry for your loss! Elaine was always kind and such a gracious hostess. While she is enjoying her heavenly home she leaves a big hole in the lives of many. May God give you strength and courage in the days ahead. My prayers are with you.

— Martha Ghent, February 7, 2022
John and family, so sorry to hear of Elaines passing! This will be a great loss for all of you ! She was one of the most godly woman I have ever known and I respected her greatly! However she is now rejoicing with the Saviour and completely healed , which is our hope for the future for all those who believe on our Lord Jesus Christ.
— Ruth Weber, February 7, 2022
So sorry to hear of Elaine's passing. Sad to realize when I drive past down the 10th that she's not there any more. Sympathies to the family
— Willa Wick, February 7, 2022
My sincere sympathy on Elaine's passing. My thoughts and prayers are with you at this time.

— Brenda Harris, February 7, 2022