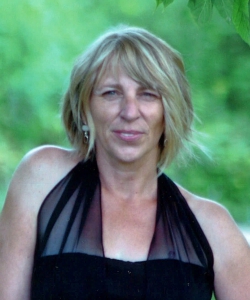 Christine "Chrissy" Price
February 28, 2022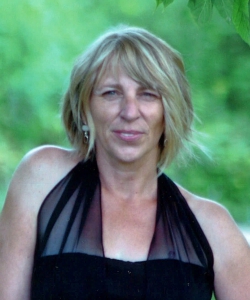 PRICE, Christine "Chrissy" Anne - Fighting to the end, Chrissy passed away peacefully at the Louise Marshall Hospital on Monday, February 28, 2022 in her 57th year. Beloved wife and best friend of Stewart. Loving mother of Holly Steuernol (Justin), Drew Thompson (Christine), Quinn Weatherall (Amie), and Kennedy Price. Cherished Nana of Wade, Emily, Brody, Ben, Ava and Owen. Survived by her parents Robert and Sharon Kennedy, brother Matt Kennedy (Kim) and their children Tyson and Zoey. Forever remembered by her second family at The Breadalbane Inn, Fergus.
Chrissy was an incredible photographer and loved being behind the lens capturing life. Coffee, dogs and Florida were some of her things. Family was everything to Chrissy and she will remain in our hearts forever.
A Celebration of Life will be held at The Breadalbane Inn in the warmer months. Those wishing to make a donation in memory of Chrissy are asked to consider the Brain Tumour Foundation of Canada. Arrangements entrusted to the England Funeral Home, Mount Forest.
See you on the beach, Mom.
Condolences
When I was manager at the Breadalbane, I had the luck to work with Chrissy.. such a beautiful person, always looking to make everything and everyone happy!
Deepest condolences to Chrissy's family and
thank you Chrissy for everything you done, you will be missed greatly.

— Denis F, April 12, 2022
Have known Chris for many years. She was one of the best servers ever, always a big smile and ever so sincerely friendly. I am very sad and shocked to hear of this news. She will certainly be missed by all who knew her and her infectious smile.
It's hard to know what to say to her family, just keep her legacy alive and be kind to each other.

Soar with the eagles Chris as we will one day meet again.
Diane Gruettner
— Diane Gruettner, March 7, 2022
Chrissy aka "Beckham!"
We (The girls) have known Beckham for years of gathering and having dinner and laughs with friends at the Breadalbane. We nicknamed her "Beckham," for her hair styles. She was such a good sport, kind soul with a disarming smile. We shared years of laughter, we'd say what's up this weekend…she always said "spending time with family."
So very sorry for all of our loss…RIP
Kim, Pat and friends ❤️
— Kim, March 6, 2022
Chris was a wonderful lady , always serves us with a smile .. She made a mean sangria, i still have your recipe since that day i met stew and you family at your home for dinner .. You will be missed .. Fly high my darling ..
— Anita Ahyee, March 5, 2022
We did not nave the opportunity to meet your dear Chrissy. However we often ate at the Breadelbanel and it is quite possible to served us. Entire staff there were always awesome, smiles and a friendly "Can I get you anything"? It is possible she served us. Our heartfelt sympathy and hug often, as you share your happy memories with who ever will listen. It will comfort you to know that so many folks cared deeply for her. The old cleshay "time heals" is difficult to imagine now, but from our experience, life goes on and you will feel peace. Bob and Mary McIntee, Mount Forest.
— Bob and Mary McIntee, March 5, 2022
Very sorry for your loss

— Steve Heffernan, March 5, 2022
Stew, Holly, Drew, Quinn and Kennedy,
We have no words to express the sadness we feel for you all. Chris was a truly wonderful person, she made the world a better place.
We have you all in our thoughts and prayers in this extremely difficult time.

Darlene & Errico Paolucci
— Darlene Paolucci, March 4, 2022
Chrissy always had a warm smile and a kind word, she will be missed. Condolences to her family.
— Joan, March 4, 2022
Sending my deepest condolences to Chrissy's family!!!
I'll miss your radiant smile and your kind soul! Fly high beautiful 💕
— Ange Billings, March 4, 2022
We can feel your pain, losing a mother and friend. Life can be so beautiful and so hard. Chrissy has left her legacy behind in her family and with her many, many friends.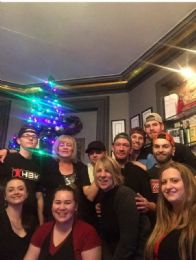 — Kelly and Dan O'Callaghan, March 4, 2022
An infectious smile and kindness are my thoughts of this wonderful lady. Godspeed!
— Jim Bowman, March 4, 2022
I'll never forget my time working with Chrissy at the Breadalbane. Her smile and laughter instantly made me forget I was working, instead it was a place of fun and warmth, all thanks to her. Chrissy made you feel welcomed no matter what and in many ways was a second mother to me. Even years after I left Fergus, I'd come visit her and she would greet me with the biggest hug and smile. I'll be forever grateful for those memories. I'll be thinking of her entire family, as I know they all meant the world to her. Sending lots of love, rest in peace my beautiful friend you were taken far too soon.
— Brooke, March 4, 2022
a beautiful lady both inside and out . our condolences to Stew and family. She will always be in our hearts. Missed but never forgotten.
Carl and Marje
— carl and Marje Gray, March 3, 2022
Our family is very saddened by this news. Our deepest condolences to Chris' entire family. She was a wonderful woman, her absence will be felt by many.
B. Dixon
— Barb, March 3, 2022
Chrissy was someone who made you feel at home and at ease anywhere she was. I had the pleasure of working with her at the breadalbane, and through so the honor of becoming her friend. Her smile, laugh, lobe and life will never be forgotten, she was selfless and kind and I'm lucky to have known her, wishing for just one more shift... I'll miss you gorgeous. Sending love and support to all who were lucky enough to know her... coworkers, friends and especially her beloved family. Rest in paradise my friend.
— Aries Horst, March 3, 2022
Doug and I are sending our deepest condolences to Chrissys family and to her Bradalbane family.
Chrissy will be missed by all that had the pleasure to meet her.

The days before Chrissy was to have her surgery, she asked for hearts... this was ours to her.

We love and miss you Chrissy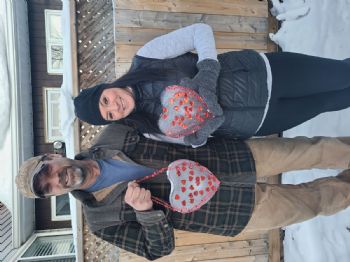 — Darcie Shepperd, March 3, 2022
A truly incredible woman!
I'll very fondly remember Chrissy & her love, encouragement & guidance over the years.
Rest Easy Beautiful Chris 💙
With the deepest sympathy to the family xx
— Rebecca O'Brien, March 3, 2022
She will be missed by many..... Breadalbane will never be the same ....
— CHRIS Green, March 3, 2022
Chrissy, you stayed positive and fought with everything you had! You deserved better. You will be missed dearly. Stu, our sincerest condolences to you and your family. John & Tracy
— John & Tracy MacMullin, March 3, 2022
Very Sorry For Your Loss
— Ambrose Brown, March 2, 2022
Our prayers and hearts go out to Christine's family. May the God of all comfort surround you all. And may Jesus be the " friend that sticks closer than a brother" to each and everyone of you. All our love from Tom & Christena, Naomi, Rachel, Ben and the grandchildren.
— Uncle Tom, March 2, 2022
Kennedy:

So sorry to hear of you mom's passing. I remember her coming in to Coffee Culture and wanting a smoothie after we had cleaned the blender. So much fun! You have many great memories that will bring you comfort in the future.

Deborah Fawcett
— Deborah Fawcett, March 2, 2022
The loss of a loved one is never an easy thing. Please accept our heartfelt condolences to your family at this difficult time. You will all be in our thoughts and hearts in the days and months ahead.

— Rhonda and Alan Cave, March 2, 2022