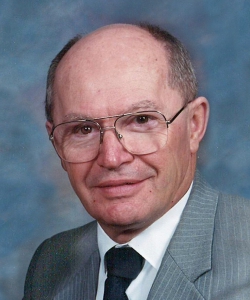 Kenneth William "Ken" Suggitt
March 6, 2022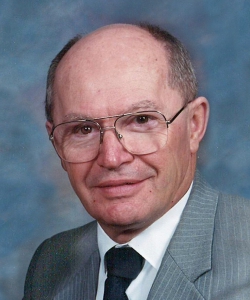 SUGGITT, Kenneth William "Ken" – At Royal Terrace Long Term Care, Palmerston on Sunday, March 6, 2022, Ken went to be with his Lord and Saviour after a long struggle with Parkinson's Disease in his 85th year, surrounded by the love of his family. He leaves to mourn Bernice (née Duncan), his wife of 61 plus years; two sons: Duncan (Heather) and Donald (Connie); grandchildren: James (Sarah) and Trevor (Tammy) Ruggles, Bethany, Sarah and Meredith Suggitt; great-grandchildren: Chloe, Madalyn and Abagail Ruggles, Brandon and Katie Michelle; siblings: Earl, Allan (Carol) and Reta Craig; sisters-in-law Shirley Suggitt, Lynjean Gorman, Lillian Duncan, Donna Cressman, Adele Dickson (Bryan), Arlene Turner (Milton), Marjorie McMullen (Brian), Thelma Rawn (Barry); as well as many, many (great and great-great) nieces and nephews.
Ken was predeceased by his daughter Denise (2018), parents Melville and Rae (née Hellyer) Suggitt, brother Ivan (2020), parents-in-law George and Hilda (née Small) Duncan, brothers-in-law Ralph Duncan (2012), Wayne Craig (2018), Edward Gorman (2000) and Ronald Cressman (2007).
Shortly after marriage, Ken and Bernice moved to Fort Erie where Ken spent most of his teaching career and where they raised their family. During that time, he proofed the "new Math" text for the Board of Education. The introduction of personal computers into the classroom gave him a lot of time instructing young (and old) minds how to navigate this new technology. He taught in Fort Erie Senior Elementary School (grades 7 & 8) for the 20-year duration of that school before they moved back to all grades in all schools. He retired from Rose Seaton School in 1992 as they celebrated its hundredth year of education.
In retirement, Ken and Bernice did some travelling and of course spent cherished time with family. He became the go to 'handyman' which included keeping computers running smoothly and was thoroughly enjoyed.
Ken was a faithful member of First Baptist Church in Fort Erie where he was a Church Clerk for 38 years and served on many boards and committees. He also spent time on the Board of Matthew House Refugee Centre and Erie Christian Academy. In many of these situations 'handyman' was the greatest service they needed and he willingly provided it.
In late 2013 after Parkinson's took its toll, they moved to Mount Forest. This put them closer to family and back in the area where they had spent the early years of their lives.
Visitation will be held at the England Funeral Home, 294 Main Street South, Mount Forest, on Wednesday, March 16th from 2:00-4:00 and 7:00-9:00 p.m. The funeral service will be held at First Baptist Church, 116 Fergus Street North, Mount Forest, on Thursday, March 17th at 11:00 a.m. Masks are mandatory. To view the service livestream, please visit: https://www.facebook.com/England-Funeral-Home-1863283503935858. Private interment will be held at Greenfield Cemetery, Arthur. Those wishing to make a donation in memory of Ken are asked to consider the Parkinson Society Southwestern Ontario or Matthew House Refugee Ministry (Fort Erie).
Condolences
Dear Bernice, we are so sorry to hear of your loss. Our thoughts and prayers are with you and your family!
— Marion and Ray Parker, March 24, 2022
Dear Bernice and family
I would like to send you my deepest sympathy on the loss of Ken. God bless.
— Trina Larter, March 24, 2022
Dear Bernice - with heartfelt sympathy to you and the family on Ken's passing. He taught both my children and I remember him helping with various things at the Auxiliary with/for you. Thoughts and prayers are with you all at this sad time.
— Barbara Scott Boyer, March 16, 2022
We offer our condolences on your loss. The many happy times at the family reunion will be remembered by everyone.
— Marie Carter and Paul Carter, March 14, 2022
Ken Suggitt was our teacher at SS#14 Stoneywood. West Luther back in 1957-58. We have good memories of those days. I have attached a copy of a school photo from then.
Gerry Verwey and Sheila Alexander Verwey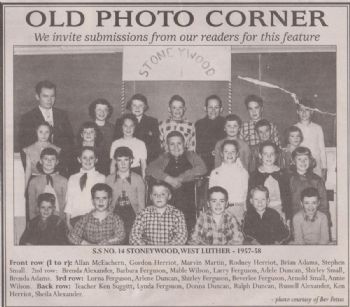 — Gerry and Sheila Verwey, March 14, 2022
Dear Bernice, I was so saddened to hear about Ken's passing. Our thoughts and prayers are with you and your family.
Gaye and Rod White
— Gaye White, March 13, 2022
Dear Bernice, I'm sorry to hear about Ken. Our prayers are with you and the family.


— Gloria Detzler, March 13, 2022
Dear Bernice,
Please accept my sincere sympathy.
It was a pleasure to get you know you and Ken at church, when you first moved back to Mt. Forest.
May he Rest In Peace.
Sincerely,
Martha Lewis
— Martha Lewis, March 13, 2022
Our deepest condolences to Bernice and your family and to all the Suggitt and Duncan families.
— Gerry and Sheila Verwey, March 13, 2022
Bernice and Family
Our sympathy to you all and we have good memories seeing you at all our reunions ;
Prays with you
from the Spark family
— Florence & Steve Jordan, March 13, 2022
Please accept our deepest sympathies from Clifford Suggitt's family.
— Bonnie Suggitt, March 12, 2022
Bernice and family
I am so very sorry to read this, but I do rejoice with you, knowing Ken is with the Lord. "A life well lived, a privilege to go Home"
Bill and Marg Winger
— Marg Winger, March 12, 2022
Dear Bernice and Family,
A time for relief and for sadness, a time for joy that Ken
has graduated from the school of life to his eternal home.
Ken was a true gentleman...he helped me with my computer
many times, as I was just beginning to learn how to
operate one. Never charged me!
May the Lord bring you much comfort by his loving presence.
---Leonard Chester




— Leonard Chester, March 11, 2022
My condolences to the Suggitt Family. Mr Suggit was a great teacher. I remember him telling our class to reuse our paper lunch bags. He always reused the heavy duty ice cream bags, that ice cream was put in at the grocery stores
— Lori (nee Everett) Stixkland, March 10, 2022
Dear Bernice: We are so sorry that Ken has passed away. We have good memories of you both in Fort Erie and at the church. We pray that God will comfort and strengthen you and give you peace. "God is our refuge and strength, a very present help in trouble. Therefore we will not fear ..." Psalm 46:1,2. We are praying for you. John and Muriel
— John and Muriel Gunn, March 10, 2022
So sorry to read that Ken had passed away. Over the years Bernice, I really enjoyed our get togethers. We shared some special times together, but lost touch once you moved away. I've often thought of the laughter and kindness that you both had for others and yourselves. So glad I was part of your lives at a pivotal time. He's already watching over his family from a nice seat in heaven.
take care
Len
— Len Doyle, March 10, 2022
Bernice: Our sincere sympathy on the passing of your husband.
— Verne and Pauline Mills, March 9, 2022
Dear Bernice & family:
Our sincere condolences as you grieve your loss of a special man. May you be comforted with the certainty that he is no longer suffering but is at peace with his Saviour...
with our caring & prayers,
Gary & Gwynne
— Gary & Gwynne Smith, March 9, 2022
We are sorry for your loss. Ken had a good sense of humour and did much to make FBC Fort Erie a welcoming place. He and Bernice proved a wonderful example of how a loving partnership endures. Keeping God at the centre and standing together through all the ups and downs life presents they supported one another for more than 61 years! Ken will be missed: a loving husband, father, grandfather, great-grandfather, brother and friend.
Ken fought the good fight. Rest in peace good and faithful servant.
Your family are in our prayers. God bless you all.
— Gary and Rotraud (Tru) Page, March 9, 2022
Sending condolences to all family at this time. Thinking of you and know you will have many memories to share together.
— Jewel Green, March 9, 2022
Jim and I want to send our condolences to you Bernice , your family and the extended families. We will not be able to attend the service but wish to honor a life well lived.
Our thoughts and prayers are with you,
Cousins,
Jim and Oriole Blyth

— Jim and Oriole Blyth, March 9, 2022
Our condolences go out to Bernice, Earl, Allan, Carol and our thoughts are with you all at this time.
— Bruce & Paula Ghent, March 9, 2022