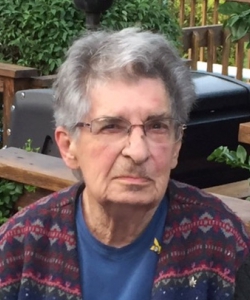 Hilda Blanche Echlin
March 29, 2022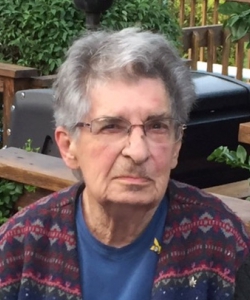 ECHLIN, Hilda Blanche (neé Dickhout) – Of RR#1 Holstein, passed away peacefully at Chapman House Hospice, Owen Sound on Tuesday, March 29, 2022 in her 92nd year. Beloved wife of 58 years of the late Elmer Echlin (2016). Loving mother of Robert Echlin and wife Susan of Nepean, David Echlin and wife Margaret of RR#1 Holstein, and Michael Echlin and wife Tracy of Deep River; mother-in-law of Brenda Echlin of Wasaga Beach, and Elizabeth Harmer and husband Reed of Deep River. Hilda will be lovingly remembered by her 11 grandchildren and eight great-grandchildren. Dear sister of Roberta House, sister-in-law of Loretta Dickhout, Heather Dickhout, Vicki and Brad Cowlin, Elaine Penner, Patricia Echlin, and Gloria Tobin. Fondly remembered by her many nieces, nephews and cousins.
Predeceased by her parents Merton and Gladys, son James Martin "Marty", brothers Graham, Lawrence, and Trevor; sister Pearl Rittenhouse, in-laws Leroy Echlin, Bill House, Orlin Rittenhouse, and Donald and Eileen Echlin.
Hilda will be missed by her many friends and neighbours in the community she lived in since 1965 along with her church families at Sherbrook Baptist Church, Lowbanks, Durham Baptist Church, and Amos Presbyterian Church, Dromore.
Visitation will be held at the England Funeral Home, 294 Main Street South, Mount Forest, on Friday from 2:00-4:00 and 6:00-8:00 p.m. The funeral service will be held at the England Funeral Home on Saturday, April 2, 2022 at 11:00 a.m. Private interment to follow at Holstein Cemetery. Masks are not mandatory but strongly encouraged to protect vulnerable family members. Due to an allergy, please do not wear scents of any kind. To view the service livestream, please visit www.englandfuneralhome.com. In lieu of flowers, memorial donations to Amos Presbyterian Church, Heart and Stroke Foundation, Louise Marshall Hospital Foundation or Chapman House Hospice would be appreciated by the family.
Funeral Service for Hilda Echlin
Condolences
I met your parents during a hospital visit. A conversation developed about an upcoming medical mission to Ghana. Hilda immediately offered to knit dolls for the school children. She will be remembered halfway around the world for her kindness.
It was a privilege to know her.

— Helen Ellis, April 4, 2022
So sorry, to you and your family, for the loss of your Mother.
— Billie Hall-Francis, April 3, 2022
Hilda was such a warm and gracious person who was constantly helping others. She will be sadly missed by everyone who knew her. I have so many fond memories that I will cherish forever.
Rest in Peace Hilda
Ted and Kim Hodges
Belleville On
— ted hodges, April 3, 2022
Aunt Hilda and "The Farm" is a fundamental part of my being. She was always wonderful and kept everything together, despite 5 men/boys trying to turn it all into chaos. What a fantastic life.
— Gordon Echlin, April 2, 2022
To the Echlin family
Our deepest sympathies to the whole family.
Hilda was a great lady and we knew her from many different activities. Plowing matches, church and community events.
Hilda always made a point of speaking and checking in on everyone.
You ae in our thoughts and prayers.
— Percy and Fay Harrison & family, April 2, 2022
My deepest condolences and sympathies to the entire Echlin family. Some of my fondest childhood memories was time spent with the entire family through my adulthood. Having being raised as a young child in an urban environment, it was through exposure to the country life with Hilda and family that helped to mature and educate me.
The world a is lesser place without her, however I know she's shining somewhere with an abundant garden.
We will all miss you Hilda.
Steve & Kristi Jackson
— Steve Jackson, April 1, 2022
Sincere sympathy to the Echlin family. We met your parents at plowing matches and at Amos Dromore church.
Hilda always had a kind word for everyone. She was a caring soul and will be missed by her family and community.
Rev. Russell & Marilyn Rogers
— Russell & Marilyn Rogers, April 1, 2022
Our deepest condolences to the Echlin family. May Hilda Rest In Peace being reunited with Elmer and Marty.
— Bill & Brenda Campbell, April 1, 2022
Our deepest sympathy to the family of Hilda Echlin
She was a wonderful lady
RIP Hilda
— Don &Janet Caldwell, April 1, 2022
Elmer and Hilda would have been among the first of her neighbours Carol introduced André and I to when she moved to the suburbs of Yeovil almost 40 years ago. Since that time, Hilda was always there with information on flora and fauna, stories, and support, both moral and practical. I grew to appreciate her generosity of spirit and quick wit even more after we moved up in 1988. It's inconceivable to think of the neighbourhood without her. I'll always cherish the time we spent together, and now butter tart muffins will be forever associated with TWO of my favourite ladies.

My deepest condolences to all the kids, grandkids and great-grands. She loved every one of you beyond measure.

— Kathleen Scott, April 1, 2022
So sorry for your loss. My thoughts will be with the family as you go through this hard time. Hilda was a fine hard working lady and will be missed.
— Mary Dowling, April 1, 2022
What an amazing lady, she never failed to be in high spirits even in the most saddened times . She brought joy and education to us all. I'm honoured to have known your Mom- Grandma , She loved life and gave so much. My deepest condolences to you all .
Adell Mueller
— Adell Mueller, April 1, 2022
So sorry for the loss of your mother
Robert,David & Michael. I have lots of great memories of your Mom & Dad. You & your families have my sincere sympathy.
— Marilyn Damen, April 1, 2022
Our sympathy to the whole family. Hilda was a wonderful lady and will be missed by all who knew her.
— Gordon and Kathy Calder, April 1, 2022
Dave, Marg and Family:
Thinking of you at this difficult time.
Deepest sympathy,
Alma MacRae

— Alma MacRae, April 1, 2022
Our condolences to the family. Shirley and Ross Hyatt
— Shirley and Ross Hyatt, April 1, 2022
Our deepest condolences to your family. Our community has lost a true community leader. So many of us could learn from her volunteerism and genuine care of all who lived in her community.
— NANCY LAWRENCE, April 1, 2022
To the Echlin Family,
We are greatly saddened to hear of Hilda's passing. She was a friend, a caring soul, and a great giver of humour and joy! We enjoyed many great years catching up at plowing matches, and at different community events. Her skills in knitting really brought lots of joy to Joyce as it was one of her favourite shawls.
Hilda will be missed! Know that we are thinking of you all during this time.
Carl, Sarah and Alexander, Heather, and Erich
— Carl, Sarah and Alexander, Heather, and Erich Weber, April 1, 2022
Dave, Marg and all the family,
As you remember the love, as you mourn the loss, may you also celebrate the life. May the healing hands of time and the timeless love of God carry you gently through the coming days. I always enjoyed visiting with Hilda when I led the service at Amos. She was a fine lady and such a good friend to Noreen.
Donna Clark
— Donna Clark, April 1, 2022
Dave and Marg and families
Our condolences at your moms passing
Jane and Al Langeraap
— allan langeraap, March 31, 2022
The Echlin "Gang" from Hamilton would like to send our condolences and virtual hugs to all of Aunt Hilda's family. We know she lived a long life, and we also know how difficult it is to let go of your Mom, Grandmother, and Great Grandmother, no matter what her age.

Although we didn't see Aunt Hilda often, we have great memories of visiting Aunt Hilda and Uncle Elmer on the farm. We knew Aunt Hilda would have prepared too much food, especially desserts, and the icing on the cake would be her entertaining stories. We were always impressed when she made the long "trek" to Hamilton to see us, especially the hospital visits to check on our dear sister Patsy. Aunt Hilda's beautifully written letters to Pat are something we cherish. Each letter described in detail the nature she enjoyed, the birds, the flowers, the garden, the weather --- good or bad. Aunt Hilda took it all in, every day, and made us feel we were there as she painted pictures with her words. With the recent arrival of Spring, the chirping birds are always a happy reminder of Aunt Hilda. She loved the birds, named them each by species, and fed them well.

Aunt Hilda was proud of her family; conversations and letters would often be coloured with amusing stories of their latest antics. Her passion for family always shone through, particularly during the tough times. She was such a strong woman. A woman to be admired. Always.

We imagine she is already starting her garden up in Heaven. For every seed she planted here on Earth, we envision endless rows of new plants, produce, and flowers above. Heaven's Echlin "Gang" from Hamilton (Eileen, Don, Donny, and Mikey) will have already welcomed Aunt Hilda with open arms. Thank you for all the love and kindness you shared over the years. We promise to keep the birds well fed. Love, The Echlin "Gang" from Hamilton (Val, Gary, Patsy, JoJo, Brian, and Wendy) xoxo

— Wendy Echlin-Black, March 31, 2022
Condolences to Hilda's family. Among her many attributes her poems were an inspiration to us.
— John & Janet Moore, March 31, 2022
Campbell and I have very fond memories of Hilda and Elmer. They had a passion for travel and visited us three times in Cape Breton,where they regaled us with many stories of their travels.
Very sorry for your loss .
Dot and Campbell Cork
— Dot Cork, March 31, 2022
So very sorry for the loss of such a kind and wonderful woman. I have so many fond childhood memories of jumping on my bike and racing over to the farm to see the cows being milked and experience what country living was like. Elmer and Hilda alike were always so kind to our family. Hilda will be missed by so many. Our thoughts are with you all during this very sad time.
— Marsha Jackson, March 31, 2022
I got to know Hilda and Elmer over 50 years ago, and it was a pleasant relationship all that time. Hilda paid me a visit shortly before she passed away, and looking back to remember her graciousness, I am greatly honoured. Donna and I want to express our sincere sympathy to the family.
— Brian Padfield, March 31, 2022
We are so sorry to hear of the loss of your Mom, Grandmother and Great Grandmother, Hilda. Dave & I enjoyed her visits and will miss her a lot. She was deeply loved by us and the community she lived in. Rest in peace Hilda. Dave & Sandra

— Sandra Fettes & DaveWalker, March 31, 2022
Hilda was a very special friend of mine. Not sure how our friendship started, however we always had a little chat when meeting her and her husband downtown Mount Forest. Later, we corresponded by mail and telephone conversations. I so much enjoyed time spent with her. Perhaps it started as she shared the same first name as my dear mother, Hilda, who died several years ago. Hilda was an interesting lady who loved her family and friends. May her soul Rest In Peace and my sincere sympathy to you, her family. Love, peace and joy, Mary McIntee, Mount Forest.
— Mary McIntee, March 31, 2022
Always enjoyed Hilda when we met
Still have her biscuit receipe
Sincere sympathy Carol
— keith Davenport, March 31, 2022
My sincere condolences go to all the Echlin children, grandchildren and great grandchildren at this very sad time. Having known Hilda since the day my cousin Elmer brought her into the family, I know of her great devotion to family. She would have given her entire self to all of you. I so appreciated your care and concern for her since losing Elmer and I was especially touched by the closeness you provided for her during these last few weeks. I am so pleased to be able to attend the funeral virally since driving to Mount Forest is not an option for me at this time. May God grant His very special peace and joy to you now and going forward as you remember Hilda in the many, many ways she showed her love to you. We are forever comforted by His certain promise of eternal life in a heavenly home for all who believe in Jesus Christ as Lord and Saviour.

— SHIRLEY KELLER, March 31, 2022
Dave and Marg and family so sorry to hear of your loss. Take time to remember all the great memories you were able to make and I'm sure there are lots . Wendy & Carl Abbott
— Wendy & Carl Abbott, March 31, 2022
From as far back as I can remember she has always held a special place in my heart. She was very friendly, kind, loving and a very wonderful person. I'll always remember the many trips to their farm to get milk when I was a kid. Thank you so much for the love you have shown me. And I'll see you again one day.
— Marcus Frazer, March 30, 2022
Hilda was a lovely woman who loved to visit with people. No matter who it was or when it was she had tea and cookies ready to go. She's going to be missed by all those who have been touched by her life.
— Kevin and Betty Lewis, March 30, 2022
So many memories from so many years ago. She loved and was so proud of her family! ❤️. I treasure the letters she sent out here to us. Love and prayer guys ❤️🙏🌹🌹🌹
— Judy Shelley, March 30, 2022