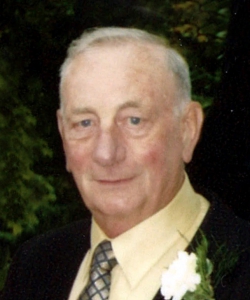 Douglas Archibald McTavish
April 21, 2022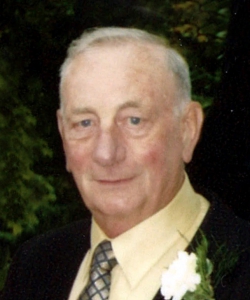 McTAVISH, Douglas Archibald - With the heaviest of hearts we announce the passing of Douglas Archibald McTavish on Thursday, April 21, 2022. Loving husband of Myrna for 62 beautiful years. He was an exceptional father to his three daughters: Arlene (Mark), Carol (Steve), Alison (Nick) and son Scott (Jessica). He will be forever remembered by his grandchildren: Hailey (Greg), Taylor, Madeline, Maggie (Ben), Sydney, Cole, Holland, Quinn, and Berkley. Doug will be sadly missed by his younger brother Bradley (Rosemary), and favourite sister Linda Spahr, as well as extended family and friends.
Doug was born in Apsley, Ontario on April 26, 1937 to the late Neil and Vera McTavish. He grew up on a farm near Mount Forest and enjoyed the country life. Doug graduated from Mount Forest High School and went on to be a graduate of U of T's Civil Engineering Degree ('59). He later earned his Master of Applied Science and Master of Business Administration.
Doug started his career with the Ontario Water Resources Commission which later became the Ministry of Environment. Doug moved his family from Toronto to London in 1974 to take the position of Director for the Ministry of Environment for Southwestern Ontario. After serving 34 years with the Ontario Government, he was appointed to the International Joint Commission, a position he held until retiring in 1998.
Doug was an active member of several professional associations. He was also a member and past president of the London Downtown Rotary Club.
Doug cherished his roots and spent holidays and retirement with loved ones, at the family farm, outside of Mount Forest as well as golfing at Pike Lake. Doug and Myrna also loved to travel over the years, both on their own and with their many friends.
The funeral service will be held at the England Funeral Home, 294 Main Street South, Mount Forest, on Wednesday, May 4, 2022 at 12 noon, with visitation from 10:30-11:45 a.m. Interment to follow at Mount Forest Cemetery. Please wear a mask. If you are unable to attend the service in person, you are invited to view the service livestream by visiting www.englandfuneralhome.com and clicking on the link below Doug's obituary. Those wishing to make a donation in memory of Doug are asked to consider the Rotary Club of London or the Louise Marshall Hospital Foundation.
Funeral Service for Douglas McTavish
Condolences
Myrna and Family,
We are so sorry to hear of Doug's passing away. After watching his funeral service we were reminded what a humble, lovely man he was. Our dad, Carson, as well as the rest of the Northern British Columbia family, always looked forward to your visits to our area. We appreciated your hospitality when any of us would visit Ontario. We are thinking of you all in your sorrow and grief.
Maxine MacTavish and Family
— Maxine MacTavish, May 4, 2022
Thinking of you and remembering that handsome couple from MFDHS. From riding the old yellow school bus to reunions in Mt Forest, Doug was always the gentleman. You will miss him. Our thoughts are with you. Isabel and Doug Glynn
— Isabel Glynn (nee Ferguson), May 4, 2022
Sorry about your loss'
— Gwen Spencer, May 3, 2022
Dear Myrna, I am so sorry to hear of Doug's passing. It was my pleasure to meet both of you through the Westway Bridge Club. Fond memories at your lovely home and also at Pike Lake. Doug was so sweet!
My condolences to you. 💕
Annette Rouse
— Annette Rouse, May 2, 2022
Myrna and family

Sorry for your loss

I worked for Doug in the London office. He was very humble and had an exceptional ability to grasp the issue and solve the problem at hand. I recall one incident when I was called into his office about a complaint that the Ministry had received. I was a junior engineer at the time. He quickly grasped the issue and was supportive of the position I was taking and was prepared to defend it. He asked me to prepare the response for his signature. He did not bow down to outside pressure






— Shirazali Khimji, May 2, 2022
I worked for Doug in the London Regional office until my retirement in 1995. I remember him as a true gentleman who always treated me with respect. My sincere condolences to the family.

— John Longworth, May 2, 2022
To Myrna –
Please accept my deepest sympathy in the loss of Doug. He was such a fine gentleman! Do know my caring thoughts are with you and your family.
Norma Clare – Riverside UC, London

— Norma Clare, May 2, 2022
Dear Myrna & Family...We are so sorry to learn of Doug's passing. He was such a kind gentle soul and we all loved him. It was a pleasure to have him join us from time to time when he was not golfing at the bridge tables. You have our deepest condolences .
— The Mount Forest Duplicate Bridge Club, May 1, 2022
Dear Myrna and family,
my family join in sending heartfelt sympathy on your immeasurable loss.
I met you in 1975 and Ted had known you long before then, so many fun memories come to
mind, always of a very dedicated loving husband with a sense of humour and a genuine interest
in people and life.A true gentleman ,a man of integrity ,of generous spirit and compassion.
May those Memories help sustain you ,and your faith in Divine providence and the warmth of
family be your comfort.
Gretta 🙏


— Gretta Dillon, May 1, 2022
To Myrna and all Extended Family Members:
Our deepest condolences and sympathy to you and family members. Throughout this sad time time our thoughts and prayers will be with you all.
Pauline Brown
Sharon and Robert Roller
Gary Brown
— Pauline Brown, April 30, 2022
Myrna and family Doug was a great team mate. We should all be greatful and thankful for that. Bob
— Robert Mckellar, April 30, 2022
Myrna and family, so sorry to hear of Dougs passing. He will be missed.

Barry Sockett
— Barry Sockett, April 30, 2022
To Doug's Family,

I got to know Doug when I started golfing at Pike Lake many years ago and quickly came to the conclusion that Doug was a true gentleman. We had many good rounds together and I felt that Doug and I became friends. My thoughts and prayers are with you at this most difficult time. Hold your memories close as they will always bring a smile to your heart. Rest in peace Doug.

Sincerely,
Ken
— Ken Cameron, April 29, 2022
Myrna and family. I am saddened to hear that Doug has passed away. We have not been in touch since my brother's celebration of life at Maplewood Cemetery. You and Doug were very supportive of our family at that time. Doug was an accomplished man and I know that you had a wonderful life together. Sincerely, Marilyn Preston
— Marilyn Preston, April 29, 2022
Kathy and I extend our deepest sympathy to Myrna and family. From the OWRC and MOE days I will never forget Doug's intelligence, common sense, fairness, and amazing memory.

— Marc Bell, April 28, 2022
Myrna and family, sincere condolences in the passing of Doug.

Ed and Sue Kelly
— Sue Kelly, April 28, 2022
I remember playing hockey and softball with Doug with the Conn teams .Then later playing euchre with Mryna and Doug at the Legion My sincere condolences on Doug passing away .Wilson
— Wilson Schwindt, April 26, 2022
Our thoughts and prayers are with you Myrna and all your family. We have missed you since you went back to London because it is too hard to play cards long-distance. We used to have so much fun, especially with Doug's sense of humour and your loving personality. Keep on smiling, and we will see you soon.
Allan and Eileen

— Eileen Tremills, April 26, 2022
We are very sad to hear of Doug's passing. Our condolences and deepest sympathies to all Doug's family. He will be missed.
— RONALD PRYDE, April 26, 2022
Dear Myrna and family I am so sorry to hear of Doug's passing and of your terrible loss. Doug always had a smile on his face anytime I seen him when I was lucky enough to be looking after or serving him as a waitress at the Pike Lake
Clubhouse or at the counter in the motel for the driving range. He was always a gentleman and always spoke if he was just heading through to go to the golf course for a round of golf with his buddies. He will be greatly missed by many people that were fortunate enough to meet Doug throughout his life. Sending positive thoughts, prayers and hugs Love Gwendolyn & Carl Leeder
— Gwendolyn Leeder, April 25, 2022
We are very sad to hear of Doug's passing. Our condolences to Myrna and the rest of the family. He was a very special person and is greatly missed.

The Carr Family
(Eric, Ida, Alison, Matthew, Jim and Sheilah)
— Eric Carr, April 25, 2022
To the McTavish Family
I had the pleasure of working with Doug from his Ontario Water Resources days to the present. His common sense approach, his fairness and his sense of humour made Doug exceptional in the environmental field.
George Powell



— George Powell, April 25, 2022
Our sincere sympathy to the family. Thinking of you
and praying that fond memories give you strength and peace.
Sincerely, George and Bonnie Holliday
— George and Bonnie Holliday, April 25, 2022
Our condolences to Myrna and family. We both have had many interesting years of dealing with environmental issues and government.
— John & Janet Moore, April 24, 2022
Colin and Kathleen Buchanan send their sincere condolences to the entire McTavish family, as well as Myrna, Brad and Linda.
Very sad to hear of Doug's passing, Doug and Brad were were great playmates, schoolmates and neighbors when we growing up.
May you rest in peace Doug, no more pain.
Colin Buchanan
— Colin Buchanan, April 24, 2022
Myrna & Family - sad to hear of Doug's passing, he was a real gentleman, our thoughts & prayers are with you.....Bob & Beth
— Bob Weber, April 24, 2022
My deepest sympathies to the McTavish family. I have fond memories of our families enjoying time together when I was a child. I'm thinking of you all.
— Suzanne Mills, April 24, 2022
Dearest Myrna, Am so sorry for your loss. Doug was a true gentleman and a wonderful man. A true loss. Sincerely,
Colleen Price
— Colleen Price, April 24, 2022
I have the fondest memories of growing up with Doug in Egremont Township going to SS #8 school and later high school. Enjoying the games of hockey and ball with him. So sorry Myrna. Ben Yake
— Ben Yake, April 24, 2022
Our Sincere Sympathy on the death of your dear brother. Although we did not know him, we were very fond of your dear mother, Linda and you will miss your brother. May his soul Rest in Peace. Sincerely, Bob and Mary McIntee, Mount Forest
— Bob and Mary McIntee, April 23, 2022
Sending our sympathy to Doug's family and friends. Thinking of you in the days ahead. Sincerely Leonard Seifried & Diane Dineen
— Diane Dineen, April 23, 2022
We are so Sorry for your loss, a loss to everyone who was fortunate to have met Doug, a true kind person and gentlemen, you are in our thoughts,
Jerry and Valerie Arthur
— Jerry and Valerie Arthur, April 23, 2022
Our thoughts and prayers are with you and your family at this time. Doug was a great gentleman. Always ready to visit. He will be missed by family and friends. Our sincere sympathy. Rev. Russell & Marilyn Rogers
— Russell & Marilyn Rogers, April 23, 2022
Myrna, my thoughts and prayers are with you at this sad time. Doug was a fine gentleman and we always had a good visit each time we met. He will be sorrowfully missed by his family and many friends.
My sincere sympathy.
Marian Howes
— Marian Howes, April 23, 2022
Dearest Aunt Myrna. I am so very sad to read of Uncle Doug's passing. My heart is so saddened. Love, hugs and prayers sent to you and the family. You and Uncle Doug were so very special to me. Love you all. Donna Bilton (Rawn). Xoxoxo
— Donna Bilton, April 23, 2022
sorry for your loss Lynda and Family always enjoyed Dougs visits when I had the co-op gas bar -FRED
— FRED AND DIANNE HOEHN, April 23, 2022
Dear Myrna and family--How very sad we are to hear of Doug's death. It was only such a short time ago that we chatted at length about getting together again before long . Words are completely in adequate at times like this. Our thoughts are with you and all the family- we will see you on May 4.
Love Ken and Jeanette

— Ken and Jeanette Oakley, April 23, 2022
Dear Myrna - so sorry to hear of Doug's passing. He was such a gentleman and a delightful person. My deepest condolences. Gaye
— Gaye Ennett, April 23, 2022